Another year and another edition of the CWSC in the great and the good of coworking attended to learn about the latest developments in the industry. 
First, let's talk about everything that is not work related… 
Some say that the hospitality of the CWSC team is legendary. In my humble opinion (although I may be a little biased) while the team is great of course, what truly sets CWSC apart are the attendees.
It is a conference that a large part of the audience has been attending for a long time, they know each other and are always curious to meet new people who join no matter where they come from. It is a different conference, there are not many people outside the rooms and everyone attends the two tracks of talks during most of the day. During the breaks, however, especially at lunch, where all attendees can eat sat together (paella on day one: yes it's true), you can do a lot of networking and learn about the different ways that Spanish operators live as well as those who come from other countries.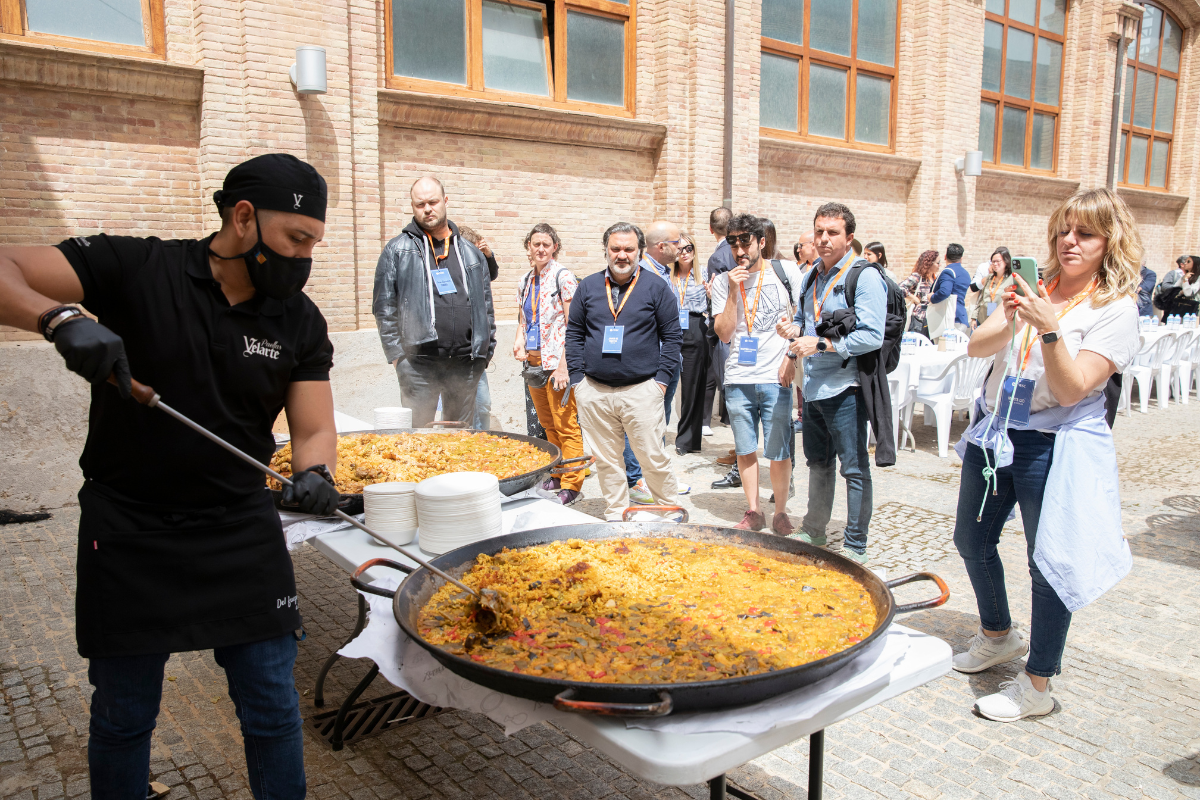 As for the content…
As CWSC content manager, I promised in a previous article for Nexudus, content that would reflect the diversity of a sector that includes everything from small coworking spaces in what is often called 'empty Spain' to large flexible workspaces in major European metropolises.
On the first day Manuel Zea, founder of the CWSC and the Coworking Spain directory, made his usual presentation on the State of coworking in Spain. Every year he collects more information not only from the directory but also researches the operators that do not appear in the directory. Of the data presented that you can find here some of the standouts:
64% of the square metres of flexible workspaces in Spain are in Madrid and Barcelona (70% if we include their respective provinces).

The five most important cities in Spain in terms of surface area dedicated to flexible workspaces are:

The average flexible workspace in Spain is 643m2.

In Madrid, the average size of a space is 1289m2.

In Barcelona, the average size of a space is 904m2.

The average rates in Madrid for a fixed desk (216+VAT) is 29% higher than in Valencia (168+VAT) and 6% higher than in Barcelona (204+VAT)

The private office business within the flexible workspace industry, according to Coworking Spain, is worth 259 million Euros in the period.
Javier García Iza, from IOS Offices, flew from Monterrey (Mexico) to tell us how he and his brother Adrián managed to build the most powerful operator in the country with 36 centres and 70,000m2 in a presentation that focused more on explaining the human side of the company than simply pure numbers. What he conveyed with resounding clarity is that the secret of its success is its focus on quality: "When we started we saw that the market offered us an opportunity because the players that existed in 2006 had insufficient quality that allowed us to position ourselves at the top of the market".
Another of the highlights of the day was seeing Spain's two main SOCIMIS, Merlin Properties and Colonial, on the same stage. Fernando Ramírez and Albert Alcober reviewed the reasons that led them to acquire Loom and Utopicus respectively more than five years ago. Since then many things have changed and they naturally shared the point of view of someone who is a landlord and operator at the same time. One of the things they highlighted is the fact that their position does not give them as much freedom when it comes to creating flexible workspaces, mentioning as an example the density (square metres per user) of their spaces, which they commented must strictly comply with current legislation, while other operators have some flexibility in this regard.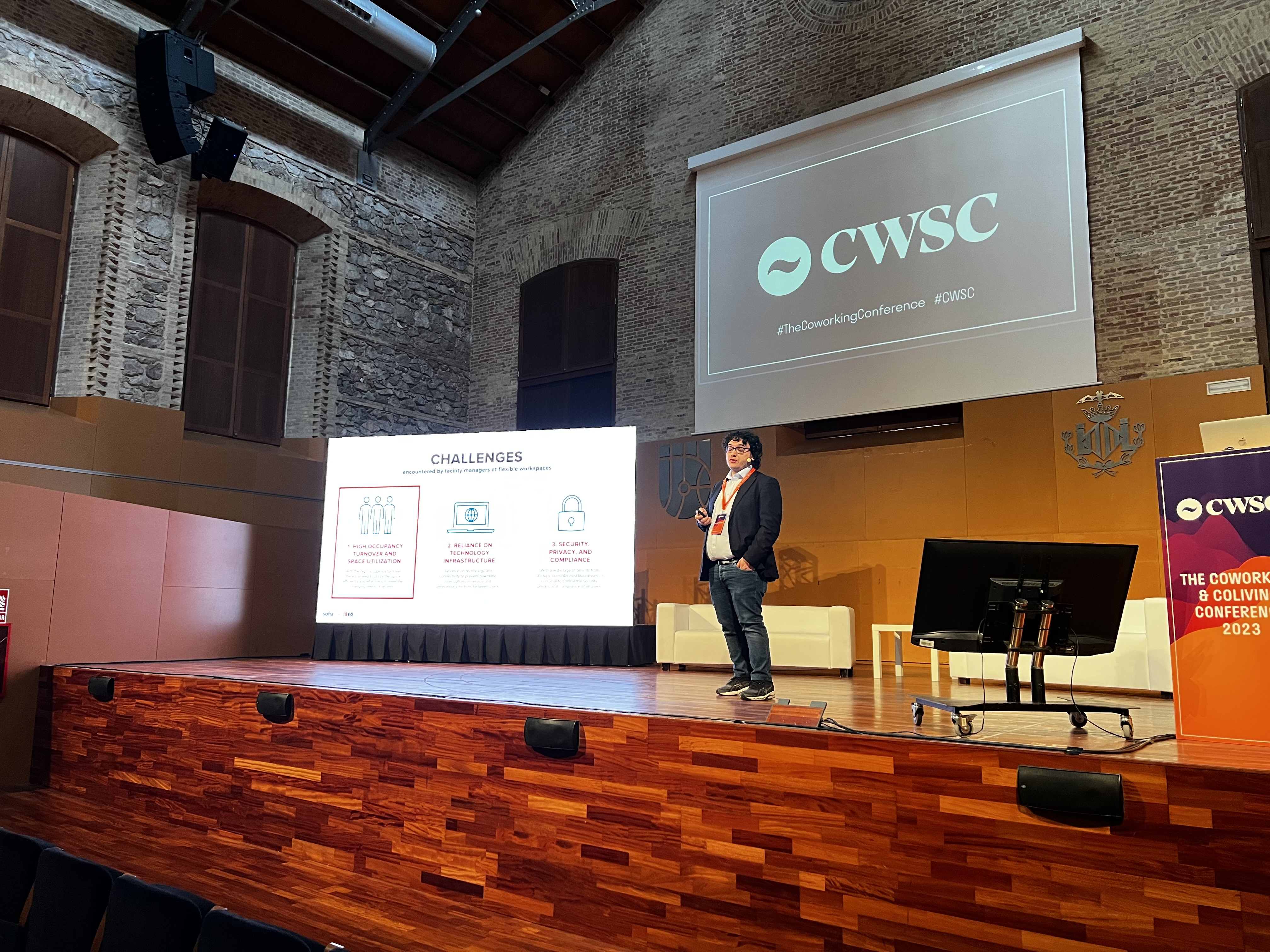 One of the trends discussed in a couple of presentations was that of mixed-use shopping centres. Carlos Gonçalves from Avila Spaces in Lisbon and Javier Reina who told about the Panoramis project in Alicante and launched the exclusive on the stage of the next centre to be created in Alicante: Puerta de Alicante will have 7500m2 (from a total of 22000m2) transformed into flexible workspaces. Can coworking revitalise shopping centres and bring them back to another golden age? We will know in the coming years but what is clear is that many opportunities are opening up that operators with vision can seize, to offer a level of service in locations where it was previously difficult to imagine a flexible workspace.
Another of the trends that CWSC has been following over the last two years is that of making all operators aware of the keys to management contracts, which in the United States represent 40% of the total number of spaces, while in Spain they represent less than 2%. 
Óscar García Toledo, Founder and CEO of First Workplaces, shared the keys for an operator and owner to operate a space under this modality that reduces the risk exponentially for the operator. This is due to allowing faster growth since the investment in its entirety (or most of it is made by the owner: in many cases, the furniture is provided by the operator), thus reducing leverage. Meanwhile, for the owner it represents a higher income because they are investing in the refurbishment of their asset but, unlike when this is done by the operator, this investment is converted directly into equity. Undoubtedly, it was one of the CWSC 2023 presentations of the year.
On the demand side, one of the most interesting talks was by Cristina Sanandrés, CEO of Eekox. In her presentation, she dissected the use that customers make of her platform trying to explain to operators the type of demand that can reach them through aggregator platforms such as hers. She communicated in a simple way what each type of customer is looking for to help spaces understand what kind of customer they should target, at least for those who are interested in obtaining customers through these platforms.
Roman Calavera, CEO of CREC in Barcelona, gave a very inspiring talk to which some people in the audience tried to get him to spill the beans, unsuccessfully, to find out what EBITDA multiplier they applied in the purchase of Depotlab, now part of CREC.
Ben Kolp, TLR, gave a more exhaustive talk on one of the topics that always cause the most commotion: automation. He explained how using Zapier, which also integrates with Nexudus ;), you can automate many of the tedious tasks you have to carry out in your coworking space. 
The CWSC continued to move forward and made another nod to Latin America with the presence of Ivan Fierro, from Casa W in Concepción (Chile). Ivan explained the two speeds and realities at which coworking moves in Chile: on the one hand the vibrant market of Santiago and on the other the markets of "regions" in which coworking develops at another pace, although in Concepción, the second city of the country with 1.2M inhabitants, Casa W does not seem to be doing poorly. A talk by a speaker who crossed the pond and came to share his experience as the head of 4 spaces with which he leads the market in this city about 600km south of the capital of the Andean country.
The CWSC has included a coliving track since 2017, and on this occasion had two presentations to explain two very different models, that of Suiters (a concentration model) and that of Enso Coliving (a distributed model). Each model provides different advantages: a model concentrated in a single building, as one would expect, requires more development time and investment, while the distributed model allows a higher speed and starts to recover investment more quickly. 
In addition, Michael Erd, from Enso, said that the concentrated model, in his opinion, generated a "dorm room" environment that they want to get away from by trying to offer a more curated experience to their customers through a matching system (for which he was questioned extensively). Michael also had a few words for some operators who, in his opinion, are using the coliving label to offer apartments with a density of people out of all logic and that do not have quality common areas. 
Some of my personal favourite presentations included Marta Gracia, Cloudworks, which explained the complexity of converting a building like Casa Les Punxes into a flexible workspace. Let's be clear: the building is stunning and we can think of few spaces in Barcelona from which, on an architectural level, we would feel like working in, but the local audience was sceptical of the space's bottom line. Although Marta shared that the occupancy had not grown at the expected rate in this space, the truth is that we believe that the building has the potential to obtain higher profitability than other spaces: after all, there is only one Casa de les Punxes.
We were pleased to welcome London-based operators, Alexis and Elena from Creative Works and to have them share a project that offers flexible workspace at affordable prices in as competitive a market as London. And most importantly it does so by working in conjunction with the educational project of which it is a part and from Blackhorse Lane the group of flexible workspaces in the area that cooperate to help each other rather than compete.
Another of the classics of the conference that has not been held for years now is the "one-on-one" a somewhat controversial format in which the audience can ask questions anonymously to the speaker. Spicy? Xavi Bassons certainly lent himself to it and weathered the storm impressively. 
Last but not least, the outlook moment is one of the audience's favourites. In this CWSC classic, we share those moments that remind us that reality always surpasses fiction. And we know from what you tell us when we visit you that the interactions with the members, although most of the time they bring positive things, sometimes the exceptions make you think that you are being victims of a hidden camera. We could tell you what happened but we believe that what happens in Valencia has to stay in Valencia.