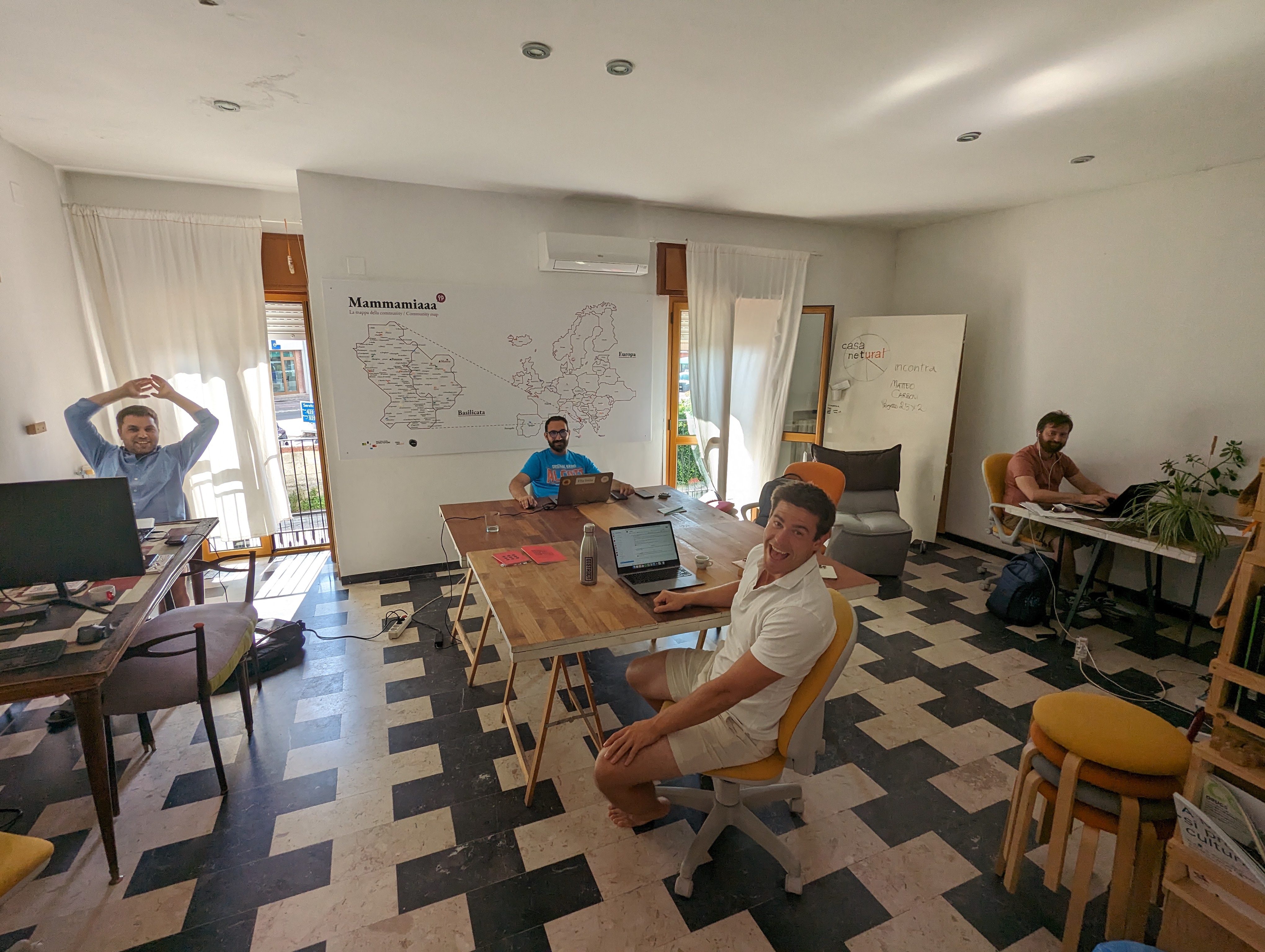 Placing the historic Italian town of Matera firmly on the map, Casa Netural is a rural collaborative hub for locals and international travellers to colive, cowork, and connect with one another, and contribute to the various social impact projects that the Casa Netural family is working on.
Casa Netural – a Collaborative Hub
The co-founders of Casa Netural, Andrea Paoletti and Mariella Stella, along with their children, live a stone's throw away from the community space they've lovingly created together. Andrea, an architect from Northern Italy, has been designing collaborative spaces around the globe since 2007. He was involved in bringing the first Impact Hub coworking space to Italy in 2009, applying co-design methodologies through community participation to design the Milan workspace. Andrea explains that co-design is about "gathering the community first." 
The co-creation process is one that Andrea now uses across many projects, including at Casa Netural, which was established in 2012 shortly after he met Mariella on a research trip whilst working on community projects in the Basilicata region. Mariella and Andrea's mutual desire for placemaking and social impact led the pair to 'together, start a new model of coliving' in the UNESCO World Heritage Site of Matera. Casa Netural is so much more than a coliving and coworking space though. It's a multi-functional space thoughtfully co-designed by over 400 people. In addition to the living and workspaces, the house includes a kitchen for cooking and bonding over a love of food, relaxation spaces for social interaction, and outdoor space for conversations and aperitifs outside. Casa Netural was awarded an Honorable Mention for social design at the ADI Compasso d'Oro Award 2018 – XXV edition. 
Community Cross-pollination
Casa Neutral continues to evolve – its spaces and their functions are shaped by the community who work, live, and play there. It serves as "the headquarters of our cooperative and the physical laboratory in which we experiment with our projects." Mariella explains how the hub "connects two worlds together – the local and the foreign," describing Casa Netural as "a melting pot" – for people to come together, merging an international point of view with the local. It's where new friendships are formed, and exciting opportunities arise. Just like an urban city hosts space for people, culture, and knowledge to cross-pollinate, Casa Netural is the micro version of that with an astonishingly great impact. It's the conversations and ideas that happen there that make a huge difference to the community. 
"Our space is unique," continues Mariella, "It's a place to meet local people, or to go to for professional reasons, it's good in a spontaneous way." The people of Matera love having Casa Netural within their community. The experience is as equally incredible for international visitors too, of which Casa Neutral hosts over 200 coliving guests every year, and has 120 members and 1,500 people in attendance at events. 
Rural Coliving at Casa Netural 
As a business, Nexudus' mission is to positively change and grow coworking culture, and to help coworking/flex workspace movements thrive with collaboration. Embracing this mission, the team even dedicates time to work in co-working spaces, or live in coliving spaces. For example, Monika Solak, Customer Success Manager at Nexudus, has spent the last 3 months staying at Casa Netural.
It's Monika's first coliving experience outside of experiences connected directly to Nexudus, but the memories will live in her mind forever, thanks to the welcoming team there. 
Monika has been "to places you would never know about if you were a tourist," recalling a city tour hosted by a Casa Netural team member with a background in urban planning. The group explored Matera's world-famous sassis (stone cave houses carved out of the cliffs), some of which have been transformed into boutique hotels and restaurants serving local delicacies. Ending the tour with aperitivo gave the group a taste of Italian culture, and a chance to chat about their different coliving and coworking experiences. 
Inhabited since Paleolithic times, Matera is the world's third oldest town and holds huge cultural significance. It's also situated in the remote but idyllic Basilicata region. This makes Casa Netural a rare example of rural coliving and coworking, offering guests who come and stay there a chance to slow down, to connect with nature and with themselves. As people look for more sustainable ways of living, working, and travelling, rural coliving is becoming more popular. Technology makes these opportunities more accessible. It's "estimated that 73% of all teams will have remote workers" by 2028. 
Social Impact and Community Projects 
Community is the essence of coliving. By promoting neighbourliness, rural coliving facilitates an opportunity to connect with others, including the local people. Even when visitors leave the Casa Netural community, the impact they've made on the community lasts with them forever, leading to a strong sense of belonging. Andrea and Mariella not only offer connections in the form of coliving and coworking. They also encourage guests to explore the local area via their Netural Walks, which are "an opportunity for inspiration and territorial exploration" to travel along ancient mule tracks of anthropological importance. The small fee to join goes towards local initiatives and partnering organisations. 
The power of its community exemplifies why Casa Netural has become the locus for Andrea and Mariella's multiple social impact and co-design projects. One example encourages participants to think about their identities – who they are, what they are, and their dream futures to find a new way of living, create jobs with local resources, and apply a foreign perspective to share visions. Next, they're taking this approach further afield to Sicily and the regions of North-West and East Italy. 
Wonder Grottole 
Since 2018, Andrea has been involved in the Wonder Grottole (Wonder Caves) social enterprise project which reactivates the local economy by regenerating the village of Grottole in the Basilicata region. Historic yet impoverished Grottole has been subject to an intense period of emigration over the years. 600 buildings within the historic centre are abandoned, and only 300 inhabitants remain, over 60% of which are aged over 70. 
Through co-design processes, including participatory workshops hosted at disused buildings in Grottole, Andrea and his team are developing "a laboratory-town, where it is possible to experiment with pilot projects for the regeneration of tangible and intangible heritage, based on the connection between the local community and external energies." Wonder Grottole is an example of tourism 4.0 – involving interaction between people and places. The ideal tourists for this project are those "who in addition to living the experiences offered by the locals, contributes to increasing them by becoming a protagonist himself." The ambition is to create a lasting legacy for the community. 
Andrea and Mariella's projects (there are many more) are hugely impactful. The co-creation process alters functional spaces into places of exchange and human connection. Bringing international visitors together with the local people attaches a sense of belonging for everyone involved, building strong communities in the process. It culminates into transformative social change with long-lasting results for the people who live in the local regions. Andrea and Mariella truly understand the meaning of "co" – when people connect, exchange ideas, and work together to forge lasting communities that have incredible meaning for people and places.