At first, the main challenge was converting the houses, as we'd never had any previous experience. We used a lot of energy to create a good work environment within the houses in fewer than six months. 
We really wanted to create Sende in a remote village, so we could live surrounded by nature, flowers and lots of birds. The only problem is that there are no bars or shops nearby. Other than that, we quickly learnt from our first guests, and found that adapting the place to users' needs was a key point.
Now Sende has a bar with standing tables in one of the spaces. We are gradually adapting the space to our coworkers' needs. Listening to users is one of the most important pieces of advice I could give to anyone who wants to open a coworking space.  
We are creating spaces that cover both our philosophy and ideas from our guests, and that's why Sende will become an ideal place created from the community's contributions.
Can you describe Sende in three numbers? And two words?
One year, 500 people, 20 countries.  Stress-free place (When I need to describe what makes us so happy living here, I just say that we don't have any kind of problems, it's a totally stress-free environment). 
How do you see the future of digital nomading and coworking?
Digital nomading is becoming a big trend and more and more people are deciding to live this kind of lifestyle. It correlates with the rise of the tech and online industry and all the stats show that digital nomading and coworking will become a new work concept in the future. 
Also, I think that more and more coworking and coliving spaces are going to be created and the vast majority of their guests will be the new generation of digital nomads.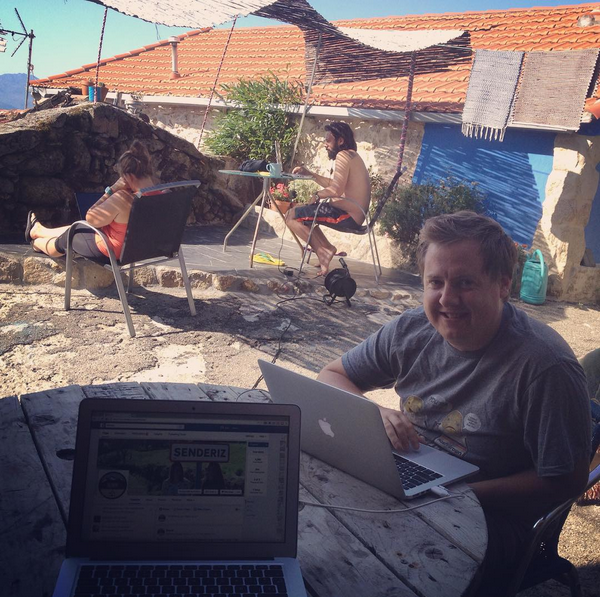 Digital Nomads working at Sende
Could you tell us more about the Cohubiting project?
Cohubiting
is a winter project, born in Sende. The aim is to bring together small groups of remote workers and forward thinkers and escape from stormy weather to a sunny house based on an island or in southern Spain, Portugal or Italy. 
Cohubiting is built to grow a community of interesting people while coworking and coliving in nice places. We have created a high-quality, low-cost model to run Cohubiting and that's why we had a lot of people interested in joining us. This project was created in cooperation with our coworkers and friends last year.