In a world where remote work is becoming increasingly popular, naturally, the need for coworking spaces is also growing exponentially. While major cities have seen a surge in such spaces popping up due to demand, the concept of coworking is also slowly making its way to rural areas. Aidan Dunphy, founder of a coworking space in the quaint town of Hexham in Northumberland, shares his journey of setting up a thriving coworking community in a rural setting. 
This week, in our latest interview from our coworking spaces series, Aidan sheds light on the challenges he faced, the unique dynamics of his customer base, and the importance of catering to all kinds of workers which is completely possible with the right attitude (and technology!) for spaces in even the smallest of towns!
Tell us a bit about Samespace and how its inception came about 
Aidan: We've been open for one year and we're based out of a small building in the town of Hexham in Northumberland, which is a market town, 20 miles west of Newcastle. It has about 13,000 inhabitants and it's fairly typical of market towns like this to have a large proportion of people work either from Newcastle, cities further afield, or even in companies based somewhere else in the world. The space itself is a former shop, split over two floors and we can fit about 20 people in here. 
A few years ago, I decided to start my own consultancy business and started working from home but also travelled quite a lot to see clients. But then lockdown came along, and I found it very difficult in terms of both my physical and mental health. After lockdown, many businesses didn't really go back to that model of people commuting to central locations. I just wanted to be in a working environment with other people. So, I started thinking about why there wasn't a decent coworking space for people like me? It really all came from me wanting to get out of the house! I did a LinkedIn survey and received 200 responses where 50% of home workers said they would pay to get out of the house. The shine eventually wears off and there is also the emotional element, friction with your partner, being stuck in a small space, the loneliness, the invasion of your home life by work, all that kind of stuff. The idea behind Samespace is a coworking space in a rural setting for those of us who don't want to travel far! 
How did you go about determining the target audience for your business? 
Aidan: At first, I thought I wanted to do something in a more corporate setting like other coworking spaces. However, I'm not really going after the people who would like to work from those spaces. They don't live in a place like Hexham and usually live in cities. I'm going after the people who live locally, so I assumed that my target audience would be more mature, probably business owners and freelance workers. 
But I was definitely assuming. My research showed that in fact three-quarters of my focus group were employees of established companies. Very often these were very large companies, which were mostly based a long way from here. They all work in really interesting jobs and do very different things. My very first customer (who is still a customer) was employed by a company in Zurich. One of the great joys of this business really is discovering these people who I might otherwise never pass on the street or see in a pub -. Really capable, interesting people with whom I probably wouldn't have had a reason to have a conversation with before. That's why I love it! 
Does this mean you don't get random walk-in customers? 
Aidan: No, we do actually! I had a guy knock on the door this morning, and he said, "can I come in and work here with my colleague today?" and he ended up buying a bunch of bundle passes. So, it does happen. One of the things I learned early on was, you've got to put a big sign outside. People are always curious about the new shop in town but they're just going to walk on by unless there's some reason to stop!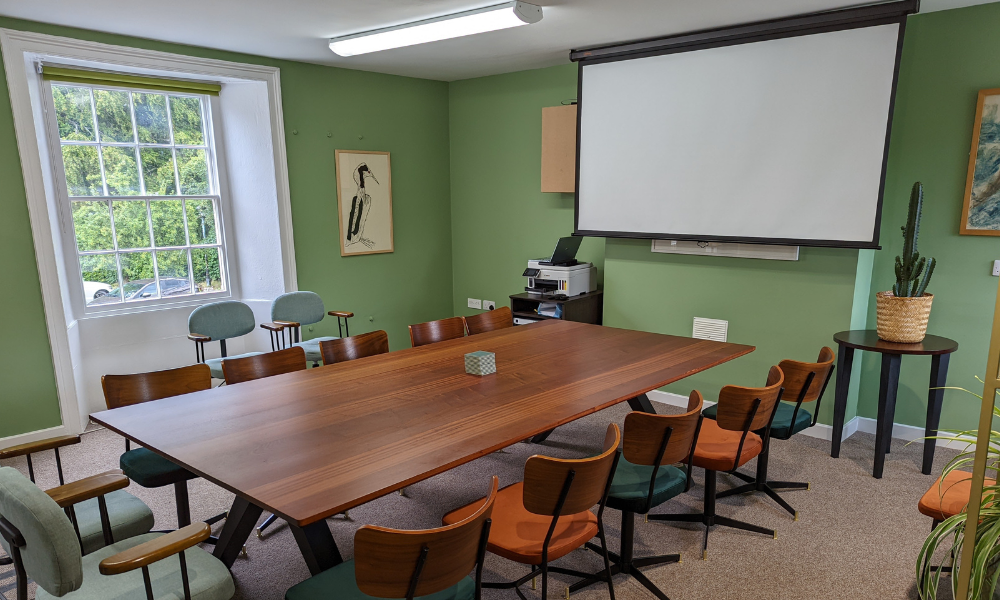 What initiatives have you undertaken to promote a sense of community? 
Aidan: A few months ago, I decided, partly to boost the business but also just to kind of make it more fun, to start running monthly networking evenings. A bit like TED talks. A couple of speakers with a couple of interesting talks. You know, a few drinks and a bite to eat. So, I'm selling tickets for that with proceeds going to a local charity and they've been really successful so far! 
Are there any sort of specific challenges that you think aren't necessarily applicable to urban coworking spaces but that you face in a rural space? 
Aidan: I had two main challenges. One was pretty mundane – parking! Some people have to drive in and with the majority probably only coming in twice a week, there's really no way these people could get here through public transport. It's a medieval market town and the closest large car park is a good 15-minute walk from here. The other main challenge I've got for the business is that people don't know what coworking is, and so I've got this kind of fear gap to get over. I have to try and educate my audience. So, I give them a free day pass - you know, just come in I'll give you a free coffee, I'm also very much trying to build up recommendations and noise around the space. I invite customers to post stories about us on social media. Recently we have been shortlisted for the start-up of the year awards too, which is nice. We were even in a national newspaper! 
How did Nexudus help you with your business? 
Aidan: Friends of mine from the real estate sector told me about the huge customer base Nexudus has in Europe and so he recommended you guys to me. I really like the interface of the admin panel and the app. I think it's just a really nice software that includes all of the functions that are essential for running a coworking space, smoothly. I have a network controller, and an access point door entry system, all in one package for a reasonable price.
______________________________________________________________________ 
We hope you enjoyed the interview! Aidan's journey of establishing a coworking space in Hexham, a rural town in Northumberland, serves as a testament to the evolving nature of types of spaces and in particular the growing demand for flexible workspaces. By catering to the unique needs of his customers and fostering a sense of community, Aidan has successfully created a thriving coworking space in a rural setting. His experience also highlights the importance of adaptability, the personalised customer engagement journey, and the power of community-building in establishing and maintaining a successful coworking space. As remote work continues to gain momentum, Aidan's story provides inspiration for entrepreneurs seeking to bridge the gap between urban and rural coworking spaces, ensuring that everyone has access to a productive and fulfilling work environment.