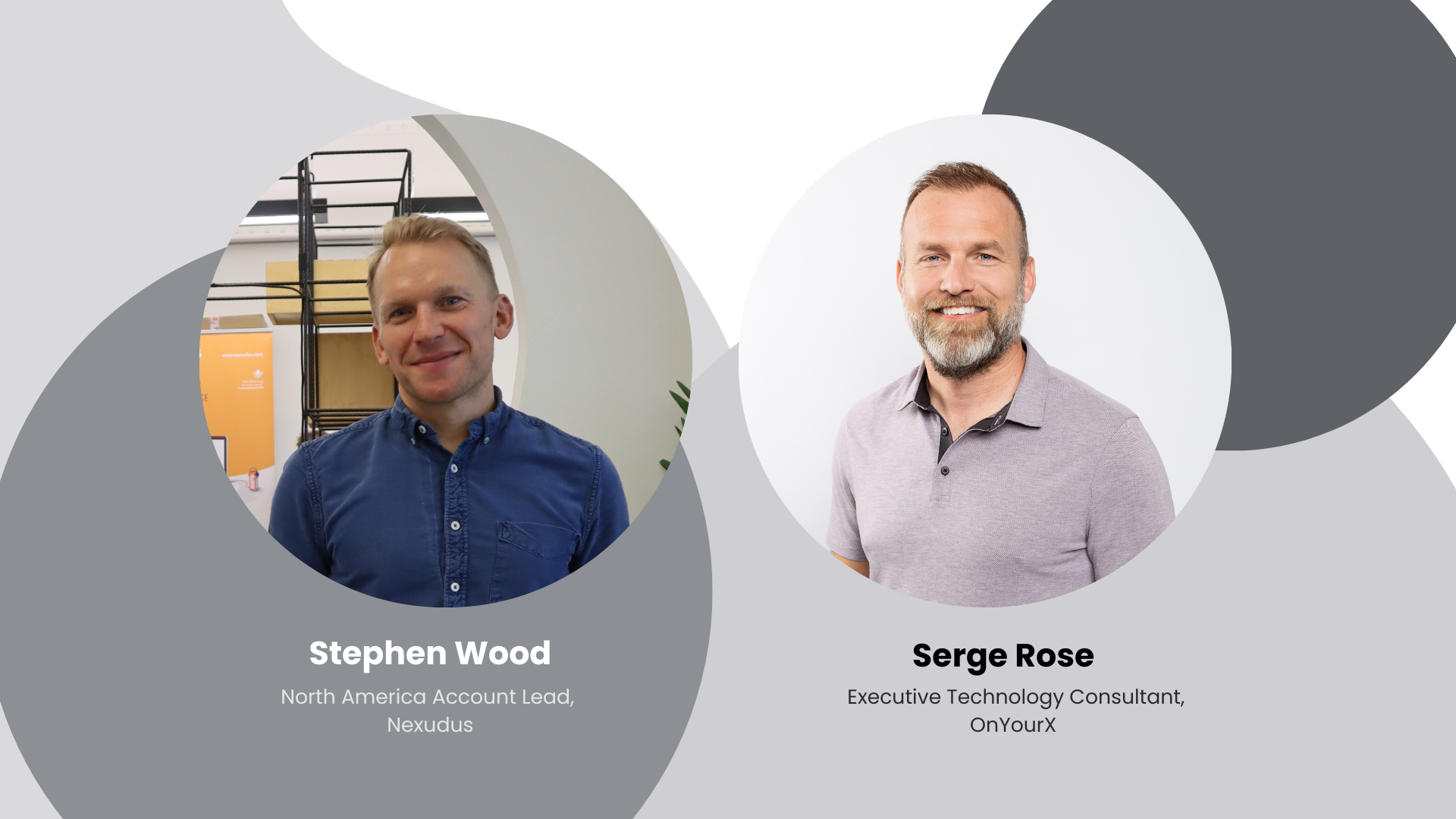 Following our recent interview with our US teammates, this time we sat down with Stephen Wood, Nexudus' North America Account Lead and our North American technology partner, Serge Rose, to talk about their recent collaboration in assisting a Canadian client with their migration to Nexudus and to delve into their thoughts on the future of technology in workspaces moving forward! 
Can you tell us a little bit about yourself? 
Stephen: I used to work in hospitality and then became the General Manager of a large coworking space. I know how tricky it can be to get a workspace up and running, especially without a digital plan in place. Now as Nexudus' North America Account Lead, my role is obviously to look after any incoming inquiries from the region. I always try to look at things from a strategic point of view to explore ways to expand the business and take advantage of those opportunities! 
Serge: I'm an independent consultant and I have been in tech for a long while now, with a focus on customer experience for about 12 years. I've led quite a few transformation programs! My job is to work with executive teams and help them deliver strategic initiatives, offer thought leadership on optimising technology utilisation to align with the business vision. 
How did your partnership begin? 
Stephen: I was on a sales call with a Canadian co-working space, Staples Studio, that was using one of our competitors' platforms. At that time, the workspace was experiencing a lot of pain points in certain areas, so they brought in Serge to assist them in assessing the right platforms. 
Serge: In my role, it's all about leveraging the best technology. I found out about Nexudus while researching ways to help clients improve their members' experience. That's how I met Stephen, then I got to learn about Nexudus and eventually implement the platform for the client. This is how our partnership began!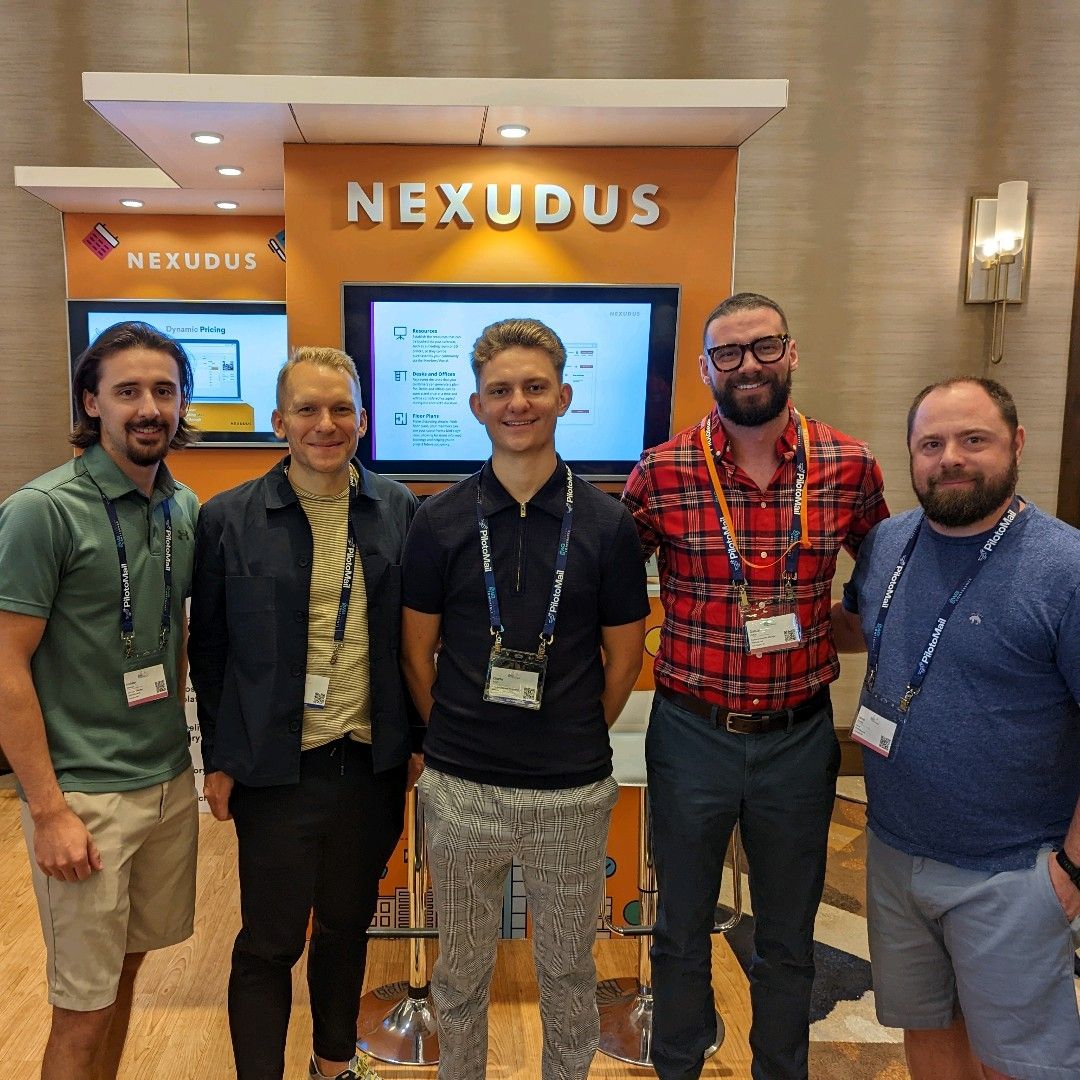 Team Nexudus at coworking event! 
Many clients are concerned about changing platforms, even if they're not satisfied with their current one. How can we guarantee a smooth transition? 
Stephen: People presume there is going to be disruption to switch platforms, and that's what is holding them back. The feedback we often hear about potential deals being held up is, "We actually like your platform, but we don't have the resources to make the switch and we don't want to disturb our members with that switch." That's when they need someone like Serge, who can oversee the entire tech stack from the client's perspective. 
Serge: When it comes to data migration, people expect minimal disruption. A well-structured transition plan is essential for achieving a seamless transition. Our last project went super smoothly, there are no complaints and everyone was super comfortable using the tools. I realised we did a good job with the transition, which pretty much sums up the collaboration! 
What are the key trends in the co-working market, and how does a comprehensive all-in-one system contribute to addressing and capitalising on these trends? 
Serge: Workspaces need to evolve as they scale, because customers today expect more and more in terms of technology. We went with Nexudus for a couple of reasons. The main reason being the UI/UX and the whole end-user experience, which is so key! 
"How do I appeal to customers?" "How do I drive traffic to my space?" These are questions that many co-working places have. It's hard to find the right balance between having too many people and not enough. What Nexudus does well is the rich analytics that comes within the platform. It really helps the co-working spaces understand traffic better! 
Another thing is the rising number of coworking spaces. Brands have to come up with a unique value proposition that fits a very niche group of peopleNexudus helps because the platform is so flexible. You can pretty much do anything by creatively configuring the user interface, the different products services, the plans, and support any type of working space. 
Last but not least, this is where technology and business intersect. It's about providing a seamless experience. We've all heard about seamless experiences, but particularly in co-working, it's super important because it can truly impact members' satisfaction and the reputation of the space. 
Who are your main clients, and which types of companies show a greater demand for workspace software within the region? 
Stephen: Nexudus started with a focus on coworking, later, we divided the platform into two products. The new product is made especially for hybrid workspaces, which includes everything you need for workspaces but without the commercial aspects. If we delve into the data, the majority of clients I deal with are small independent coworking spaces, but recently, the number of inquiries from private corporate and commercial real estate clients is definitely on the rise. 
Businesses like traditional offices, executive suites or business centers are seeking a flexible platform to manage their brand within a larger portfolio, or they are actively searching for something to take over. We observed an increasing trend in this direction, with larger clients either joining us or showing interest in the pipeline within the region. I can see this trend really accelerating the growth, and the interest is definitely already there. It's truly remarkable! 
What makes the American market stand out and what challenges does it present compared to other regions? What sets Nexudus apart from other workspace software providers in the US? 
Stephen: On the practical side, Nexudus has all the necessary native integrations with major operating systems, payment gateways and access control providers that suit the US and Canadian markets. This sets Nexudus apart! However, there is a lot of competition in the US, with other software, some of which might be newer but present themselves as local choices, which can be a winning reason. But ultimately, most clients would focus on what's best for their business and what will truly make a difference. I love the region anyway, mainly because of the diverse range of clients we encounter there. I'm very lucky that I get to travel to the region, 3 or 4 times a year usually around conferences. 
Serge: The client expectations are pretty high, and like Stephen said, the competitive landscape covers a wide spectrum, from large corporations to startups. Tech companies constantly need to innovate and improve their customer experience strategies. It's a tough market. I'm based in Canada, and even here, it's distinctly different from the US. 
Stephen: Some independent spaces would go for simpler software where it's just solving one of the main needs and that's it. They do appreciate all the features, but they just weren't ready yet. But it's interesting because sometimes, within a year's time they would come back to us once they're prepared! 
What is your favourite part about Nexudus? 
Serge: The ability to influence the product roadmap is important for clients! Everyone understands it's a cloud platform, built to support multiple other clients and that it can be tailored to a certain extent, but knowing that you can provide feedback and actually request features that might get built is very positive. Another area where Nexudus differentiates is the pre-built integrations, with all of those other applications in the ecosystem. The further Nexudus can go in that direction, the more attractive the product becomes because now it's just plug-and-play! And this is what I experienced with Staples Studio. When connecting with Salto KS for access management, Nexudus provided a much deeper integration with Salto. So we had more flexibility in how we integrated. Nexudus has very strong support specialists: they recently expanded their team to the US, and we receive support during our working hours in the Eastern time zone, which proves to work very well! 
What do you reckon the future of technology in workspaces will look like moving ahead? 
Stephen: The whole process of traditional lease signing needs to be brought into the 21st century. Traditional landlords are still so fixated on the old-fashioned way. I feel like the future office will be more flexible and adaptable, where people can easily enrol in larger contracts or leases using software like Nexudus. So you won't have to switch to a different system to make a contract and then switch again to create the first invoice. All the payments can be managed within a single, efficient sales process! 
Serge: Many large companies are changing how they work. They no longer have an office but have desks in a co-working space. If that's the trend, the coworking market could potentially grow multiple times what it is today. There will be more spaces available, but this will also lead to intense competition on prices, and whoever manages these spaces will need to be super-efficient. This involves what Stephen mentioned—automating tasks like contracts and creating invoices. All these aspects must flow smoothly and be highly efficient for all users in general. 
The interview is not complete without a testimonial from Cody Nyman, Staples Studio's operations manager - 
"I highly recommend working with OnYourX for your coworking space migration or setup on Nexudus. Serge Rose and his team's expertise in the field is unmatched, and their guidance, communication and collaboration made the process smooth and efficient. The project milestones were met on time and on budget. Thanks to their knowledge and attention to detail, our transition to Nexudus has put us in a position to scale and grow our business in a way we never could before." 
The coworking environment is constantly changing and being flexible is key when it comes to managing a workspace. Moving to a new platform might seem tricky, but the results are definitely worth it!
Our team will be visiting GCUC Canada in Toronto on 12-13 September and the GWA Flex Forward Conference in Washington, DC from 19-22 September. Schedule a meeting with us if you would like to learn more about Nexudus and say hi!