Attitudes towards sustainability are shifting, with more developers, landlords and workspace operators opting for environmentally friendly design materials and approaches. 
The commitments made at the COP26 summit in 2021 are going to have a knock-on effect on the flexible workspace sector. For instance, future access to capital and funding for buildings will rely on developers having a net-zero carbon plan. 
The Glasgow Financial Alliance for Net Zero (GFANZ) is a pledge from more than 450 organisations in the financial sector to move US$130 trillion of funds into investments where the recipient is committed to net-zero emissions by 2050.
In other words, greener projects are more likely to get funded. 
To achieve net-zero, you need to consider the materials you use to fit out and furnish your flexible workspace. If you're about to embark on a new project, why not consider using the following materials? You might also find them useful if you're planning to update your space.
1. Recycled materials
Why invest in something that's going to end up in landfill when you can contribute to the circular economy? Office furniture designers and manufacturers are coming up with inventive ways to repurpose old items and create reusable new ones. 
Take Bene, for example, who recently launched a collection of 3D printed office accessories. 
Bene's desk accessories are made from recycled post-consumer bioplastic and were manufactured by the eco startup, Batch.Works. Batch.Works' 3D printing facilities are wind-powered, making the manufacturing process even more environmentally friendly.
Meanwhile, the Scotland-based furniture company 2ndhnd procures, refurbishes and resells unwanted office furniture. It's experiencing an increase in line with companies' growing awareness of climate change and the need to downsize their office footprint to accommodate hybrid working. 
2. Sustainably sourced materials
Wood is one of the most popular office fit-out materials, particularly when it comes to the manufacturing of desks, partitions and flooring. However, using wood that isn't sustainably sourced can be very harmful to the environment. 
To make sure that wood is sustainability sourced, check for FSC and PEFC certifications. FSC wood is harvested from forests that are responsibly managed, socially beneficial, environmentally conscious and economically viable.
3. Bamboo
Bamboo is robust as well as aesthetically pleasing. Impressively, it has the innate ability to resist plant pathogens and insects, so it's less likely to fall prey to beetles and rot. 
It also grows quickly so is easy to renew. It's lightweight, so is easy to manoeuvre, and most bamboo forests are harvested every five years by hand, eliminating the need for carbon-emitting farming machinery. 
Bamboo is a popular choice for flooring due to its likeness in appearance to hardwood. Green buildings also use it for structural framing, walls and doors.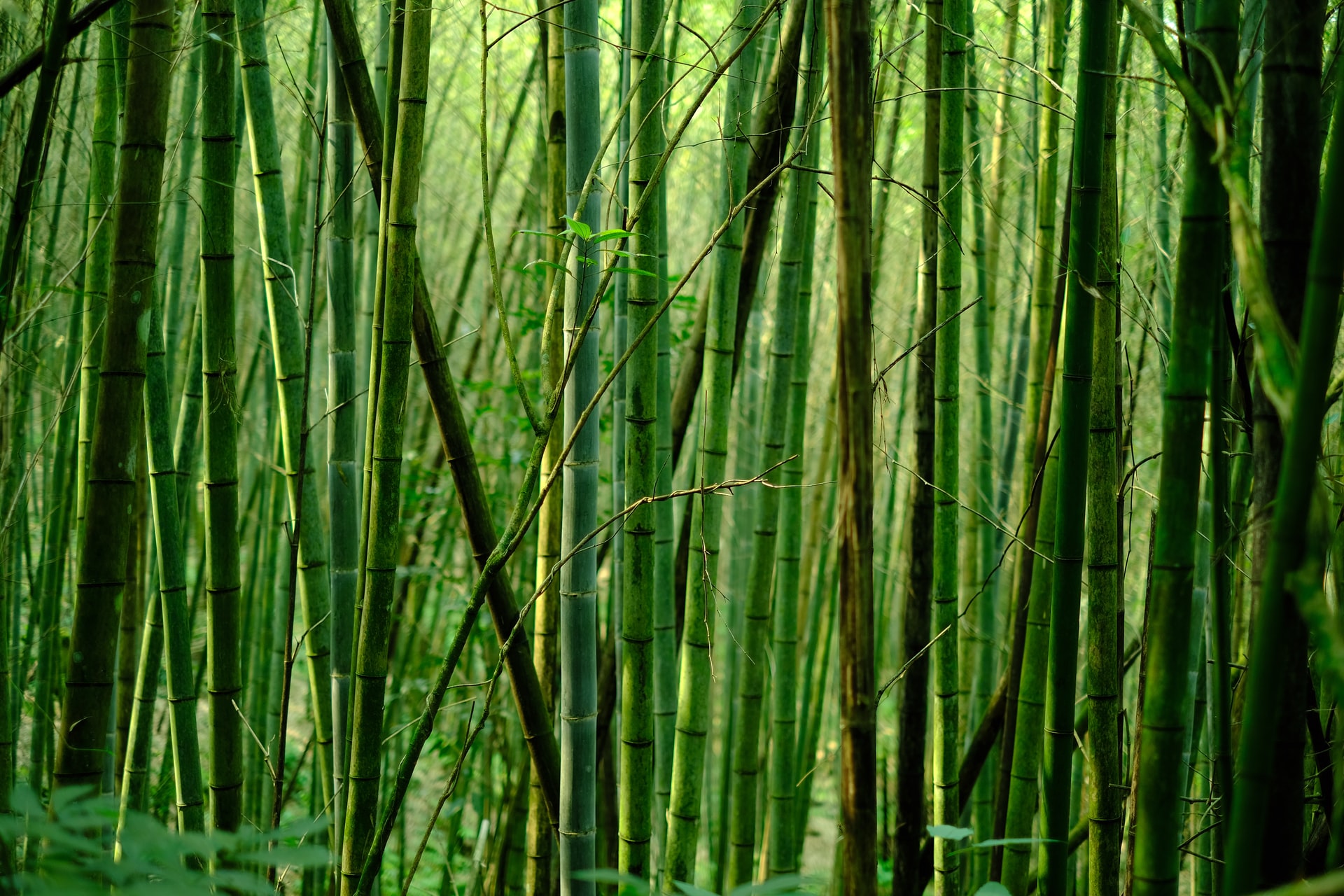 Bamboo
4. Linoleum 
Linoleum (the real stuff, not the synthetic) is made from natural materials such as rosins, limestone, cork and linseed oil. These are sustainable and biodegradable materials, making linoleum one of the most environmentally-friendly fit-out materials on the market today. 
Like bamboo, linoleum can be used for flooring, countertops and for a variety of other purposes. It's also very flexible and can be easily cut into different designs. 
5. Concrete alternatives
Concrete is the most common construction material and its production contributes to 8% of global carbon emissions every year. To overcome our reliance on concrete, researchers have been coming up with a variety of alternatives. 
Finite is one example. It's a material made out of desert sand (as opposed to construction-grade sand). "Sand is the most consumed resource on earth after fresh water," Atelier NL, the material's inventor, told Dezeen in 2018. "Yet sand is being excavated at a rate faster than it can renew itself." 
The London-based studio Newtab-22 has created a concrete-esque Sea Stone that uses a natural binder and waste seashells from the seafood industry. 
Ferrock is a well-known alternative to concrete. Made from waste steel dust and silica, it has carbon removing properties and is more sustainable than concrete. In fact, when ferrock dries, it actually absorbs more carbon than it emits. It's largely chemically inactive and, like concrete, doesn't require a lot of maintenance. 
6. Mycelium leather
Animal leather is falling out of favour across a range of industries, not just in fashion. Lots of brands have earmarked mycelium as a go-to alternative to traditional leather. 
Mycelium is the vegetative part of a fungus and mycelium leather is grown from spores in labs. The spores grow into a sheet of filaments which is then tanned and dyed to replicate the look and feel of 'real' leather. 
Did you know that rearing livestock is responsible for 14% of all greenhouse emissions from human activity? Simply put, mycelium is more sustainable as it uses less natural resources and eliminates reliance on livestock. 
7. Cork 
Cork is also proving popular with workspace designers around the world. It comes from the bark of the cork oak tree and it can be removed without having to cut the tree down. 
According to The Ecologist, "one tonne of cork produced retains 73 more times of weight in CO2 in retention."  Known for its insulating properties and durability, cork is used for cladding in architecture and it's also being used by workspace designers for office furniture.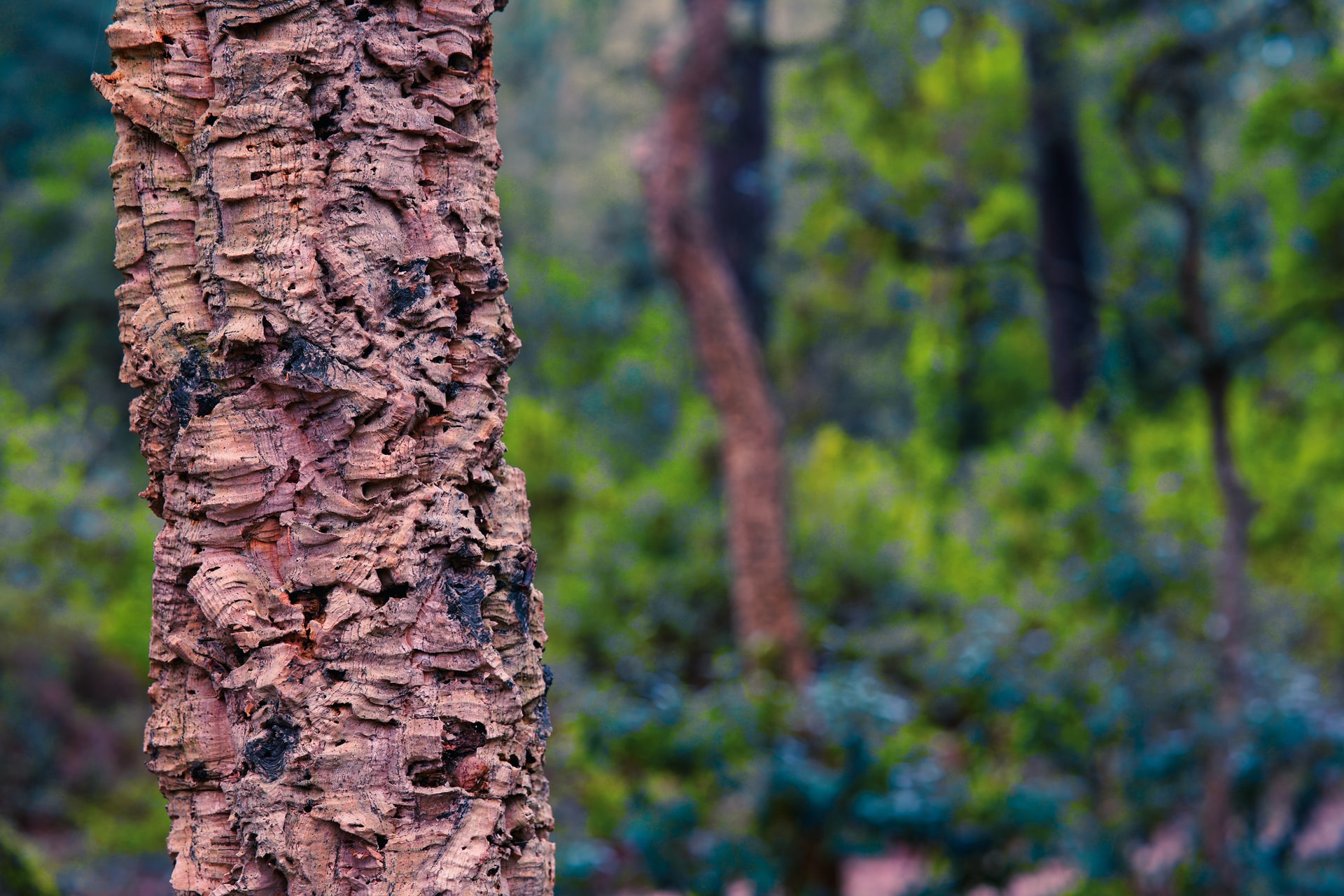 A cork tree
8. Algae-based bioplastics
Bioplastics are typically thought of as more eco-friendly alternatives to traditional plastic, but despite their pros, they aren't without their cons. In fact, this study from the University of Pittsburgh found that plant-based plastics aren't necessarily greener than oil-based ones.
Some bioplastics rely on synthetic fertilisers, for example, and the monocultures created to make space for growing the plants mean they aren't as sustainable as they might seem.
With this in mind, a growing number of designers are looking towards the sea for a more eco-friendly alternative. Algae include seaweeds, kelps and other photosynthetic organisms. They absorb carbon, generate large yields and don't take long to cultivate. 
In the design world, algae is increasingly being used for sustainable packaging and a variety of other products, including ink and textiles.