Here at Nexudus, we love to bring you the latest in cutting-edge technology to enhance your experience with Nexudus and in turn your customer experience journeys. So, today we are very excited to bring you our brand new OpenAI integration—it's a game-changer and we'd love to tell you more so read on! 
Now, imagine a world where your customer support function runs seamlessly, providing instant resolutions to simple queries, whilst also allowing your teams to dedicate more time to complex tickets as well as more business-critical tasks. In today's corporate landscape, automation and AI are crucial for enhancing the customer experience and lightening the burden on your teams...And that's where the Nexudus OpenAI Integration comes in. So let's get into it!
How does the integration work?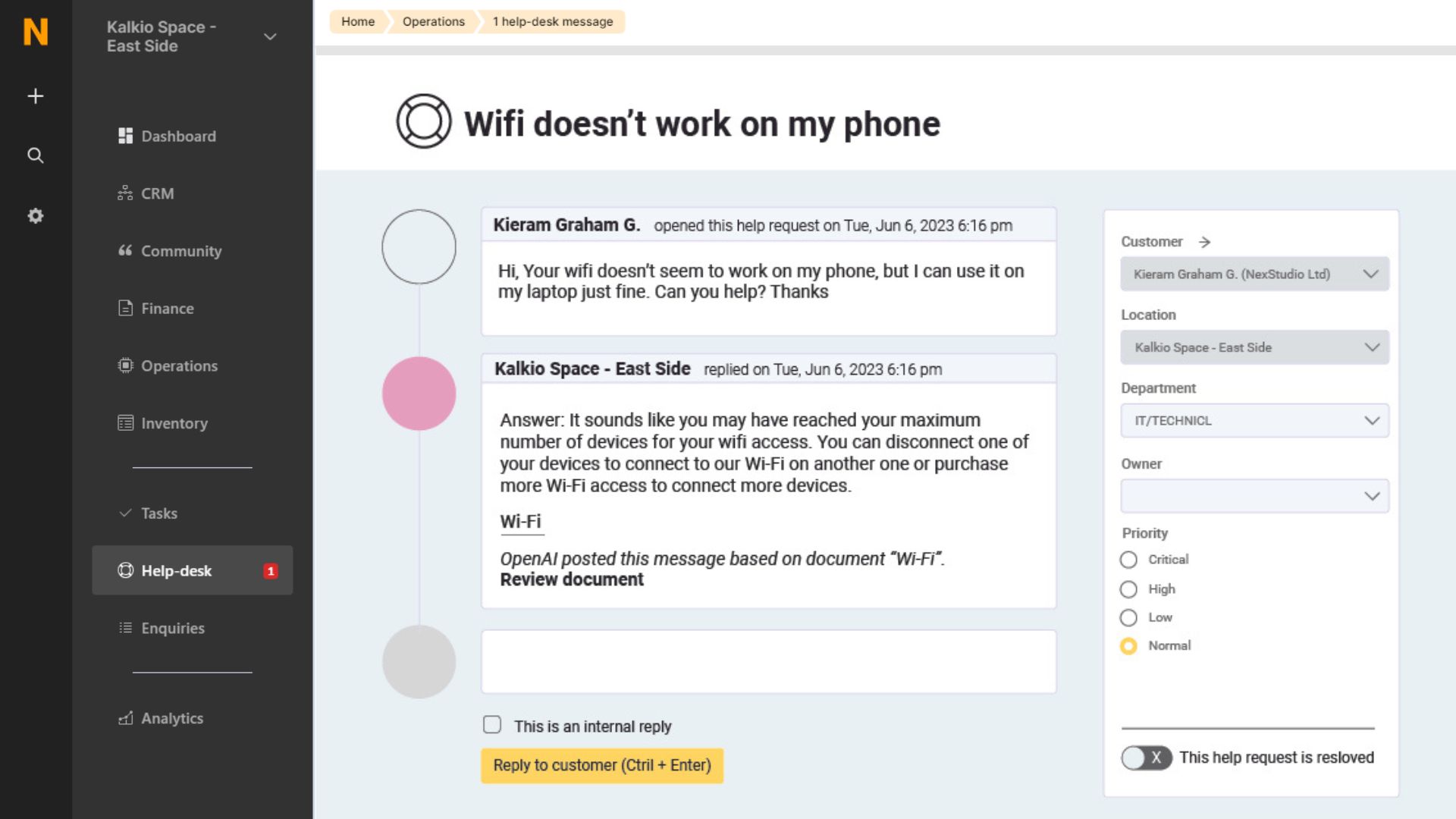 The technology seamlessly integrates with your prior entered dataset, automating routine inquiries and providing instant, accurate, and personalised resolutions. It's like having a team member that can handle customer interactions whilst maintaining a human-like touch. With this integration, you can ensure swift responses and reduce the overall burden on your teams. It's all about efficiency and delivering top-notch support. 
Adrian Palacios, Co-Founder and CTO at Nexudus, emphasizes the importance of incorporating advanced technology into workspace management, stating "By introducing cutting-edge solutions like the OpenAI integration, we not only demonstrate our dedication to delivering exceptional customer experiences but also to empower workspaces to stay competitive in a rapidly changing market. We firmly believe that incorporating advanced technology into workspace management is crucial for enhancing operational efficiency, optimising resource allocation, and providing a seamless experience that keeps our customers one step ahead for their customer base." 
Enhance Cost and Time Efficiency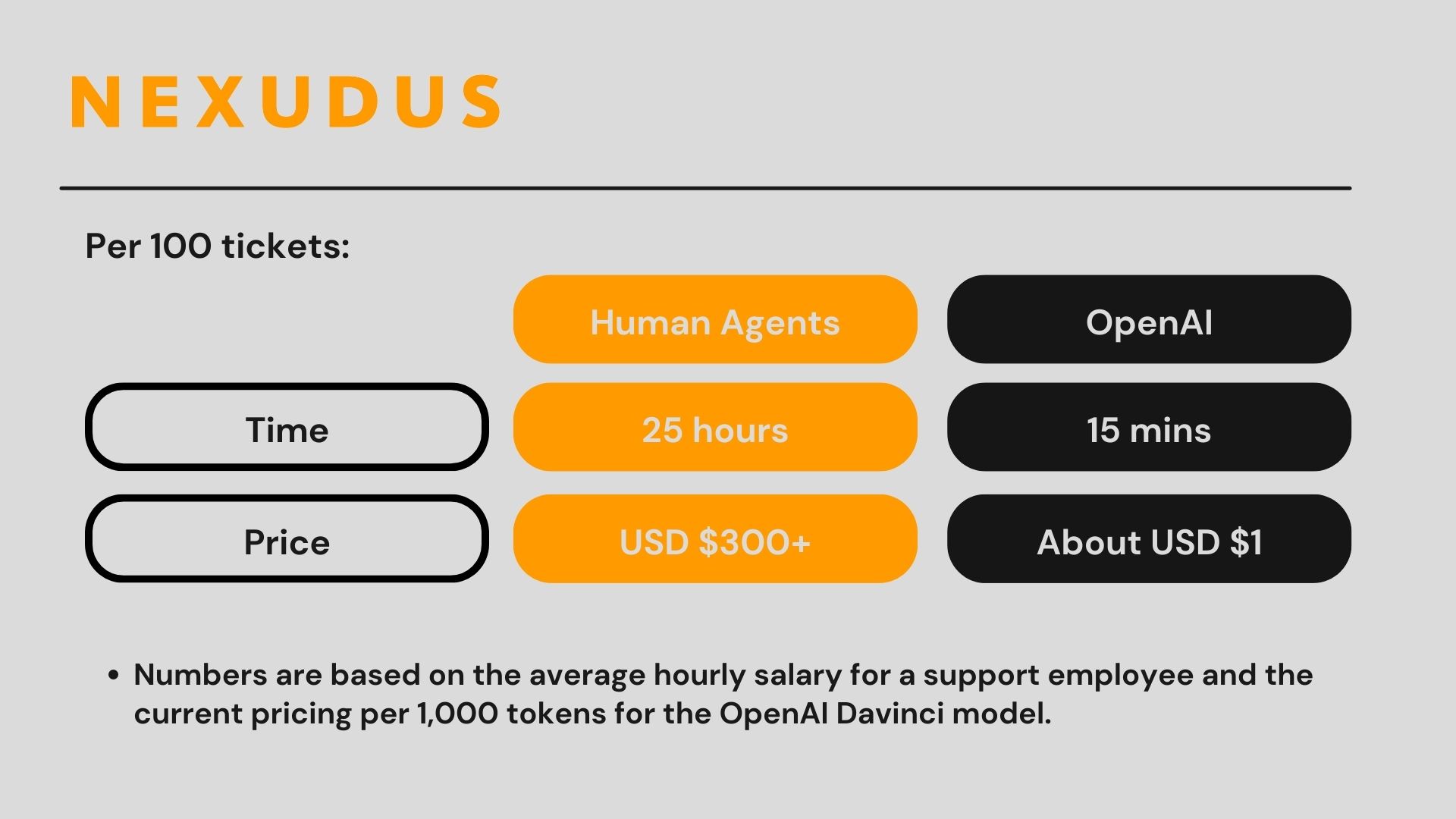 As you can see from the above chart, automating help desk processes has the potential to slash response times by up to 80%. While traditional human agents take around 5 minutes to resolve low-level support inquiries, the OpenAI helpdesk integration can solve 100 tickets in just 15 minutes, all for a mere $1. 
This remarkable feat is 100 times faster than the traditional approach, promising to significantly reduce helpdesk average resolution times and boost overall productivity. With such rapid and cost-effective ticket resolution, coworking and flex workspaces can allocate resources more efficiently, empowering their teams to focus on more complex business challenges. These impressive numbers underscore the tangible benefits that AI-powered automation brings to the flexible workspace industry, enabling businesses to scale seamlessly while delivering exceptional experiences to their members. 
Other Benefits of the Nexudus OpenAI Integration
Enhanced Customer Experience: Harness the power of AI to deliver instant and personalised customer support, ensuring increased customer satisfaction. 
Streamlined Workflows: Automate repetitive tasks and alleviate the burden on your team, allowing them to focus on more complex business challenges. 
24/7 Availability: Provide round-the-clock assistance to customers, regardless of time zones, ensuring uninterrupted support. 
Intelligent Accuracy: Leverage advanced AI algorithms to deliver consistent and precise responses, minimising the likelihood of human error. 
To conclude, the introduction of the new OpenAI integration is a significant step towards redefining help desk automation. By embracing cutting-edge solutions like this, we not only showcase our commitment to delivering exceptional customer experiences but also empower workspaces to thrive in a dynamic and ever-evolving market. With Nexudus and OpenAI, the possibilities are endless! If you're a Nexudus customer, head to our knowledge base for a step-by-step guide on the OpenAI Integration.