It's a brand new year and everyone here at Nexudus is excited to get stuck into improving the platform, both by adding new features and building on the tools we already offer.
Last year was a fantastic year for us in terms of the significant steps we took to add the tools we believe will be vital in allowing workspaces to meet the changing demands of the workspace moving into the future. We are sure that 2023 will be no different, which is why we wanted to give you all a sneak peek at some of the exciting things you can expect to see from us this year.
Churn Forecast Dashboard
Those of you who have been using Nexudus for a while will know that we are in a constant state of improvement and build on our existing features on a yearly basis. Last year, for example, we added our industry-leading AI Module to the Nexudus Admin Panel. Our plan is to keep building on this exciting feature and continue to improve how it is able to help workspace operators to optimise the management of their spaces.
One of the exciting new features we have launching early this year is our new Churn Forecast Dashboard. The latest of our AI features, this third dashboard will use AI to predict customer churn and measure customer engagement. 
The aim of this feature is to allow operators to tailor their attention to specific tenants who may be at risk of leaving your workspace, and detect potential issues before they actually arise. It is clear this will be a very powerful tool, which could help you act before major issues arise with your members. 
Sensors API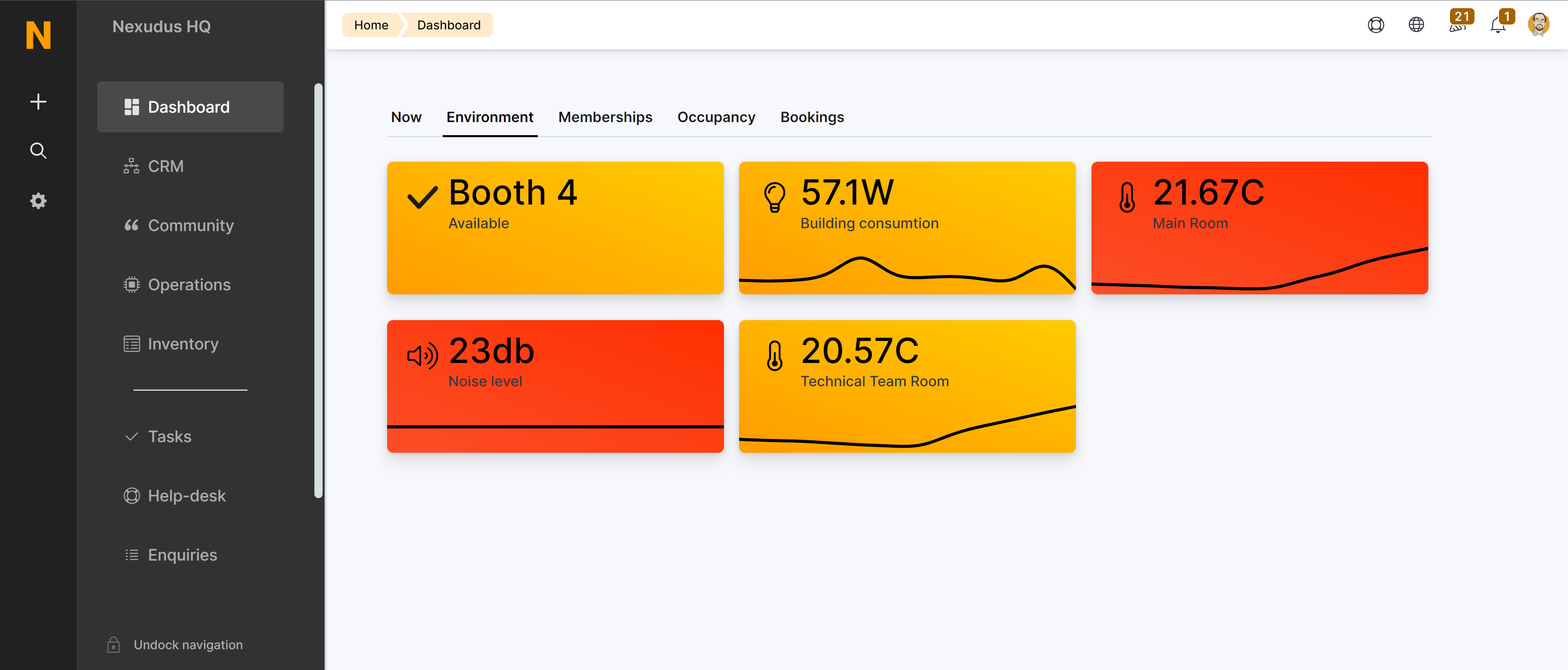 It might sound obvious, but it is always important when working on Workspace Management Software, such as Nexudus, to keep in mind that workspaces are physical. So much of our world now happens digitally, but we cannot forget that our aim should be to improve the lives of those people working in a physical space. 
A big step we are taking this year is to give operators a real-time view of their space and how it is running through the use of sensors that feed their data directly into the Nexudus platform. 
As you can imagine, sensors are available to measure all kinds of different things, but to give you a sense of the sorts of areas this new feature will allow you to measure:
Presence: Show movement in a specific area.

People Counters: Show how many people are in a given area.

Comfort and Environment: Measure environmental values such as temperature, noise, light or humidity.

Air Quality: Measure CO2, harmful particles and other gases. 
The above gives you a sense of how useful and powerful receiving real-time data such as this can be. We really hope it will enable you to not only have a better understanding of how your users experience your workspace but also to further optimise how you run and organise your space. 
Knowledge and information can be very powerful tools, which is why we want to provide you with as much of it as possible.
Occupancy/Check-in pattern Dashboard
We are also working on delivering you an improved version of the Occupancy and Check-in Dashboard in the Nexudus Admin Panel. This will give you a better idea than ever when your workspace is at its busiest and how best to manage and market your business. 
This can be of particular use to people running multiple locations, as this brand new display will give you the ability to directly compare how your various locations match up to one another. 
This is yet another example of how we are constantly trying to build upon the features we have already implemented. We are not content with resting on our laurels here at Nexudus, which is why we are always looking to improve what we have as well as adding new features to the platform. 
Floor Plan Engine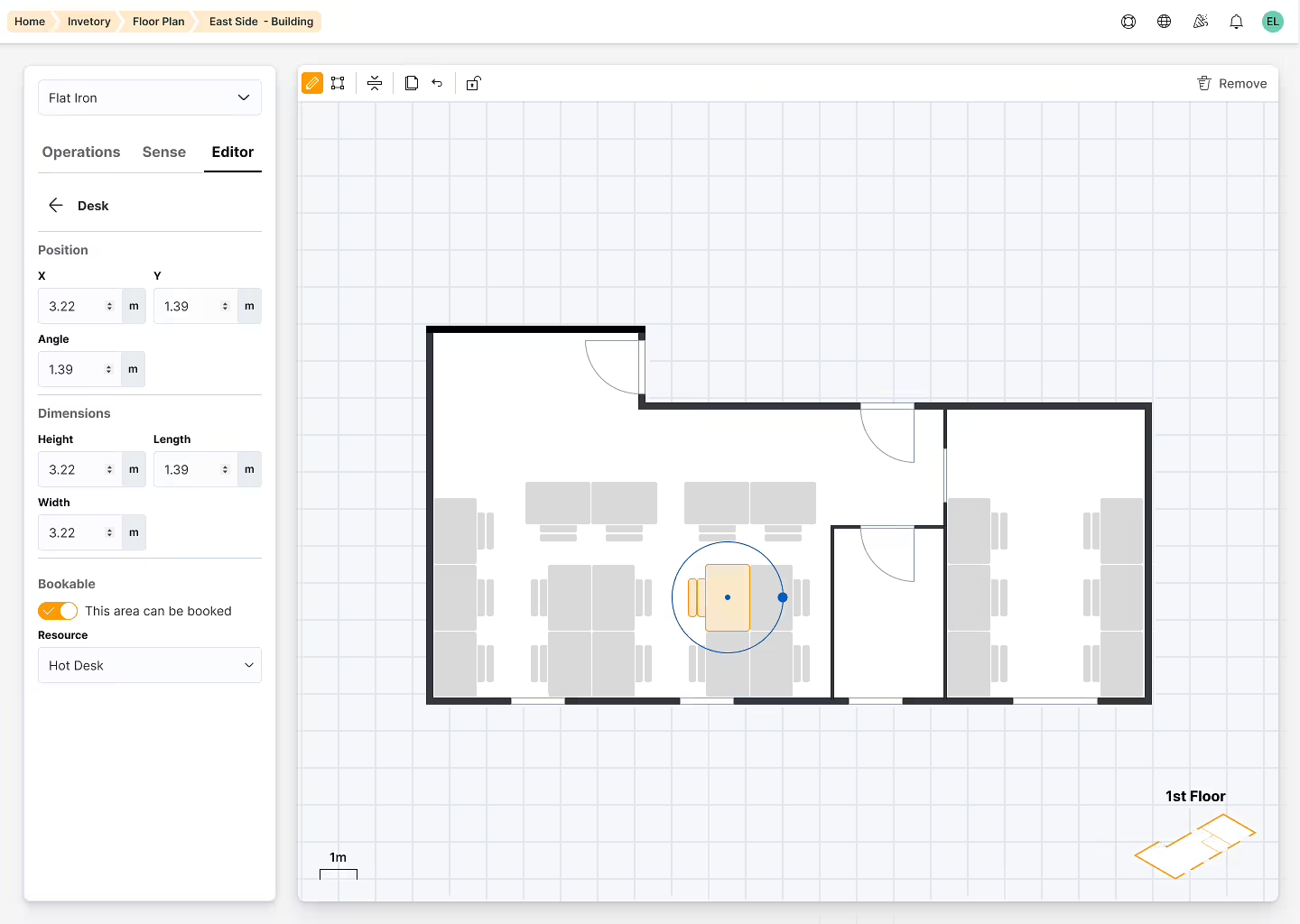 Floor plans have been a crucial part of the Nexudus platform for a while now. Giving members the ability to visualise their workspace in a clear way is now an expected feature for those booking desks in coworking and flexible workspaces, which is why we want this feature to be as powerful as possible for Nexudus users. 
An example of this is to make it easier for Nexudus users to add and edit floor plans within the platform. Our new Floor Plan engine, which is due to launch later this year, will give you more power than ever when setting up and editing floor plans within the Nexudus Admin Panel. 
Being able to add and edit elements of floor plans from directly within the admin panel is a massive leap forward, and will allow spaces to be much more flexible when it comes to reorganising their space, and being able to have the agility to pivot quickly and with ease. This will make it easy to optimise your space and keep all of your floor plans up to date, all of the time. 
New Integrations
At Nexudus, we pride ourselves on our long and varied list of integrations. We think it's vital that Nexudus users have the ability to make use of the tools they love to run their workspace in the way that works best for them.
We are always adding to this list, and looking to give you as much choice and flexibility as we can. 2023 is going to be no different, and we have a number of exciting new integrations in the pipeline that we are excited to be able to tease you now…
Access Control
Many of you will already know that we have a whole bunch of different access control integrations already in place, and just with each and every other section, we are always looking to expand this list. With yet more exciting names that will be added to the list very soon, you will have even more choices to select a provider that works for you. 
Meeting Room Displays
Regarding meeting room displays, we already integrate with a number of fantastic providers, but yet again, we want to ensure our users have as much choice as possible. That is why we are working hard to add even more workspace digital display providers to our list of integrations, giving you the option to select a provider that best suits your workspace. 
Sensors
Increasingly, the built environment and sensor cloud equipment are becoming vital to the effective operation of workspaces looking to adopt and meet the changing needs of the future of work. With this in mind, in 2023, we will be partnering with some of the big players in this arena, powered by the sensors API that we mentioned earlier, allowing you to get the full picture of your workspace and how it is running. 
As you can see, 2023 is going to be a busy year for us at Nexudus, as we look to improve your experience and help you run your workspace as effectively as possible. Keep your eyes peeled for more updates in the coming months, as the features listed above are really just a taste of what we have in the pipeline.