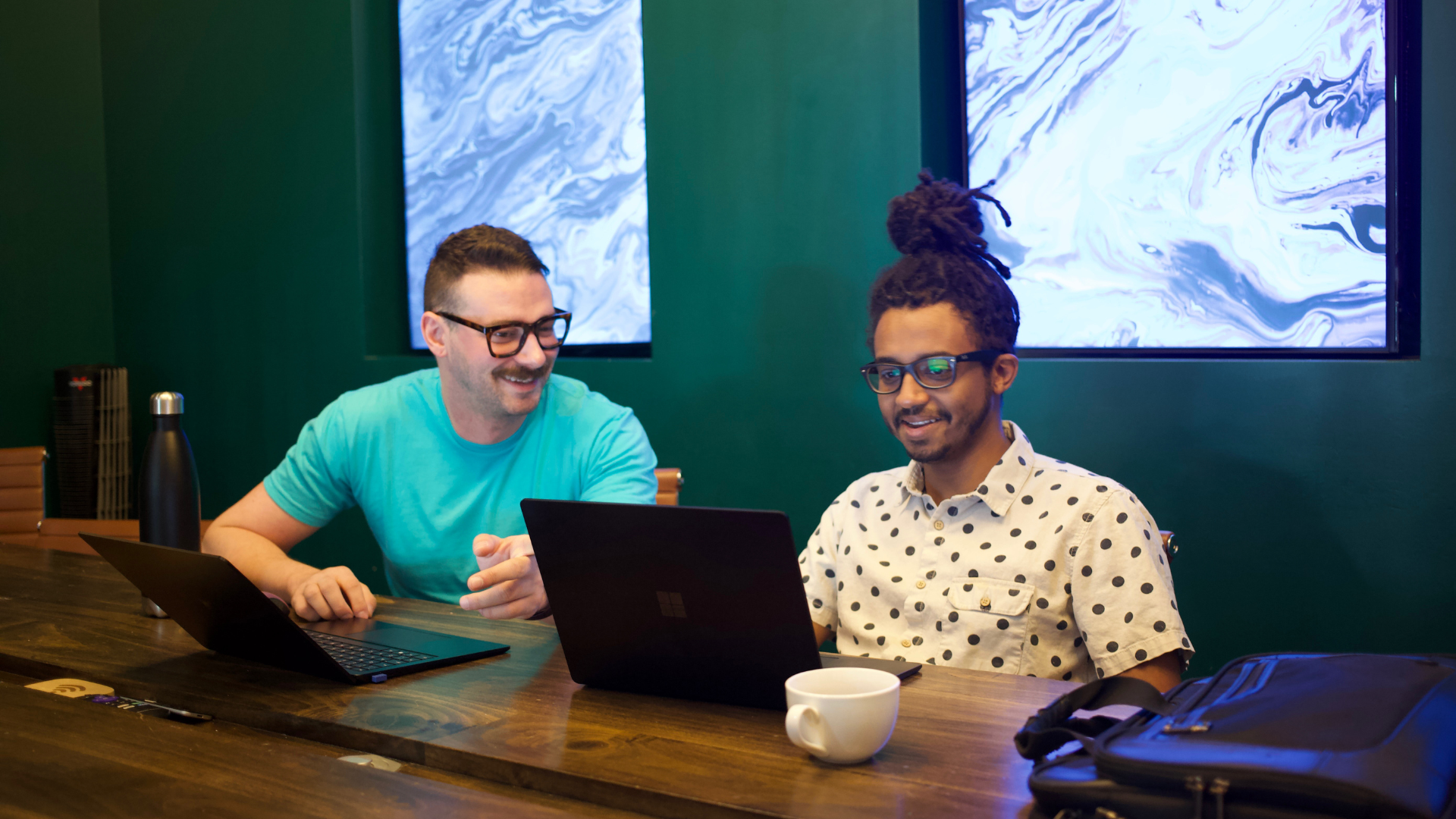 Meet our US team, at their new coworking location!
Our US team recently moved into a new coworking location in Las Vegas, and we grabbed the opportunity to catch up with Damian Cotter, Nexudus' Customer Success Manager, and Simon Abraham, our' 1st Line Support Technician, to share some insights into their roles from the other side of the pond, at the world-famous entertainment capital! 
Can you tell us a little bit about yourself and how you ended up in the world of tech and coworking? 
Damian: How did I end up in this world? So, I studied law as my undergraduate degree but soon realised it wasn't the right fit for me. I then transitioned into celebrity and talent management but I always had a passion for technology. That's when I joined Nexudus in a frontline support role, a couple of years later, I was promoted to Nexudus' first customer success manager! Based on the good rapport I had built with our customers and my genuine passion for helping people. 
Simon: I am a 1st Line Support Technician here at Nexudus. I have around 5 years of experience in technology support helping international clients with their software issues. I only joined the company a few months ago but I feel like I'm acclimating pretty well already! 
What are your main responsibilities? 
Damian: Primarily, I communicate with our US or North America-based customers, set up calls with them where I get to hear their feedback face-to-face and understand their challenges whilst getting an understanding of their goals, I then liaise with the wider Nexudus team to help them achieve their goals. A large part of my role is listening to our customers and understanding their experiences with using Nexudus as well as really understanding how they use the platform, this helps me to improve their experience with us. 
Simon: Being a customer support technician really just means taking care of our customers when it comes to specifics and their daily use of the platform. I am here to help out with any support inquiries they may have, whether this is related to queries arising from their use of the software or simply due to a lack of familiarity or knowledge with the platform itself, which I am always happy to delve into! Essentially, I am looking after customers for their day-to-day operation of Nexudus. 
Damian: The way I see it is, Nexudus Support looks after customers in relation to particular aspects of the platform whereas customer success would be more of a holistic role. And oftentimes, I'll pass customers from their conversation with me at customer success, over to Simon, to help them get a better understanding of the platform and enhance their use of Nexudus with specific features and technical aspects. In a nutshell, I'm more kind of the overview and then, Simon would be more of the specifics. Overall, we're both here to look after our customers, just in different ways! 
What is the best part about serving clients located in the same area as you? 
Damian: It would be the expanded support hours. Customers are getting responses without any time difference, and that also applies to the training calls that they're booking. We also have a better understanding of things like taxation, accounting practices and the phrasing and verbiage that our customers are using so they get a bit more localised support and training from us than they would otherwise. 
What does a normal workday look like for the Nexudus US team? 
Damian: We start really early at 7 am! so that we have enough overlap with the London HQ. Typically my day starts off with meetings! I have calls with our customers, focus on customer success, respond to customer queries and things like that. And then, in the late afternoon, I usually have Q&A sessions with the guys who work in support here in the North American time zone! 
What is your favourite part of the job? 
Damian: For me, it would be the satisfaction of seeing our customers' spaces grow and being a part of their success and journeys. That's definitely where the job satisfaction comes from for me, and also attending the conferences and getting to meet those customers face to face and connect with the industry! 
Simon: So far, what I enjoy the most is finding ways to better our clients' day-to-day operations no matter how big or small their problems are, it's always interesting to delve into and super fulfilling when you make a customer happy! 
What is the most powerful Nexudus feature that you would love to give a shout-out to? 
Damian: Nexudus Explore is one that I am always mentioning to customers. It's not only a powerful tool that uses data to analyse your space but it also helps you to make data-driven decisions for your business, based on that data! The companies themselves can use the analytics tools and reports features on the Nexudus admin panel to track their own KPIs and understand what products or services are the most popular for their members. From there, they can fill out gaps where they can increase their revenue and reduce churn. Internally, we also analyse our own customers' usage in the Nexudus platform, to understand better where improvements can be made and where our customers can really benefit from certain features or services! 
How are you enjoying the new workspace? 
Simon: Corporate Cowork (where the team now works) actually is one of Nexudus's very own customers. It's super spacious here, the lighting is just amazing. Aside from that, if I have to choose one thing that would be my favourite, it's going to be the nitro brew coffee. That's always available on tap! 
Damian: It's fairly big and they've done a really good job of maintaining that community feel. We sometimes have games and things like Bingo on Thursdays, once a month they also have a barista that comes to the space, to make coffee for us, and for celebrations for the 4th of July, they have a BBQ! So going back to having a space that has a real welcoming feel and those little perks help as well!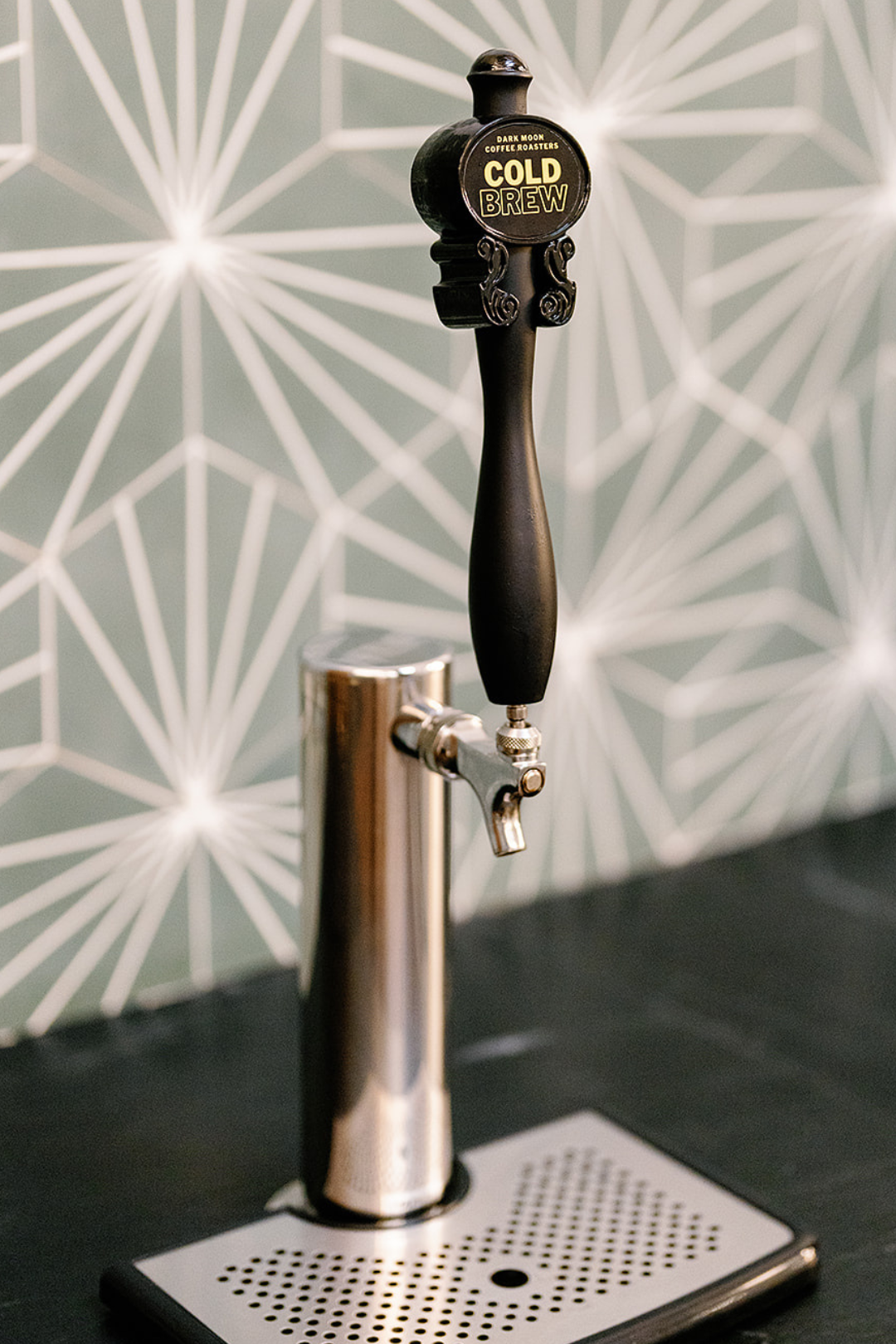 The nitro brew coffee tap!
What is it like to work in a client's workspace? 
Damian: It gives us unique insights into what it's like as a member to experience Nexudus in a real-life situation! When I was working in support, we performed a lot of testing and we would kind of imagine what it's like to experience these Nexudus features as a user. But it's just different when you're on the ground and using your phone to access the space, checking in on the tablet, making bookings from NexBoard on the tablet at the meeting room, engaging with the front-facing member portal and things like that. You really do get to see the system in practice! It definitely helped me to get an understanding as a member, and also, as an operator. The advantage to the space here of having us on site obviously, is that we can provide any kind of support in person that they need. But it also helps me kind of, understand in a real face-to-face way how they operate and the advantages of using Nexudus. 
How do you see the coworking industry moving, going forward? 
Simon: I think coworking is a really smart and lucrative idea. No matter what happens, there's always going to be new businesses that need spaces to work in. So does Nexudus, it is something like the apparatus of an ever-growing business, and just makes perfect sense! 
Damian: Nexudus was founded in 2012. It's now a 10+-year-old company and a number of our early clients are based in the United States and are still with us. We've witnessed their growth over the last decade or so, which also means they've grown alongside Nexudus! Nexudus has changed a lot as a platform as well, constantly adding new features and really expanding. We've definitely seen growth and the industry itself has changed particularly with the pandemic. There has been quite an acceleration to flexible working and I feel like the world of work was already moving in that direction. But the pandemic just really accelerated things. Coworking spaces that were already existing at the time of the pandemic, had quite a bit of difficulty getting through those troublesome periods. But we've seen quite a bit of growth in the industry based on a move away from working in traditional office spaces and people desiring more flexibility in their lives. Nexudus was very fortunate to have been at the forefront of that when that occurred! 
Simon enjoying the sunlight in the office!
We loved catching up with our team who naturally love our platform and coworking so much! However, we also spoke to Corporate Cowork's Founder and CEO, Tony Kerrnaja to get his unbiased take on Nexudus! 
What problem were you trying to solve with Nexudus? 
Tony: We aimed to find a user-friendly platform for both back-end management and front-end customer interaction. Nexudus exceeded our expectations, providing not only ease of use but also additional valuable features. 
How long have you been with Nexudus and what do you like the most about us? 
Tony: Our coworking company has been using Nexudus since August 2019. What impresses me the most about Nexudus is its seamless integration with a wide range of software we use, making our workflow incredibly efficient. Additionally, their constant updates demonstrate their commitment to continual improvement. Not to mention, their customer service and support are exceptional, always there to help us when needed. Overall, it's been a fantastic experience working with Nexudus! 
What's your favourite Nexudus feature? 
Tony: Nexudus' data and analytics capabilities have been unexpectedly valuable for us, optimising resource allocation, improving member experience, and increasing revenue generation for our coworking space. 
If you are interested in learning more about Nexudus and how we can help to elevate your workspace. Our team will be visiting GCUC Canada in Toronto on 12-13 September and the GWA Flex Forward Conference in Washington, DC from 19-22 September. Schedule a meeting with us now!