Meetings are back on – in a big way! In-person meetings that is. 
After so much remote working, many of us look forward to our on-site days where we can catch up with colleagues in a natural way without having to navigate the stilted awkwardness of video communication. 
Now more than ever, flexible workspace operators should be thinking of ways to optimise the real-life meeting experience. 
Here are 10 things you can do to improve it for your members. 
1. Enable members to book using an app
Many of us are juggling so much right now – in life and at work. 
It's highly likely that your members will need to book meeting rooms on the go. That's why it's so important to provide them with an app that lets them manage every aspect of their meeting room booking. 
Passport by Nexudus is one such app. 
Designed to simplify processes for members, Passport by Nexudus lets app users book meeting rooms, unlock meeting room doors and check-in to their bookings. 
It also provides access to your Members' Directory, Community Feed and Online Forum so that people can chat and collaborate within your workspace.
2. Get attendees to check-in 
Getting members to check-in when their booking starts can help reduce the number of no-shows. Using your flexible workspace software, you can set rules so that if attendees don't check-in to their chosen meeting room within 15 minutes of their booking starting, the room automatically becomes available again. 
3. Place a tablet outside the meeting room 
If you haven't already, consider attaching a tablet to the wall or on the door of each of your meeting rooms. NexBoard is Nexudus' meeting room tablet tool. 
Designed to go outside the meeting room, it contains useful information pertaining to the resource, including its availability and the amenities on offer. 
Members can also book directly using the tablet and check-in to the room. You can even include a note on NexBoard to show when the room was last cleaned.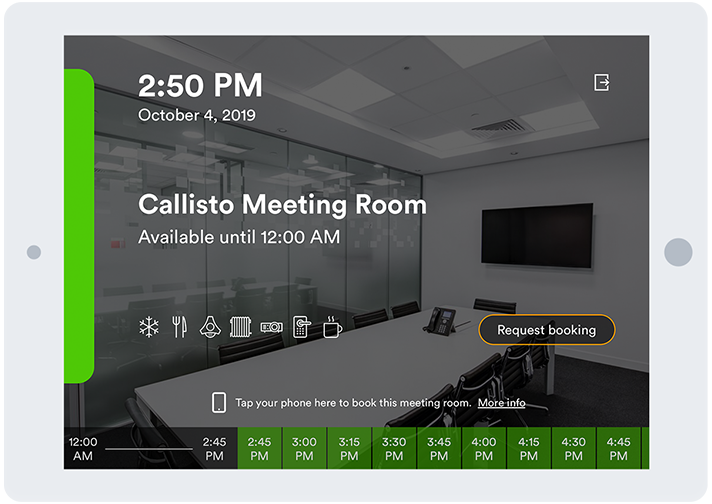 4. Assign names and signpost
Firstly, it's important to signpost your meeting rooms clearly. 
Include a sign on the door with the name or number of the meeting room. If you're lacking inspiration when it comes to naming your meeting facilities, consider themes (e.g. famous innovators and scientists, creatives who deserved more recognition or the world's highest mountains.) 
'Small', 'medium' and 'large' are clear names (if not a little uninspiring). 
5. Promote your meeting rooms 
Meeting rooms can be a nice source of extra income for coworking spaces. 
If you're considering opening up your meeting rooms to non-members, think about how you're going to market them. Post pictures, hourly rates and discounts on your social media channels and spread the word to local organisations so they are aware of your existence. Audit the accessibility of your meeting rooms too. 
6. Factor in hybrid meetings 
Most of your members are probably working from the office on a hybrid basis, spending at least one day a week working from home.
Your meeting rooms need to reflect this change. Depending on the purpose, meeting rooms should typically include easy-to-use video conferencing tools so that people can join remotely. The right technology will help ensure that everyone is heard. 
7. Invest in soundproofing 
Soundproofing is becoming increasingly important. 
While some of your members will require confidentiality when conducting their meetings to prevent others from being able to listen in on conversations, others will need to keep ambient noise at a minimum because they're using your meeting space to record podcasts or film interviews.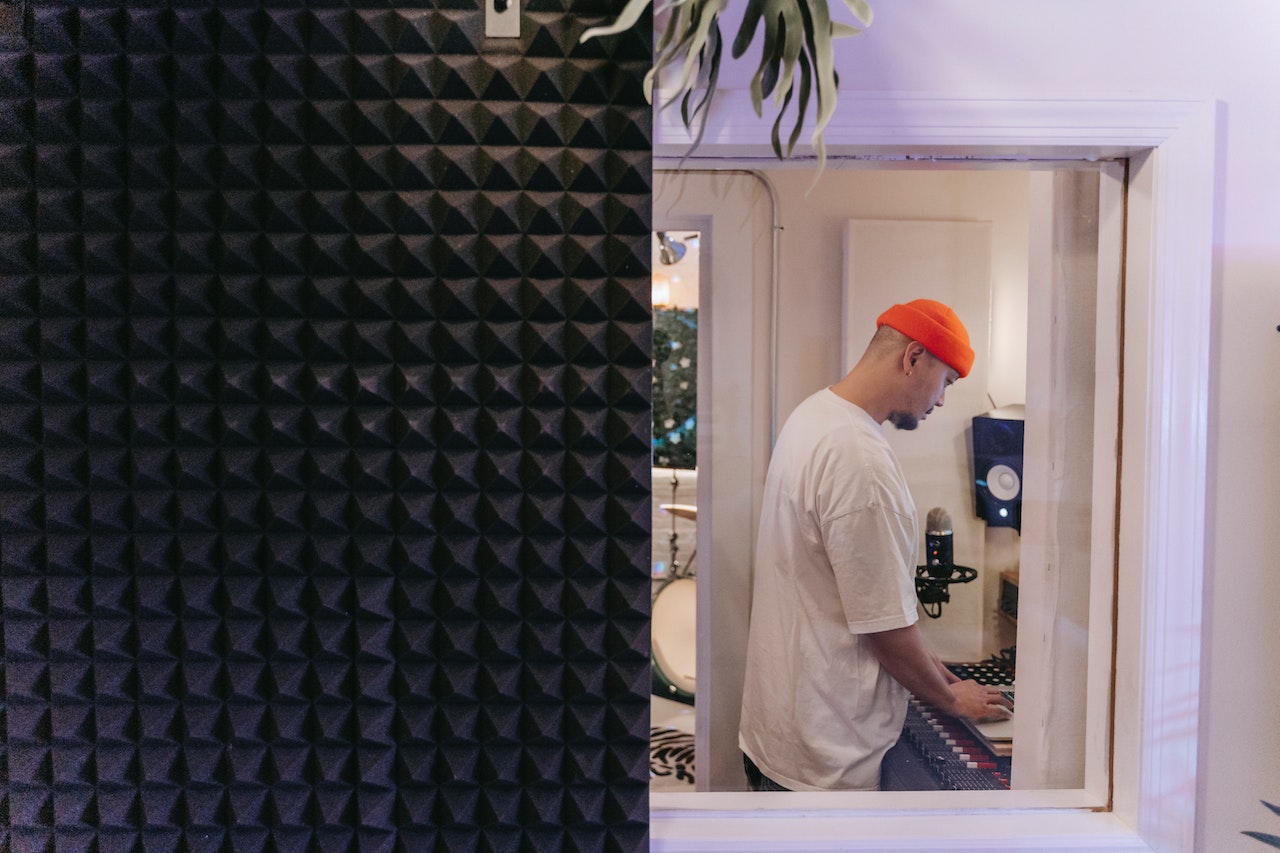 There are lots of office soundproofing solutions out there, including acoustic sound panels, soundproof and acoustic curtains, acoustic window inserts and acoustic partitions. Rugs, plants and wall hangings can also reduce the impact of noise. 
8. Optimise the lighting
Lighting can have a direct impact on our wellbeing and ability to concentrate at work. 
Ideally, you'll want to ensure your meeting rooms let in plenty of natural light. Even if you're lucky to have lots of natural light, you'll still need artificial LED lighting solutions for those gloomy winter days, and evening or early morning meetings. 
It's important to get this right: an underlit meeting room can cause eye strain, while overlighting can also cause visual discomfort. Dimmer switches can provide flexibility and using multiple lighting fixtures can help you distribute the light more evenly. 
9. Implement usage limits
Every coworking space manager – or member – knows that one person who is constantly using the meeting room or phone booth. 
When it comes to often free-to-use resources like phone booths and meeting pods, consider creating guidelines on how often they can be used. You may decide to let members use your phone booths for one hour at a time, for a maximum of two hours a day, for instance. 
To a large extent, it depends on your phone booth-to-member ratio.
10. Make your expectations clear
Make your employees and members aware of the 'rules' around meeting spaces. Doing so will help ensure that everyone has a friction-free meeting room experience. It's worth including these rules in your new membership pack and on your website. 
Here are a few rules you could consider implementing or adapting for your space:
Don't use a meeting room without booking it first

If you need to cancel, do so as soon as possible

Check-in to your meeting on time

Leave the meeting room promptly when your time's up

Keep the meeting room clean and tidy: put rubbish in the appropriate bin and wipe the whiteboard if you've been using it to make notes

Close the door when your meeting is in progress
Extra tip – leverage your data
Another way to optimise the member experience is to understand how your meeting rooms are currently used and how you could improve them. 

The Nexudus Trends and Insights Dashboard lets you do just that. You can use it to get projections on what your meeting room booking demand could look like for the week or month ahead, and compare how your meeting rooms are performing. 
Equipped with these high level and granular insights, you'll be in a much better position to promote your meeting rooms and other resources. And boost revenue!