Just how important is technology to the future of your flexible workspace?
Over the past few months, we brought together industry experts from a variety of fields who are unified by two common ideals: their passion for coworking, and their enthusiasm for technology. Through these discussions, we have learned a lot about what priorities should be for all different types of flexible workspaces in regards to technology, access and security and data. We have learned that whilst this has been a difficult year for all, technology has been able to help us to great lengths, and we anticipate that individual communities will expect an even heavier focus on employing smart technology both during and following the pandemic.
If you didn't manage to tune in, our on-demand webinar recordings will allow you to catch up in your own time. Discover the industry insights and information you are looking for by using the links below.
Why technology-enabled spaces attract more customers
Our first webinar kicked off our series in style. We explored the concept of technology-enabled spaces and discussed the ways in which the pandemic has accelerated our need for technology. Throughout the discussion, there was a general agreement that bolstering your existing technology stack is the ideal way to help you retain customers, as spaces with technology solutions in place that facilitate interactions in a coworking space are becoming increasingly appealing to prospective customers. Because of this, a new benchmark is being created, and spaces are needing to stay ahead of the curve in terms of innovation so that they do not risk falling behind. With insights both from the client and consultant side, our panellists discuss the must-haves and nice-to-haves in relation to technology for workspaces, as well as offering insight into the processes they have changed that have helped to keep their community connected, and revealing what is in the pipeline for the future.

We were joined by:

You can access the webinar here, or by clicking the image below.
Why is access and security in your workspace a priority?
On our second webinar, we explored the theme of access control and the importance of making sure that members of your community have the right level of access to both the physical spaces within your buildings and that the right areas of your network. We agreed that user behaviour has unsurprisingly changed greatly in the context of the pandemic, and access control has a bigger role to play in keeping space users safe. As each of our panellists are solution providers, with two representing physical security solutions and two speaking from a network perspective, each speaker discussed how their respective organisations have shifted their approach to meet these heightened needs. On the webinar recording, you will learn more about the importance of gaining an understanding of the security requirements of your members, and how when setting up any solution of this sort, it is not just essential to think of the needs of today, but those of the future also.
Our panellists were:
Learn more about access and security for your coworking space here.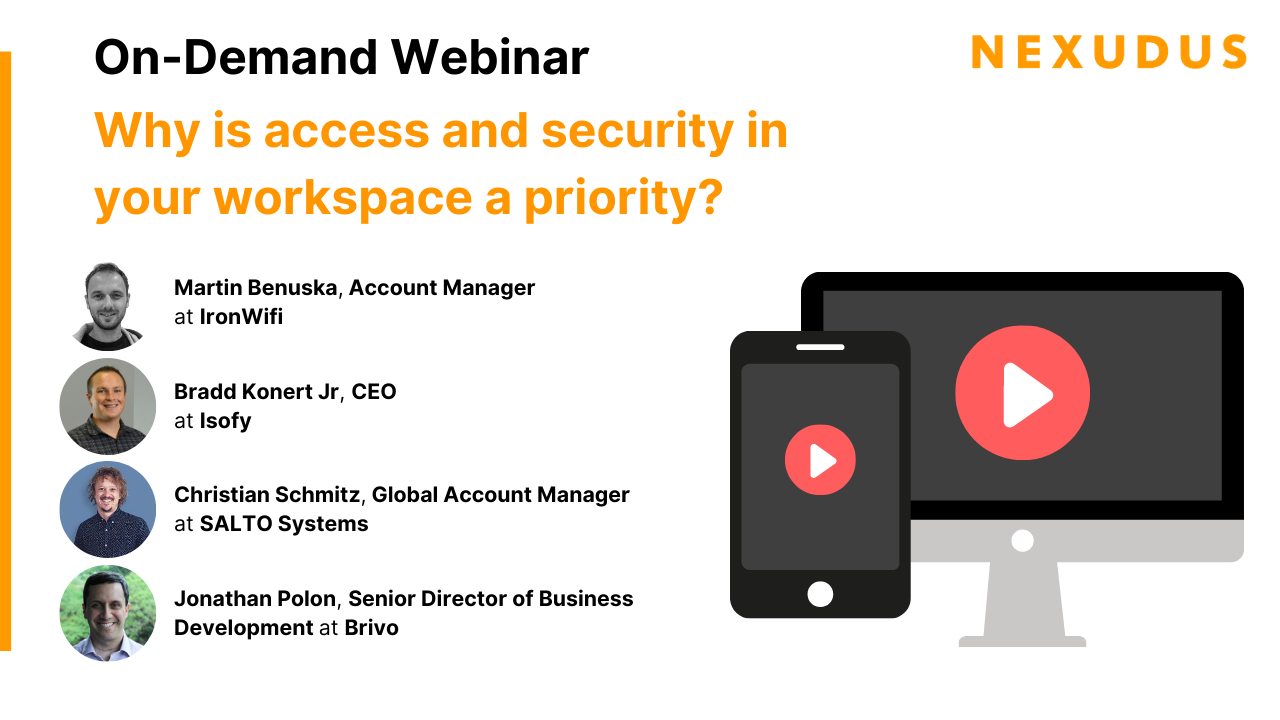 How to make data-driven decisions for your flexible workspace
In a flexible workspace, data can present you with an unrivalled view of how your space is operating and a unique insight into your members' behaviour. From these insights, operators have the opportunity to improve processes in the space to better meet the needs of members. But with so many different types of metrics to be tracking, it can be challenging to figure out which are the most important for the various teams and individuals throughout your organisation. On this session, we are joined by both those who have seen firsthand the result of accurate data analysis in their spaces, and owners of analytics platforms who help third party organisations to realise this importance. 
We had the pleasure of hosting:
See our webinar recording for advice on how to take your data analysis from good to great.
Coworking post-COVID: Why technology is essential to the success of your workspace
On our fourth and final session, we discuss the unfortunate effect that COVID has had on coworking and flexible workspaces. We discuss the ways that spaces have had to amend their model to navigate different circumstances and how technology can aid these adjustments. Our panellists speak from operational, financial and technological standpoints, and take a closer look at the role of automation in the workplace, how it will play an extended role both currently and in the future, and why establishing a balance between human interaction and technology should be at the forefront of our minds.
Presenting alongside us were:
Get advice on how to amend your model to best suit your community by following this link, or by clicking the below image.
We'd like to thank our panellists for their involvement in our series and of course, our community for joining us. For those accessing them for the first time, we hope you find them useful!

As you may also be aware, our Support team leads an ongoing webinar series - these are held on a fortnightly basis and are aimed at helping you to better understand the platform by providing live walkthroughs. You can learn more about these and access the recordings of all of our previous editions on the Webinars page on our knowledge base.

If you have any topics that you would like us to explore in more detail, please do get in touch. We'd love to hear from you.

Happy watching!