Data has emerged as the key driver of transformation in the ever-evolving landscape of coworking and flexible workspaces. After helping thousands of coworking and flex operators to streamline their day-to-day operations, we have identified three main phases in their journey to data maturity.
Unlocking value from data and optimising and transforming your space management isn't an instant process. It demands the smooth integration of technology, processes, mindset shifts and actions throughout your space management journey. To guide you through the process, Nexudus have developed a Data Maturity Journey, which serves as a roadmap for assessing your company's current position, the challenges you'll encounter at each stage, and how Nexudus can support you.
As you embark on the Data Maturity Journey, you'll initially encounter: 
- Phase 1 - Unifying data sources to build a 360-degree view of customers and space. This phase lays the foundations to create a data-driven coworking space. Having a unified data store will give you a holistic understanding of customer journeys as well as space performance. 
- Phase 2 - Transitioning from gut-driven to data-driven. Naturally, your space already collects customers and builds data in an integrated manner, you can then harness data and AI to optimise your space performance and personalise the tenant experience. 
- Phase 3 - From Insights to Actions. Translating your data into workflows and automation is where coworking spaces go beyond insights and use data as a catalyst for operational excellence and tenant satisfaction. It's about translating insights into actionable outcomes, space and member experience improvements. This phase involves automation, high personalisation, and measuring the impact of actions. 
Which phase of the data maturity journey is your company in? 
Now, let's delve into the primary challenges encountered in each phase and explore the solutions we've integrated into Nexudus to address them.
Phase 1. Unifying data sources to build a 360-degree view of customers and space
The Challenge
In this first phase, companies struggle to have a single and unified source of truth in their system. 
The initial obstacle many coworking and flex workspaces face is the fragmentation of data sources. It's common to see multiple technologies used by coworking and flex operators, ranging from web platforms and CRM systems to email marketing tools, building management operations, booking systems, and billing tools. While these tools serve essential functions, they often store data in isolated silos, creating disjointed and incomplete customer views. This data fragmentation makes it challenging to answer basic questions about customers, their journeys and space utilisation. 
To address these challenges, companies resort to deploying development resources for point-to-point integrations between various SaaS tools and building management systems. This intricate system of integrations leads to inefficiencies and increases the risk of data errors. Additionally, valuable staff time is consumed in exporting data from different sources into CSV files, aggregating them, and updating graphs manually. 
The Solution
The solution to this challenge is transitioning from data silos to a single, unified source of truth. This is where platforms like Nexudus come into play, offering a comprehensive 360-degree view of customers and spaces. 
With Nexudus, you can manage your customers' profiles and user journeys in a single platform, achieving a complete view of your customer's interactions with your space. This data integration and unification are key to providing a better and more customised customer experience. 
The process is streamlined, allowing you to configure your data sources once. You can then visualise and monitor your data at different scales, from multi-location and building to team and member levels. It also enables data collection at various stages of the customer journey, offering a 360-degree view of customers across the entire spectrum - from initial awareness, discovery, interest, conversion, and retention to advocacy.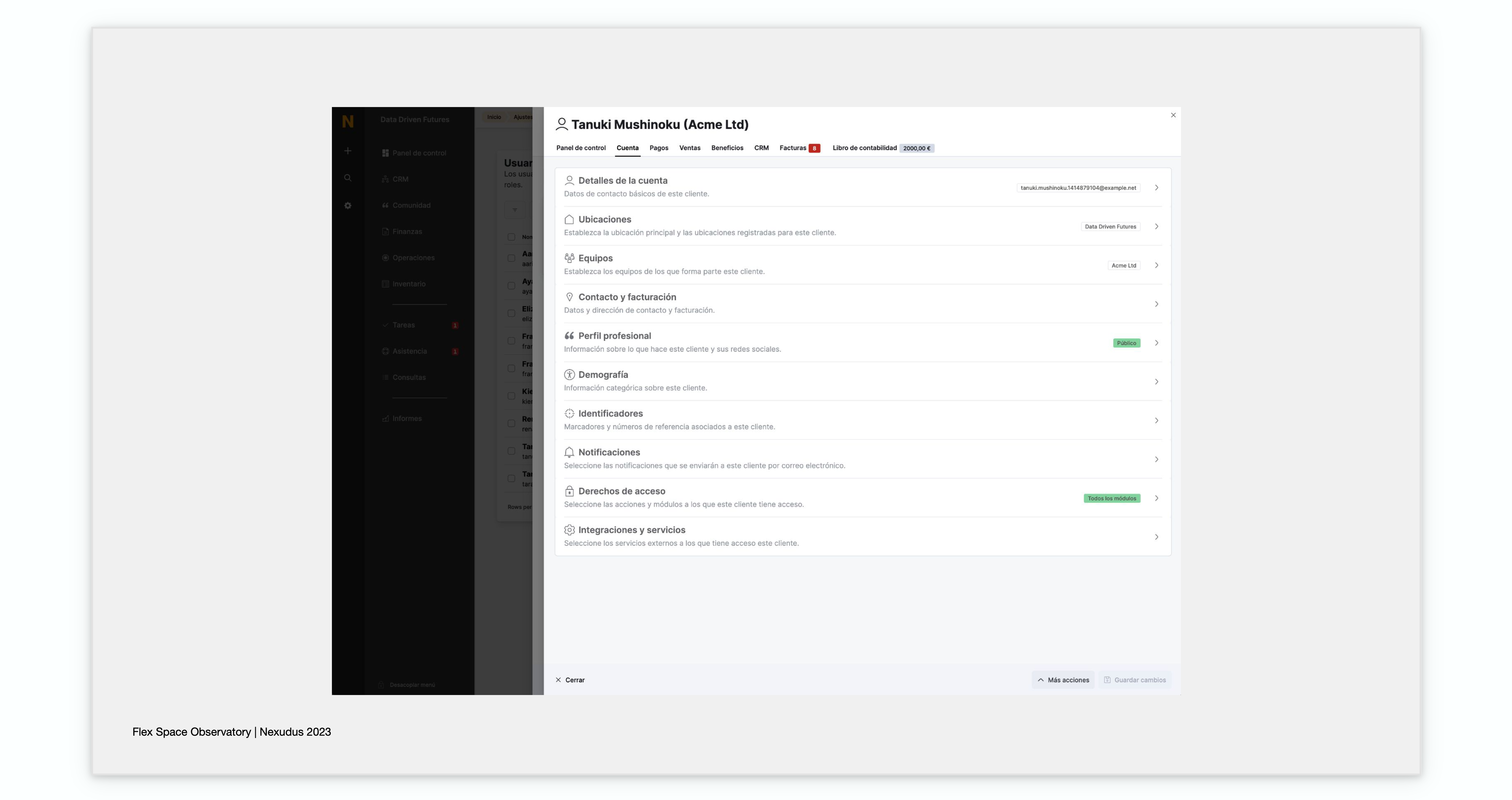 A unified data view from a customer within the Nexudus Platform (A UI image with dummy data) 
Imagine having access to a 360-degree customer view that includes CRM insights, space usage details (space attendance, bookings, plans), payment records, and customer feedback survey results. All of this information is readily available within a single, unified platform. That's the power of Phase 1, Unifying data sources to build a 360-degree view of customers and spaces. 
In the journey of data maturity, a unified customer profile and customer journey will be key to offering a personalised customer experience.
Phase 2. The shift from gut instinct to data-driven decision-making. Using Data and AI to optimise space performance and enhance member experience
This second phase serves as the foundation upon which descriptive, advanced data analytics and predictive insights will be built as you progress through the data maturity journey, where you delve deeper into harnessing the potential of data for informed decision-making. 
In Phase 2 of the data maturity journey for coworking and flex spaces, you embark on a transformative journey, from relying on gut instincts to embracing data-driven decision-making. This phase is about discovering, monitoring, forecasting and extracting deeper insights from your unified data sources to optimise your coworking operations and elevate the member experience. 
A unified data system in a company would allow us to get a 360-degree view of the customer, integrating different parts of the customer's journey and allowing us to ask more complex questions about it. As a result, insights will be gained about how members are using the space and how to optimise its configuration for better performance. 
The Challenge
With a unified data system in place, the challenge is to identify the most critical Business Key Performance Indicators (KPIs) that truly matter. Companies often struggle to even understand what the most relevant indicators are to monitor here. In this phase, It's not merely about gathering data; it's about better understanding how your space operates, deriving actionable insights and extracting value from it. 
Prior to harnessing the power of advanced analytics, your company needs to become familiar with descriptive analytics. Descriptive analytics involves utilising current and historical data to identify trends and usage patterns within your business. After establishing the KPIs to track and ensuring that your team is confident in using them, the next step is to delve into Artificial Intelligence and advanced analytics capabilities. This will enable you to leverage your data for predictive purposes, allowing you to foresee and prepare for future scenarios. 
Implementing AI models in-house requires a specialised team and a costly infrastructure. In Nexudus, we've seamlessly integrated an AI module with a diverse range of use cases, allowing you to experience immediate benefits. 
The Solution
The solution lies in leveraging descriptive and predictive data to make more informed decisions. Dashboards become your tool for discovering and monitoring basic metrics, and dimensions, and querying data to answer simple questions. 
During this second phase, initially, as we previously mentioned, your company will gain familiarity with the primary KPIs. This will be facilitated by the visualisation tools provided by Nexudus, along with recommended indicators to track. 
For example, you will have the opportunity to comprehend: 
- How many users have booked resources in the past 30 days? 
- What's the count of active members over the last 3 months? 
- What new revenue streams have been created in the last month?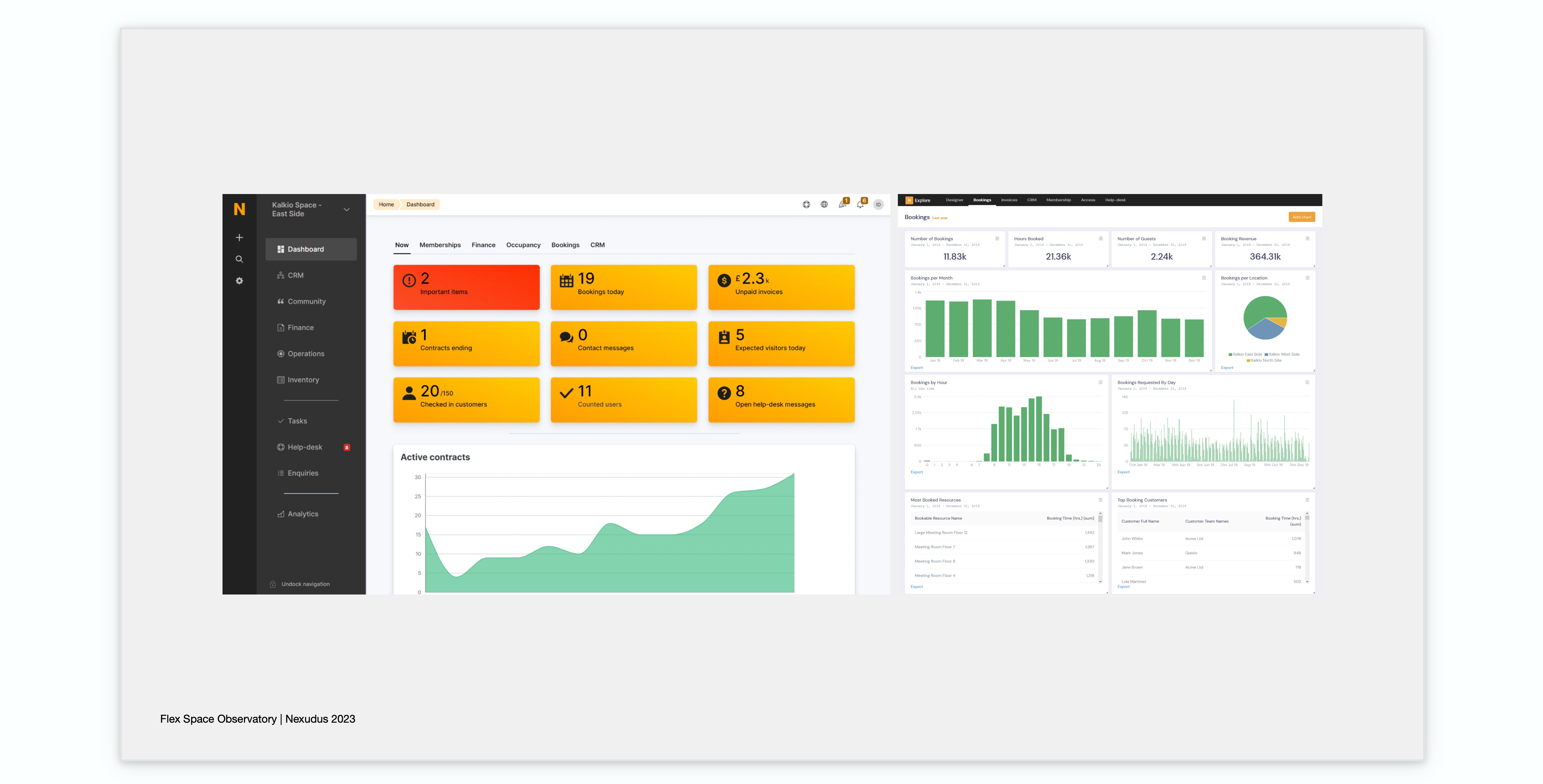 Dashboards and Descriptive Analytics tool within the Nexudus Platform (A UI image with dummy data).
This phase marks a significant shift from metrics-based analysis to algorithms-based analysis, where more advanced analytics and insights come into play. 
Imagine knowing how your meeting rooms and resources will perform in the upcoming weeks, identifying the most active members, or predicting member churn in the next 30 days.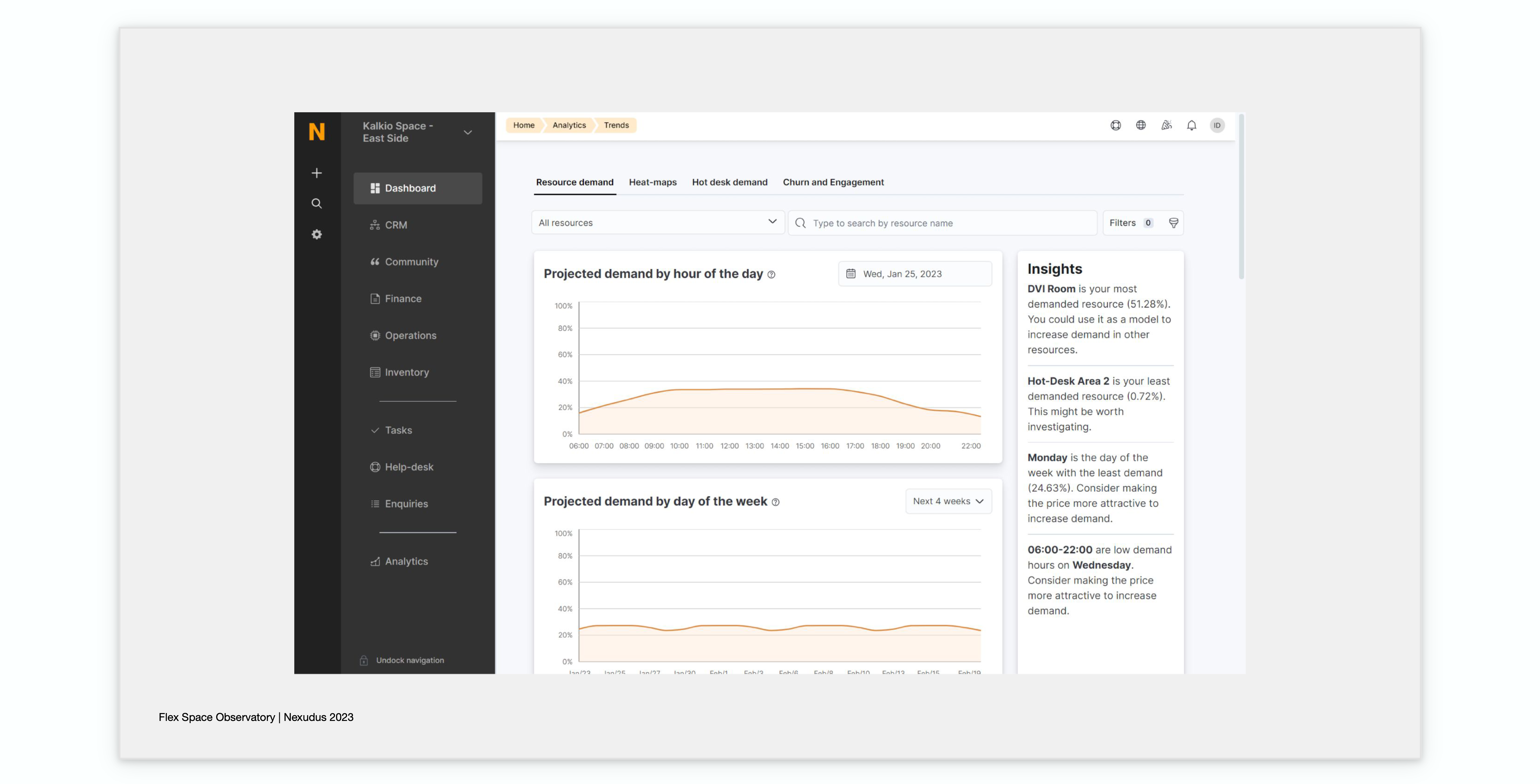 Artificial intelligence tools within the Nexudus Platform (A UI image with dummy data). 
However, it's crucial to establish data trust before taking significant actions based on these predictive insights. Ensuring the accuracy and reliability of your data becomes vital. Understanding how your members and teams use your space becomes a valuable part of your strategy to grow.
Nexudus, at the forefront of flex workspaces innovation, is incorporating AI technologies to predict and anticipate how your coworking space will perform, enabling proactive actions. Custom dashboards with predefined templates empower you to gain actionable insights into various aspects of your coworking operations. 
Phase 2 signifies a pivotal transition from merely collecting data to using it as a powerful tool for informed decision-making. It's the phase where data evolves from being a passive asset to an active driver of change and improvement within your coworking space. 
Here are some examples of use cases that are readily available through Nexudus: 
- Custom Dashboards with predefined templates
- Resources demand prediction.
- Hot-desking usage prediction. 
- Identifying high-value customers (Churn & engagement module) 
- Identifying churn customers. (Churn & engagement) 
- Space Performance (Sensors data). Providing recommendations to improve the space performance and layout optimisation. 
During this phase, you can enrich your existing data system by integrating new data sources. The ability to incorporate these new data sources will serve as your primary differentiation strategy, enabling your company to execute more personalised and advanced use cases over time. 
Phase 3. #Integr-action. From Insights to actions. Making the most of your data with workflows and automation
At this phase, companies are not just collecting data or gaining insights; they're using data as a catalyst for operational excellence and member satisfaction. 
Using data for discovering and monitoring how clients spend their time within your space, including the most and least busy areas, which meeting rooms and desks people book the most provide you with an amazing source of information, but we strongly believe we have to take the next step, we use data to get actionable outcomes, meaning what actions or automation we can implement to activate and operationalise data insights. It is useful to know that a particular resource in your office performs poorly in a particular time frame, but it is more powerful if you automate ways to improve that insight. 
The Challenge
Even with unified data sources and advanced insights in place, many coworking spaces face challenges when it comes to translating those insights into actionable improvements. Dashboards and visualisation tools alone aren't sufficient to drive meaningful actions. 
The Solution
This is where operational analytics and tools to activate customer insights and space performance come into play. In Phase 3, we go beyond merely integrating data across systems and applying advanced analytics; At Nexudus, we focus on activating customer insights to provide hyper-personalised experiences and optimising building performance. 
But it's not just about making decisions; it's about measuring the business impact of those decisions. 
Data can be activated in various stack apps, from email marketing automation to dynamic pricing, automations, recommendations, and workflow space data. This stage provides a framework to measure the impact of actions and playbooks. 
In this third phase, you will be able to embrace the next level of personalisation, transitioning from designing one work experience for everyone to designing many experiences for one. 
Traditionally, we have created spaces and digital experiences that provide a unique experience to all customers. Employees are demanding new personalised experiences that provide greater value. Data and automation will be crucial for these working experiences to be personalised. 
What potential use cases can you uncover through this advanced level of personalisation? Both from the perspective of your members and your space. 
From your member's perspective, could a space welcome your members and recommend a fellow professional to connect with based on their interests? If you anticipate needing a resource likely to be in high demand, could the system proactively recommend it to you? From your space's perspective, can your facility adapt to the ever-changing needs of your customers? Is it possible to increase revenue streams by optimising resource utilisation? Can you enhance the lifetime value of your customers by identifying the most loyal ones and those who might be at risk of leaving? 
Below are a few examples of use cases that are readily available through Nexudus : 
- Dynamic Pricing
- Operationalising predictive insights with champion and churn customers
- Automating workflows using sensor data : 
Improving workspace layouts with real-time occupancy insights
Improving energy efficiency and reducing carbon footprints with occupancy Data. 
Meeting sustainability goals with real-time space occupancy solutions. 
Designing an effective office layout for revenue optimization. 
- Customer support with Open AI Technology
This article serves as an introduction to a series of posts discussing the Data Maturity Journey in coworking and flex spaces. In subsequent posts, we will delve deeper into each phase of this journey: 
Phase 1. Unifying data sources to build a 360-degree view of customers and space. 
Phase 2. The shift from gut instinct to data-driven decision-making. Using Data and AI to optimise space performance and enhance member experience. 
Phase 3. From Insights to actions. Operationalizing your data with workflows and automation. 
Which phase of the data maturity journey is your company in and what steps are you looking to adopt from the article? To get more valuable insights, powered by Nexudus, head to FlexSpace Observatory - your go-to resource for flex workspace trends and insights.