We recently launched our interview series, where we speak to Nexudus customers and get to know them a little better, whilst uncovering their fascinating journeys and spaces. To continue the series, we caught up with another amazing Nexudus customer, and this time we travelled a little further afield!
In the bustling city of New York, nestled within the sprawling Industry City development in South Brooklyn, is Camp David - a coworking space unlike any other. Established in May 2017, Camp David has emerged as a beacon of creativity and innovation, offering a unique concept that blends high-end design with a vibrant maker culture. 
We got the opportunity to speak to Joey Pope, The Managing Director of Camp David, to get an insight into the inception of the space, its bespoke design concept, and the integration of a maker space within a traditional office environment. 
The idea for Camp David took shape within the vast Industry City development, which looked to repurpose old warehouses and manufacturing centres into vibrant commercial real estate. Joey Pope, previously associated with fashion powerhouse Milk Studios, joined the project to explore possibilities within this up-and-coming neighbourhood. The goal: to create a beautiful workspace for a diverse range of professionals. With Industry City providing ample space, Camp David sought to establish a distinctive co-working space that would stand out in New York City. We hope you enjoy getting to know Joey and Camp David as much as I did! 
Manisha: The Camp David concept is a fascinating one! Can you tell us more about it, the idea behind the concept, and how it came about? 
Joey: We launched in May 2017 - it's a bit of a blur looking back, and it's definitely been a journey! Here in Industry City, developers reimagined this space, with design at the forefront of the concept. What that means in basic terms, is taking old abandoned warehouses and manufacturing centres and revamping them, giving them a facelift and getting them set up for success in commercial real estate. My initial mentors from Milk Studios brought me into the company to head up projects. 
New York fashion brand Milk Studios is made up of entrepreneurs, who also launched a makeup brand. The developers who were familiar with my bosses at Milk Studios brought them into this new development hoping that they wanted to do studios, but at the time the area was still up and coming and was very much still the frontier back then. People liked the area as it was very easy to get to from the centre of the city, it's like 20 minutes from Union Square. Sunset Park, the neighbourhood that we're in, is sort of like the reverse commute, it's really, really easy to get to. 
The fashion world said, 'these are beautiful buildings and maybe we can think of a different type of project here'. You have to remember this is also around the time of the big co-working boom. So they thought let's create a really, really beautiful high-end workspace because we have the one thing that's very sparse and hard to come by in New York City… space! 
It's hard to describe just how expansive this space is, it is huge - the whole property is six million square feet! There are over 500 companies and close to 9,000 people who work here every single day. And that's not even what it was originally built for! At the turn of the century, this area was built with major manufacturing in mind, it was a huge distribution hub and used as an international seaport for Brooklyn. These buildings originally had 20,000 or more people working here. So that gives you an idea of the size of the space itself, it's massive for New York and there was a lot of opportunity in terms of what you could build here and with that the possibility of building something that would be really really unique for New York City. 
Design Concept and Target Audience 
Camp David's design concept draws inspiration from mid-century modern architecture, particularly the Illinois Institute of Technology's library in Chicago designed by Mies van der Rohe. With a focus on creating a masculine and timeless aesthetic, the space features elements such as finished concrete floors, sandblasted concrete pillars, and meticulously crafted mahogany millwork. The founders aimed to provide an environment that provoked the feeling of entering a luxurious Four Seasons hotel lobby, ensuring that attention to detail and quality permeated every corner of Camp David. 
The target audience for Camp David was diverse, ranging from fashion industry professionals to tech entrepreneurs. By positioning itself as a high-end co-working space with a broad appeal, Camp David aimed to attract individuals seeking a refined and inspiring work environment. The attention to design and aesthetics has played a significant role in attracting and retaining members, fostering a sense of community and long-term engagement. 
Joey: This is where I came into the picture! The idea was to make something visually beautiful. There are so many niches for coworking spaces that were popping up. There was the wellness space, the techie space, the engineering space, absolutely everything you could think of. Everybody was falling into a certain niche and our idea was just: let's just make something really, really beautiful! We wanted to purposely bring something into this specific area that just felt super out of place, something charming in a rough, industrial-like space that was mostly a vacant development at the time. It was important to us to create a Four Seasons hotel lobby-type vibe, to introduce the cream of the crop in terms of an aesthetics for this space. 
For the most part, a lot of the spaces were vacant and underutilised. Even the infrastructure was not quite there. It also got hit really hard by Hurricane Sandy. When we were even first moving in here, which was several years after the hurricane, we were still pumping water out of the basement. It didn't get a lot of love and attention and it was known mostly for some events here and there, some raves and music concerts. There wasn't an entity especially from a real estate development point of view, that could support real functioning businesses and have this as like an epicenter for activity! 
Manisha: That's incredible, it's basically like the Cinderella of developments! and I'd love to hear more about the design concept. Myself and the entire Marketing Team at Nexudus are obsessed with the Camp David aesthetic! We actually came across CD in an Aricturctal Digest article. So, tell us more, how did you come up with the design concept and what was the target audience that you had in mind? 
Joey: The biggest inspiration for the design concept, and our main muse and inspiration behind the space, is the style of Spandau architecture. There's this one particular building, the Illinois Institute of Technology in Chicago, where they have a very mid-century modern and masculine-like space. If you look at Camp David everything has that classic mid-century modern and masculine type feel. There are these big slabs of marble and our floors are this beautiful finished concrete, there are huge concrete pillars and we sandblasted a lot of this stuff to give it that finish! 
It's a very clear juxtaposition because we also have this beautiful mahogany millwork and stunning walls and libraries. We spend a silly amount of money on furniture and custom furnishings, and everything's very tough and robust. Our founder Rassi, would always say 'When you close the doors to an office in this space, I want it to feel like you're closing the door of a Cadillac, I want you to hear and even feel the quality'. It's a space that has that feel. You can even see it in the construction, we wanted to put so much money into the quality of the space so that it would look better in the five years following its inception, not worse. 
So like I said, it really has to stay true to that, because of the quality and the thought that we put into it and also it just goes to show how well it's maintained and looked after by our staff and even down to how our members operate in the space, it all helps to maintain the space. There's that aspect of respect for the design and the aesthetics and we really just try to uphold that throughout. 
Maintaining Continuity and Long-Term Engagement: 
One remarkable aspect of Camp David is its high member retention rate. Unlike many coworking spaces that experience frequent turnover, Camp David has successfully fostered a sense of home and belonging for its members. Joey Pope attributes this to the meticulous attention to design, quality, and the overall user experience. By creating a space that stands the test of time by continually investing in maintenance, Camp David has become more than a transient workspace; it has become a destination where professionals can establish roots and build their businesses.
Camp David has undoubtedly made a mark in the coworking industry with its distinctive design concept and integration of a maker space. By combining high-end aesthetics with a vibrant community, they have created an environment that inspires creativity and productivity. With its attention to detail, commitment to member engagement, and plans for expansion, Camp David is poised to continue revolutionising the coworking landscape. As professionals seek a space that is not only functional but also aesthetically pleasing, Camp David provides an enticing option that sets the standard for the future of coworking. 
Manisha: Camp David is a super unique space that caters to a very specific niche and I imagine the same applies when it comes to the kind of members who use your space, does that also help with your retention rates? 
Joey: The design is our biggest differentiator! We've been in business for six years, and the retention that we have with our members is unreal. We have people who have used our space since the beginning and that's an odd thing for a coworking space because there's usually so much turnover. Don't get me wrong, people have the possibility of flexible leasing with us and they tend to just move in or take the office for minimum terms, for example, 3-6 months, or even use the space on a month-to-month basis. A lot of people have 'nested' in our space, and they really appreciate the attention to detail and the effort that has been put into the space. And by that I mean the effort into building the space as well as the area below the space, vs a lot of coworking spaces that maybe you and I have experienced where it's a more transient space. I think here, people have places to almost 'find a home', a long-term home which is kind of rare, I think!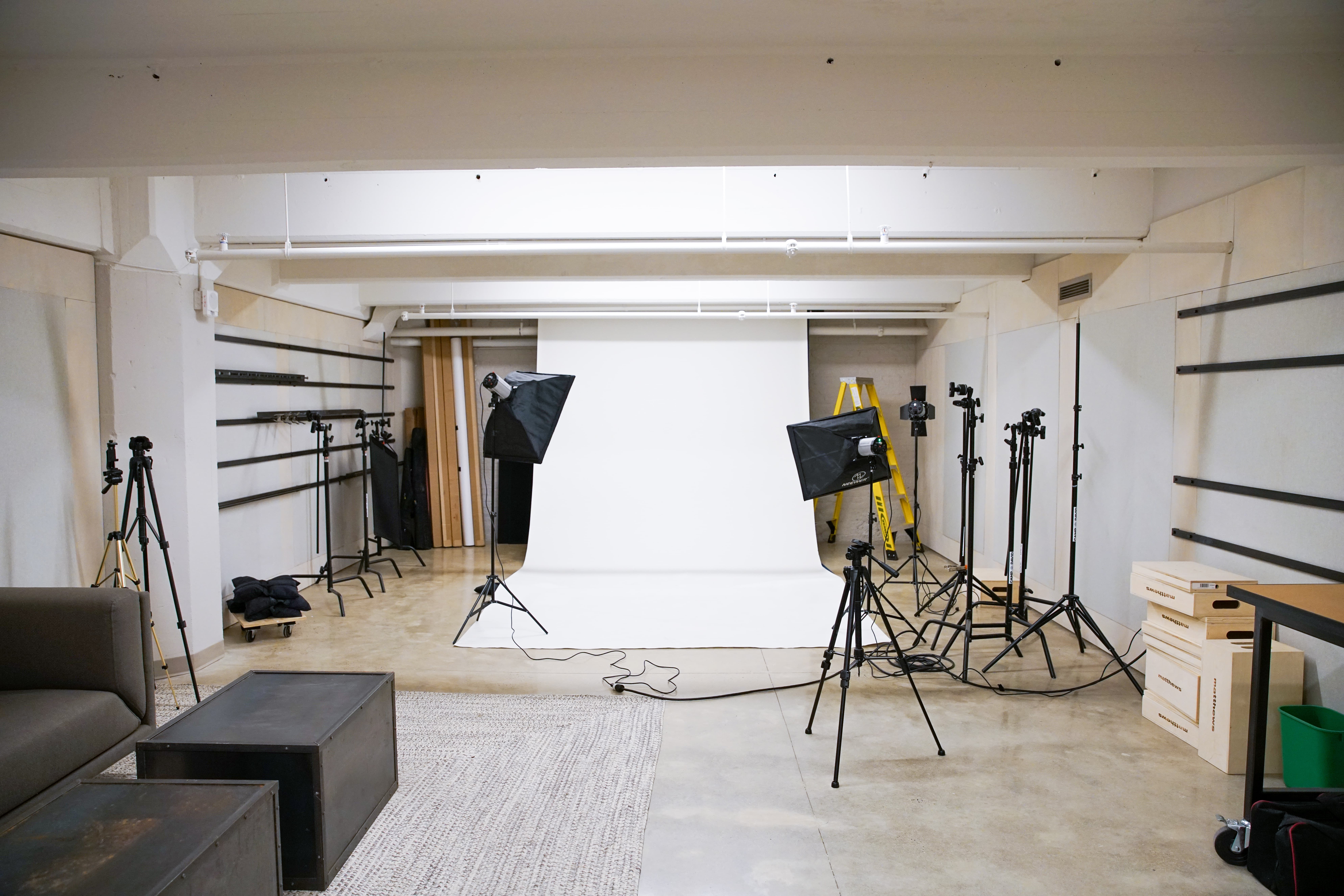 Camp David Photoroom 
The Maker Space 
Camp David's Maker Space is an integral part of its innovative offering. Located in the basement, this area was initially intended to house advanced sound-editing rooms and high-tech recording facilities. However, the founders decided to adopt a wait-and-see approach, allowing the concept to evolve based on members' needs. Recognising the demand for content creation and photography, Camp David established a fully equipped photo studio that became an instant hit among members. Additionally, a textile studio was developed to cater to the fashion-oriented members, drawing inspiration from Milk Studios' legacy of hosting high-profile design projects.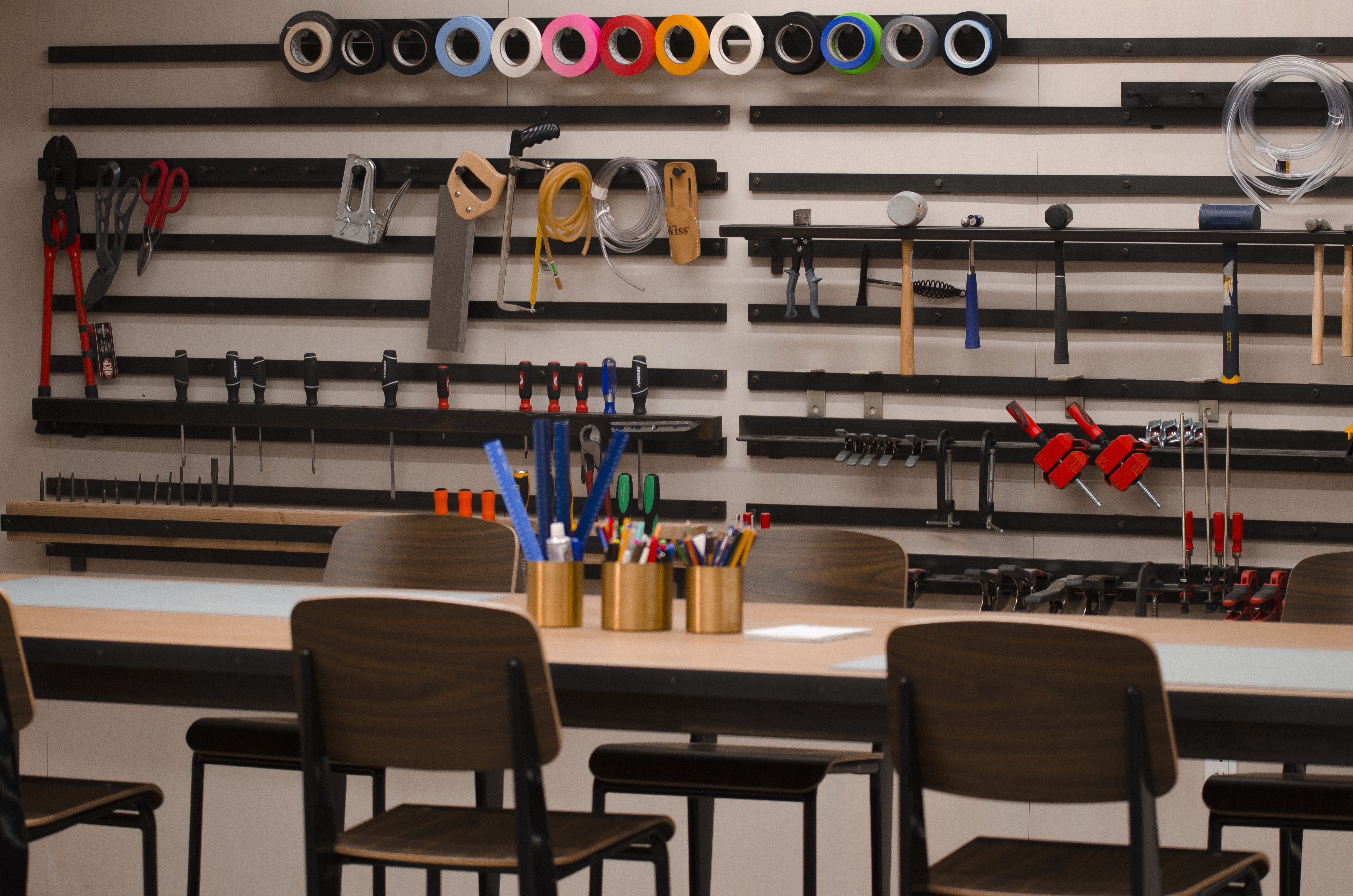 Camp David Maker Space 
Manisha: Considering how much time we spend working, it makes sense to compare a coworking space to a home! I want to hear more about your maker space because that's another aspect of Camp David that I've not really seen in another workspace, particularly not in the UK! How do you integrate that with the rest of your space because whilst maintaining the continuity of the top floor (office space) and the basement (maker space)? 
Joey: The entire idea was something that we know we always wanted, a creative maker space and we had really grandiose ideas of these amazing sound editing rooms with high-tech soundboards and microphones and a great photo studio. We left our options open for the maker space which is on our basement level floor - we didn't know if we wanted to spend thousands of dollars on equipment when we weren't sure that people were going to use it. 
The one thing we knew right away was that people really needed a space to shoot and record content. So we built a photo studio, and people started booking it up right away! We also realised that there was quite a large presence of fashion-related members, so we wanted to build out a little textile studio. This also naturally kind of comes from our history with Milk studios, and the co-founders' original idea where not only did they have this amazing space for photo studios, but the space also offered scope for amazing and unexpected opportunities- like when Kanye West launched his first Yeezy collection at Milk studios. They wanted to kind of have a practical workspace with the idea that they can get a little messier. 
Camp David sewing area 
On the more technical side, we had industrial sewing machines and work-in cutting tables and that allowed us to have residencies with the CFDA (Council for Fashion Designers of America). We have also facilitated residencies for emerging designers where they have been able to design, cut and sew their sample collections and then shoot them directly in the photo studio space. 
We have had a range of designers here, like Pyer Moss, Brandon Maxwell and Luar. Some New York-based designers actually like to come up with their ideas here and produce their collections for New York Fashion Week. It's really cool to move through the space because you walk into the lobby and it's just so high and beautiful, you then walk by the cafe and it feels very elevated. Then you go downstairs into the basement and there's still this very beautiful space that's also a maker space where people are able to get a little messier and more creative down there, which is really nice! 
There's such a wide range of members here, we have all sorts of industries but the fact that people can help support their creative business and head to the basement to make a scale model or create art is super special. 
Manisha: Our interview is sadly coming to a close, is there anything else you want to share about Camp David or shout about? 
Joey: It's been an interesting year, we were always a joint venture with Industry City, but now we're officially owned and operated by them and to be honest it's kind of the dream! This space will always be a little bit of a hub, not only for our members but also for the greater part of the campus and that's really something that we've been concentrating on. We have memberships for people who have studios and offices, and so on across the campus. Some people are just using us for our photo studio space, and it's really cool because now members are able to kind of use this as a creative hub for the larger campus and that's been a really fun thing to see. To actually see these amenities and decisions that we made earlier on now being enjoyed by the greater community here is amazing. 
Manisha: And to finish up with our question that we ask all our customers - what's the one stand-out Nexudus feature that just makes you think 'wow, that really makes my life easier!'? 
Joey: I think there's a million different things - so much of our operations are totally intertwined with Nexudus and I don't know what we would do without it. We'd be screwed! But the main thing I'd say that is really essential for us and even the reason why we chose Nexudus in the first place is the customisability of everything: the white-label app, the ease of working with the support team, the whole process even down to bringing in our own developers and people working with your teams to create something very, very specific to us. Because we have such a strong brand, and we essentially are an aesthetics-forward space, we had a very strict brand bible and guidelines to follow and stick by. 
The customisability of the members portal and using Nexudus as the member-facing platform is huge for us. Nexudus really allows us to maintain the integrity of the brand and keep that elevated vision, allowing us to make it so unique to us and what we think exudes Camp David in every way, and that is super important to us!