Included.co connects members and operators to business and lifestyle solutions, using buying power to lower procurement, service and activation costs.
This integration allows your members to save money on all the products and services they need to grow by sharing buying-power with hundreds of other coworking spaces, business centres, shared offices and accelerators.
Help members grow
Easily connect members to discounts, deals and business opportunities.
Added member value
Save your members' business money and strengthen your brand.
Quick and easy setup
Simply register, get approved, and you're ready to start sharing savings.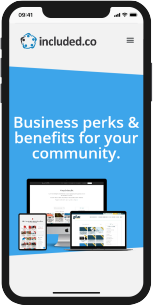 About included.co
Included.co leverages the aggregated buying power and reach of members at entrepreneurial communities in order to efficiently present both business solutions, usually with significant savings, and sales opportunities.
Helps you to support and empower your community.
Start accessing perks within a matter of minutes.
Get started
If you have any questions regarding the integration between Nexudus and included.co, take a look at included.co's dedicated article in our knowledge base or contact our support team with any questions you may have about setting up the integration.