Humly's room display demystifies meeting room booking by making it clear to members when a room is free.
If there are any upcoming meetings it will notify members of any other meeting rooms that are currently available for use. Humly makes sure that keeping your members informed does not compromise the design of your coworking space.
All it takes is one glance
PaperCut's print management software ensures ease of use at every step for both your users and space operators.
Automatically sync with Nexudus
Whenever a booking is made, Humly Rooms Displays automatically sync with Nexudus making booking simple and streamlined.
Elegant displays
Humly Room Displays are modern and sleek, allowing them to fit comfortably in even the most design-conscious of spaces.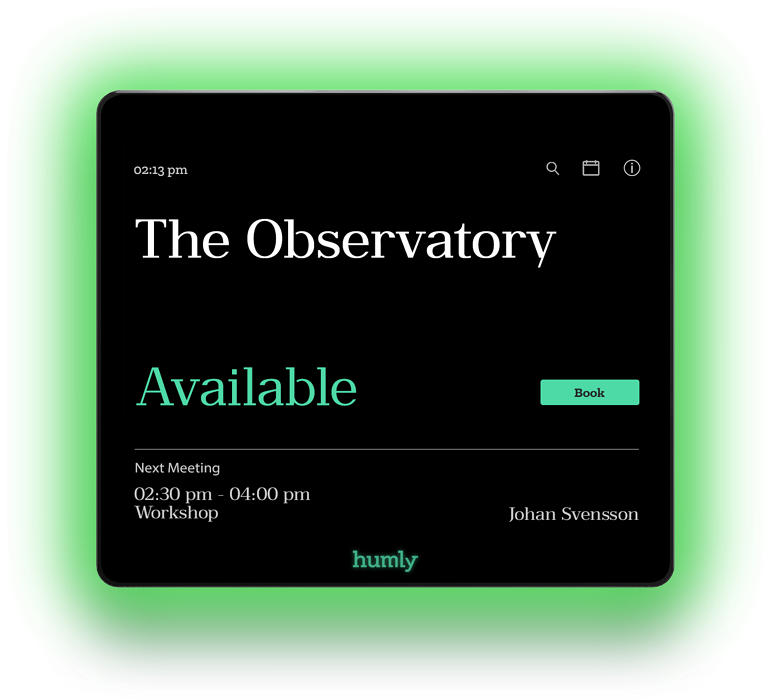 About Humly
Humly specialises in scalable technology to improve meeting experiences and workplace interactions.
Their products have been tried and tested in over 100,000 meeting rooms throughout the world.
All their products are made from high-quality materials and components, making sure they stand the test of time and reduce running costs.
Get started
If you have any questions regarding the integration between Nexudus and Humly, take a look at Huly's dedicated article in our knowledge base or contact our support team with any questions you may have about setting up the integration.