The integration between Google Calendar and Nexudus helps to keep all your booking calendars synchronised at all times.
Every booking you create in Nexudus will automatically be added to one of your Google calendars, and every booking you create in Google Calendar will be added to your Nexudus bookings calendar.
Always stay in sync
Ensure all your calendars are up to date with automatic synchronisation.
Say goodbye to conflicting bookings
Google Calendar checks for any conflicting bookings before you add new bookings to Nexudus.
Easy booking editing
Any changes made to your bookings in Nexudus will automatically update in your Google Calendar.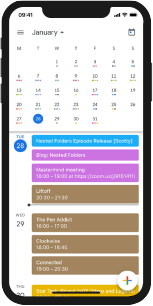 About Google Calendar
Google Calendar allows you to quickly schedule meetings and events, and get reminders about upcoming activities. Google Calendar is designed for teams, meaning it's easy to share your schedule with others and create multiple calendars that groups can use together.
Synchronise calendars across your team.
Easily create and manage meetings and events.
Get started
If you have any questions regarding the integration between Nexudus and Google Calendar, take a look at Google Calendar's dedicated article in our knowledge base or contact our support team with any questions you may have about setting up the integration.