BigQuery is a fast, highly-scalable, cost-effective, and fully managed enterprise data warehouse for large-scale analytics for all basic SQL users.
BigQuery is a Google Cloud Platform service that will let you transfer (in real-time) data from your Nexudus account into a data warehouse so you can query it using standard SQL language.
Access data in real-time
When you create or update a record in Nexudus, that record will be updated shortly after that in BigQuery.
Create reports and share them with ease
Create stunning reports and dashboards and share your insights with your organisation quickly and easily.
Robust security you can rely on
Protect your data with encryption by default and customer-managed encryption keys, so you can rest assures your data is safe and secure.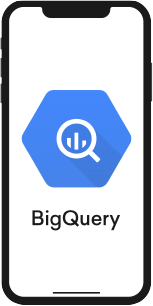 About Google BigQuery?
Google BigQuery is a serverless, highly scalable, and cost-effective multi-cloud data warehouse designed for business agility.
Serverless - Google does all resource provisioning behind the scenes, allowing you to focus on data rather than managing infrastructure.
Real-time analytics - BigQuery's high-speed streaming makes you latest data immediately available for analysis.
Get started
If you have any questions regarding the integration between Nexudus and Google BigQuery, take a look at Google BigQuery's dedicated article in our knowledge base or contact our support team with any questions you may have about setting up the integration.