Get flexible, integrated access control solutions to meet your security needs with the integration between Nexudus and Gallagher.
Gallagher provides a reliable way to manage multiple access points. Once the integration is enabled by Gallagher, your customers will be able to unlock doors based on their purchases, bookings, and contracts using access cards or pin codes.
Reduce touchpoints in your space
Contactless access offered by this integration helps you maintain compliance with hygiene protocols.
Get in depth reports
Keep track and gain a deeper understanding of how users are accessing your space with the in-depth reports provided by Gallagher.
Complete control over site access
By setting door and zone entry rules, you can have complete control over how users access your workspace.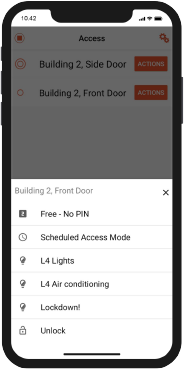 About Gallagher
Gallagher is an access control system that allows members access to your space and unlock doors with access cards.
Cloud-based access control
Manage your space's security on-the-go
Get Started
If you have any questions regarding the integration between Nexudus and Gallagher, take a look at Gallagher's dedicated article in our knowledge base or contact our support team with any questions you may have about setting up the integration.