Secure your workspace and simplify how users access your space with the integration between Nexudus and Doordeck.
Once you've enabled the integration, your customers can unlock doors in your space based on their bookings, contracts, and their passes. They can use access cards, key fobs, pin codes or the white-label Passport app, depending on your space's door lock setup.
Use existing infrastructure
With the Doordeck integration, you can make use of the existing access control hardware in your space, helping to significantly reduce costs.
Contactless access
Reduce touchpoints in your workspace with contactless access afforded by this integration with Doordeck.
Get deeper insights
Doordeck provides you with detailed reports, giving you a greater understanding of how users are accessing your workspace.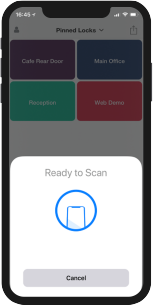 About Doordeck
Doordeck is an access control system that lets customers unlock doors in your space. You can link Doordeck doors directly to passes, resources, desks, and offices.
Touchless entry
Building analytics
Top-notch security
Get Started
If you have any questions regarding the integration between Nexudus and Doordeck, take a look at Doordeck's dedicated article in our Knowledge Base or contact our support team with any questions you may have about setting up the integration.