Finding the right community and coworking space is important for many people, and likewise, having the right people join your space is key for a thriving community. That's why, if someone visits your space and falls in love with the community, it's a perfect opportunity to show your interest in them with a proposal - "will you marry/join our space?"
Yes or No? You can impress visitors with your shared workspace and community, but converting their interest into a membership can be tough. However, sending a proposal shows your commitment and interest in them joining your community, and reminds them what they love about your space. This gives them a chance to review the proposal and decide if they want to accept and commit to a contract with your coworking space.
Nexudus has been designed to help you grow your community, by automating many of your daily processes necessary for a thriving coworking space. We believe that 'Proposals' is an important feature which should be a simple and smooth process, in order to gain more memberships.
What is a Proposal?
A proposal represents a potential sale of a contract. It has basic information about a potential contract for one of your price plans, including dedicated desks or offices. Optionally, one or more products can also be added, which will be added to the customer account if the proposal is accepted.
Only after the potential customer accepts the proposal and provides any required e-signatures, an actual contract and the desired products will be added to their account.
A proposal is always attached to a member or contact record but can be reviewed on your members' portal even if the member or contact has no user account yet.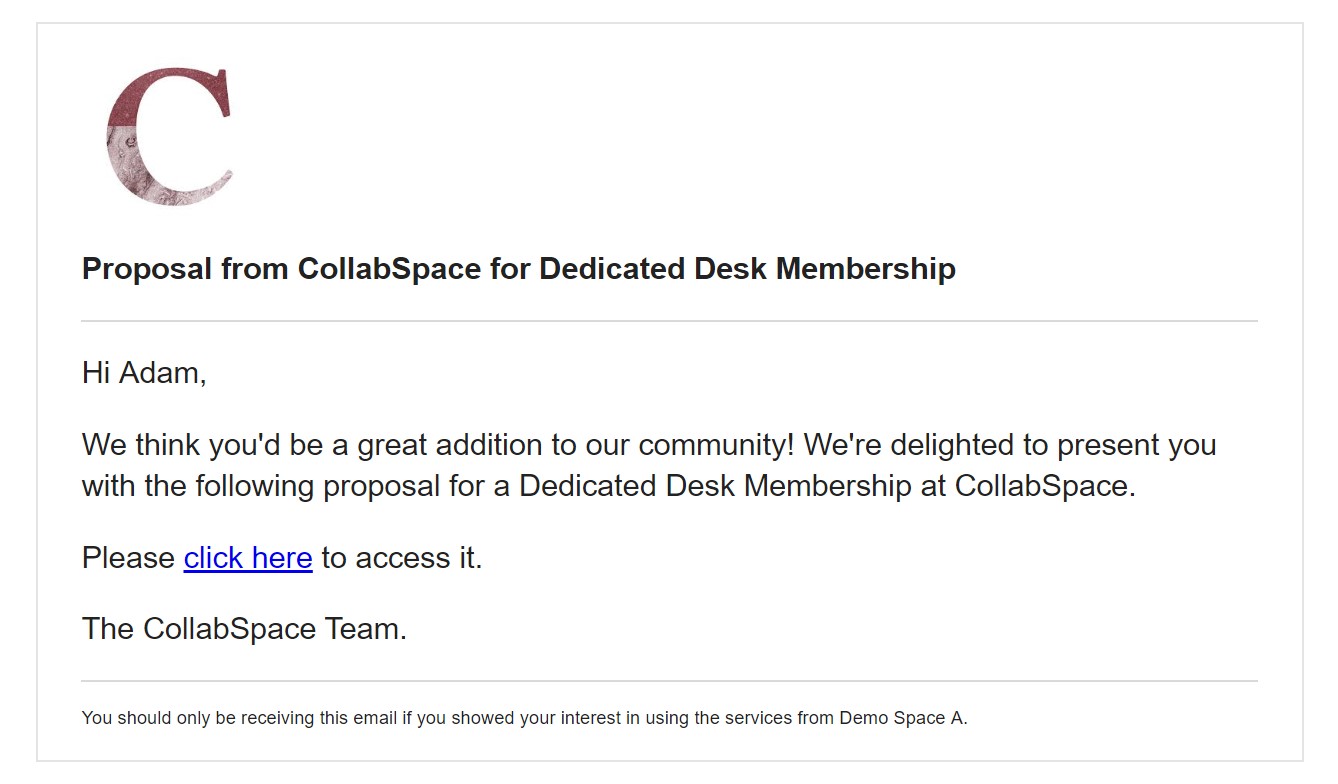 CRM Boards
The status of proposals can be linked to CRM boards so that you can keep on top of the onboarding process. Automating this makes it a smoother and clearer process.
Products
Products are not a requirement for proposals, but they can help you to build proposals that include additional services/products, such as parking space, printing credits or a locker, along with an office or dedicated desk plan. This is a good opportunity to remind customers about your products so that they can't resist your offer!
It's time to propose...
When you have sent the proposal, the customer will receive a notification by email with a link to review and accept the proposal. Good luck!
The contact will also be automatically moved to 'Proposal Sent' in the CRM board.
Are they ready to commit to you?
If the customer accepts the proposal - congratulations, you've found your match! All items in the proposal will be added to the customer account, and now one of your onboarding heroes can help them get started. 
After accepting the proposal, the customer will be able to choose additional products if that option is enabled in your account.
Multi-contract proposals
Generally, proposals will be converted into a single contract if they're accepted, but occasionally you may need to create proposals with multi-contracts. For example, a customer might agree to a certain price for renting out a private office for the first year (the honeymoon period), with a step-up in price from the second year onwards. 
Multi-contract proposals allow you to create a single proposal with all these changes. When the proposal is accepted, multiple contracts will be created and scheduled to start and end based on the start and cancellation dates for each of the contracts included in the proposals.
For more information on how to create a multi-proposal contract please check out our knowledge base
So there you have it! Proposals can be nerve-racking but Nexudus has designed this process to be as stress-free as possible, and easy for the customer to review. We want to help you find the perfect match for your community and increase the number of memberships. For more information about the 'Proposals' feature, please check out our knowledge base or contact us. 
….
If you don't already use Nexudus and want to learn more about our nifty coworking software, simply request a live demo with one of our friendly onboarding specialists! Or if you have any questions, please don't hesitate to contact us. We are always happy to help!
Our close relationship with customers helps us to understand their needs and receive valuable feedback. This growing understanding of coworking needs, combined with our innovative approach means that we can keep this coworking SaaS up-to-date with new features and improve the user experience.