Last week saw the second CUAsia conference, which was held in Bali. It has become one of the 'must' events for the coworking community with more than 220 participants from 31 countries this year. After some very intense days, it's time for us to reflect upon everything that we learnt, the experiences we shared and the places we visited. The conference's setting and the community gathered there, but most certainly the hard work, dedication and attention to detail on the part of the organising team, made the event extremely special. Here are some of the highlights:
Logistical challenges
Although we all know that Bali is idyllic, it does nevertheless have a few logistical hurdles when it comes to putting on an event of CUAsia's size. All the more so when it is held over the space of a week at five different locations, including Hubud, Kumpul, Ayung Resort, Green School and Dojo Bali. What's more, the only way to travel across the island is by taking the narrow roads that are crowded by millions of motorists that live in some sort of organised chaos. Nevertheless, the organisers overcame this challenge by putting on a bus to pick us up, take us to the conference, and drop us back every day.

Photo: Hubud coworking (Ubud, Bali)
Coworking academy
Before the official conference started, CUAsia organised a one-day coworking academy, which was hosted by Hubud. Experts like Alex Hillman, Grace Sai, Melina Chan, Jonathan O'Byrne, Amarit Charoenphan & Supranee Jaroenlersjanya and Anne-Laure Herrezuelo, among others, gave around 40 participants workshops on the keys for being successful, focussing on different areas such as operations, marketing, community building and communication. This session was aimed at people who are thinking about opening a coworking space or are having troubles with their day-to-day management. This coworking 101 served as an introduction for those people who had never attended the conference, and meant that other subjects could be covered in more detail during the official conference days.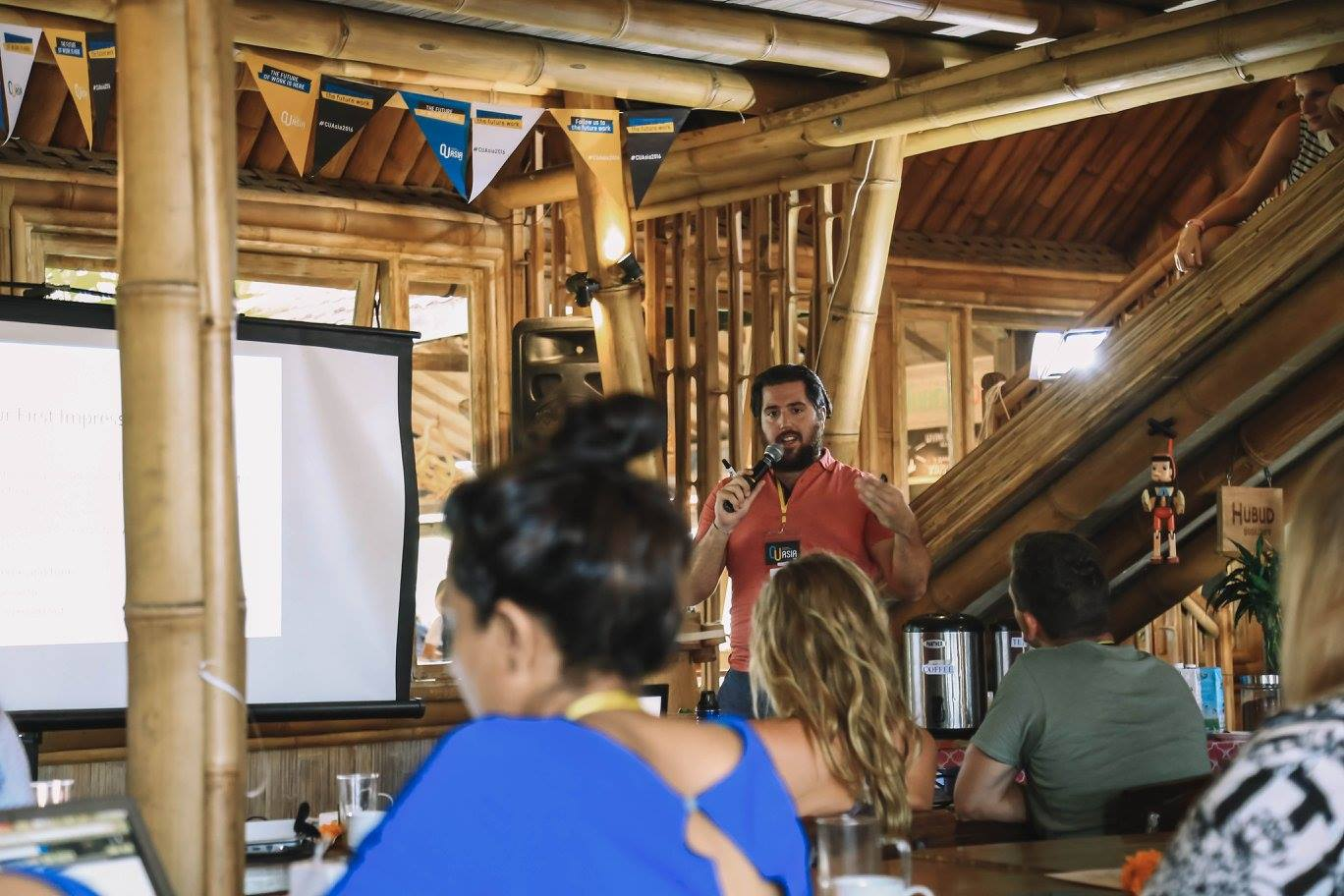 Mike La Rosa (Coworkaholic)  Photo source: CUAsia 2016
Coworking Indonesia
The second day was centred on the Indonesian coworking community and aimed to promote sharing experiences, collaborations and building links between spaces. The Coworking Association of Asia Pacific (CAAP) was officially presented, which looks to create bonds between coworking spaces in the area and work together towards having a common voice. This day was held at Kumpul coworking space and, unlike last year, it was in English so that it was accessible to the rest of the conference members. The day ended with live music and a street food festival.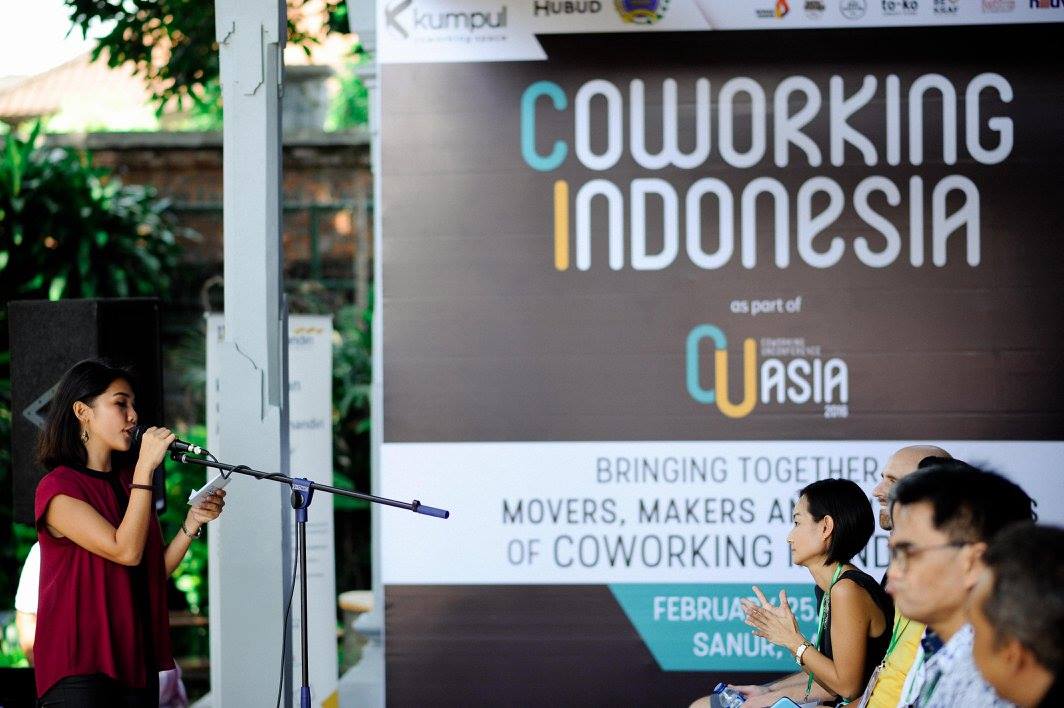 Coworking Indonesia at Kumpul coworking space. Photo source: CUAsia 2016
Keynotes and Panels
The third day was the first official day of CUAsia and was organised into keynotes and panels. Since the coworking academy had already taken place, these keynotes and panels could focus on offering specific information about the movement, such as the results from the global coworking survey in Asia, which were presented by Carsten Foertsch (Deskmag) and Mike La Rosa (Coworkaholic). Grace Sai crunched The Hub Singapore's numbers and shared a model that combines coworking with events or investing in startups. The second part of the day was structured into round tables with several talks on subjects such as real estate, the role of education in coworking spaces or the mistakes made when opening a space, among others.
Coworking and education
The fourth day (day two of CUAsia) was hosted by Green School, which promoted a pioneering teaching method, giving its students a natural and student-centered education. The unconference took place in a building that was made entirely of bamboo. All themes were put forward by the participants, which included coworking spaces for creative professionals, for introverts, or management tools used by spaces, to name a few.
Unconference's day. Photo source: Deskmag
Chris Thompson, who was part of Green School until recently, gave a guided tour of the different areas in the school, explaining what each one was used for and their objective to develop and change the educational model. He also highlighted the responsibility that coworking spaces have in the struggle to change current educational models.
Team and volunteers
Steve Munroe directed an outstanding team that ensured that everything ran smoothly for the duration of the conference. They did not only make sure that the conference ran according to plan, but also they improvised creative ideas such as printing a large scale version of the #colorworking design so that the conference participants could enjoy colouring it in.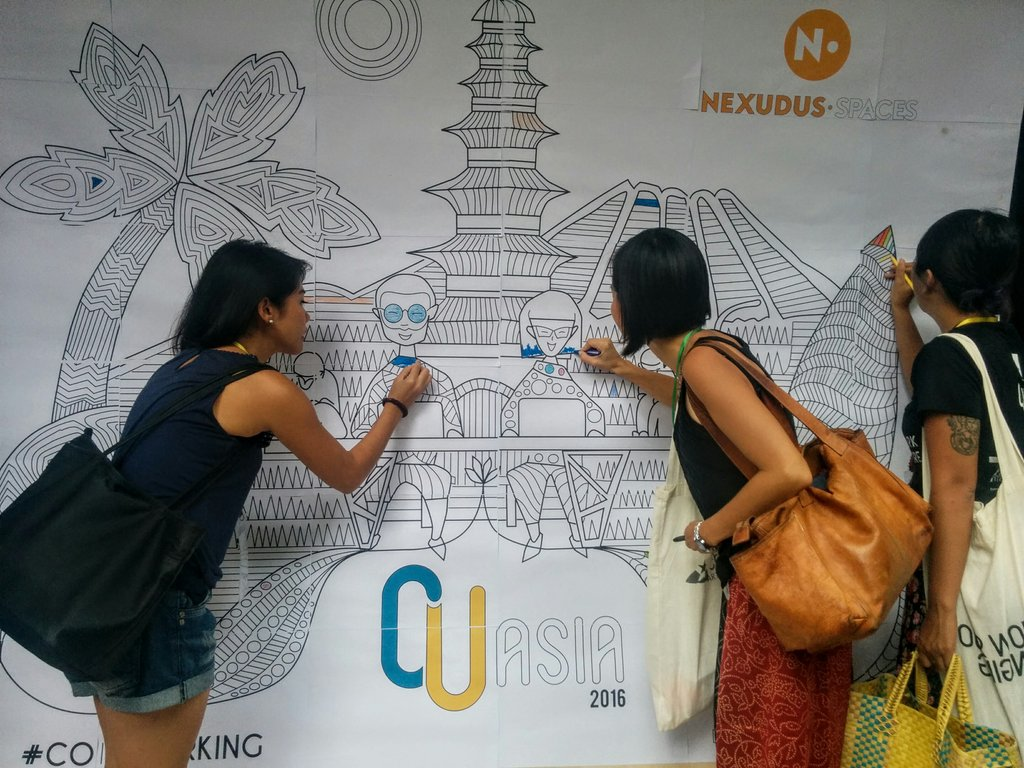 Colorworking at CUAsia 2016
Food, fun and meditation
It's not all about coworking! At CUAsia we had the chance to enjoy typical Balinese food served up on banana leaves. At this type of event, mealtimes are always a good opportunity to strike up fascinating conversations. Other interesting experiences were watching a group play Beethoven's Symphony No. 9 with bamboo, attending a yoga class and meditating. All of which in the most appropriate setting: it definitely wasn't a struggle to get into the zone!
Lunch time. Photo source: CUAsia 2016
In short, we really enjoyed our experience at CUAsia 2016 and learned a great deal. We can't wait for next year, which will be held in Chiang Mai (Thailand) in 2017.
And remember, to enter CUAsia, you have to remove your shoes and feel the floor beneath your feet ;)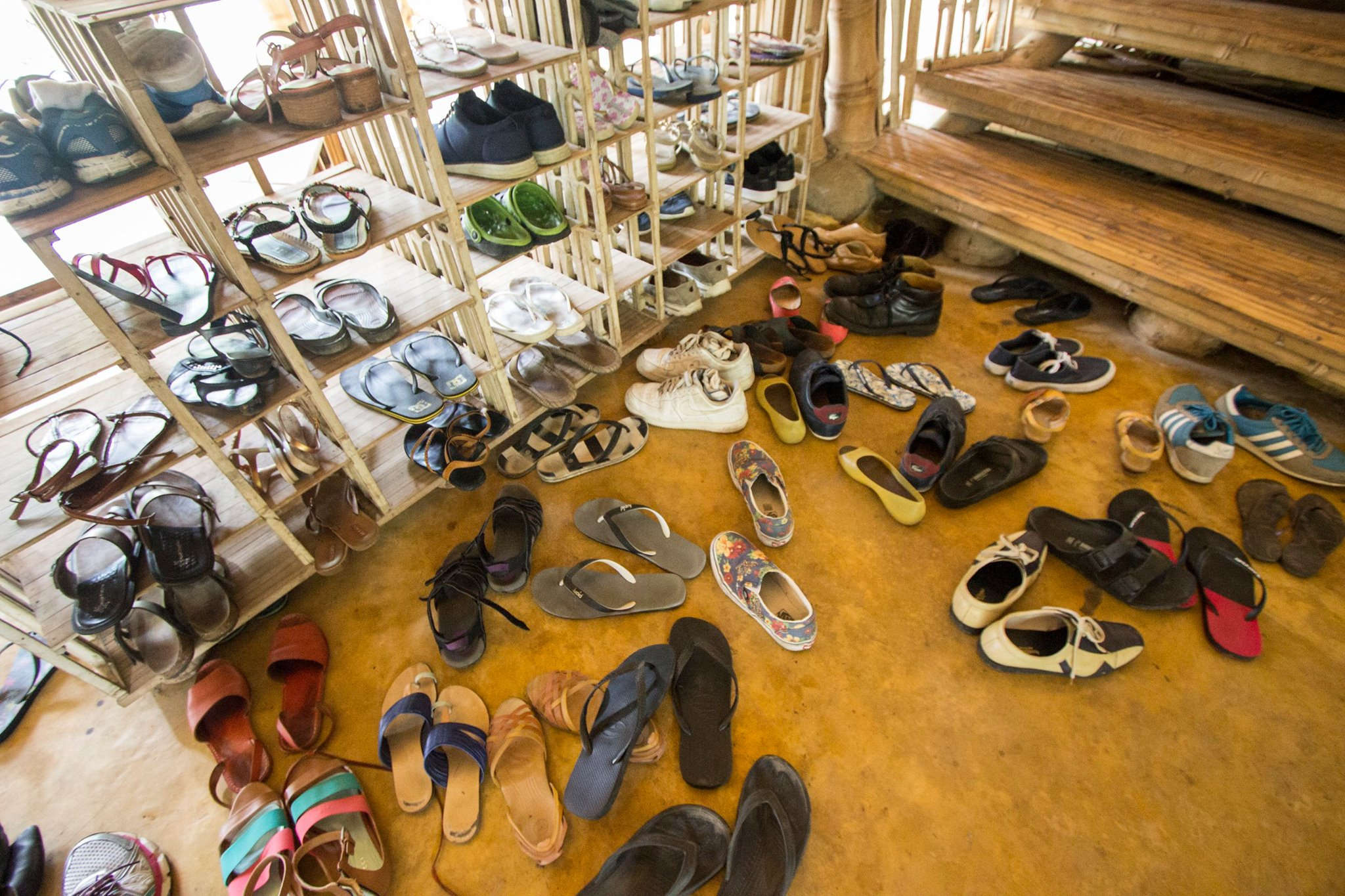 Photo source: Carsten Foertsch (Deskmag)
Main image photo source: Carsten Foertsch (Deskmag)