Coworking is a type of flexible office space that appeals to small businesses and large enterprises alike. 
In a mid-2021 survey by JLL, 41% of office occupiers said they expect to use more flexible office space as a result of the pandemic – up from 29% in 2020. By 2030, experts predict 30% of all office space will be flexible.
Although coworking has grown in popularity since its humble beginnings, our SEO research shows there are still people searching for definitions and information about what the coworking movement is – and how it actually works. 
So we've created a quick guide for anyone curious about coworking, from new business owners looking for their first HQ, to landlords who might be interested in adding a coworking space to their property portfolio. 
A brief history of coworking
People have been collaborating and working together in some form or another since the beginning of humankind. 
But the coworking concept as we know it today can be traced back to the mid-1990s when the first hackerspaces, such as C-base in Berlin, were founded. These hackerspaces are widely perceived as the predecessors of coworking spaces.
In 2005 software engineer Brad Neuberg brought the coworking concept into the limelight by coining the term 'coworking' and introducing it into the startup world's vernacular. Neuberg had friends at the feminist collective Spiral Muse who let him use their space for coworking a couple of days a week. Thus, says Neuberg, the world's first coworking space was born. 
On his website, Coding in Paradise, Neuberg explains:
"...a lot of people came to the space just to look at it and see what was going on with coworking but were not able to actually join the space. I would tell them "Take this idea, steal it, and make it your own"; basically I was giving people permission to take coworking and remix it, just like the open-source roots I came from."
The coworking sector today
To say coworking has grown since 2005 would be an understatement. Today, you'll find coworking spaces in small villages and towns as well as major global cities. 
According to projections on Statistica, there will be 41,975 coworking spaces worldwide by the end of 2024. International Workplace Group (IWG) and WeWork are among the biggest and well-known coworking brands in the world today, but there are plenty of independent and single-space operators out there too. 
At Nexudus, we're fortunate to provide our service to a range of innovative coworking brands, from Impact Hub – a global network of locally-founded/operated incubators – to Freedom Works, who featured in our latest video case study. 
Many coworking spaces cater to a wide range of industries. However, the niche coworking market is gaining traction. These spaces are designed to provide space and services to specific industries, from life sciences and mental health to film and education.
The difference between coworking and leasing offices
One of the most appealing things about coworking is that it's often a lot simpler than leasing. It can be cheaper too. For instance, with a lease, tenants are typically expected to pay for their own furniture and infrastructure, while coworking spaces are ready-to-move-into. 
A traditional office space landlord will get their tenant to sign a lease; a coworking space member signs an agreement with the operator. Agreements can be on a month-to-month rolling basis or for up to two years, depending on the situation and the size of the space being rented.
Services included in a coworking space
Coworking space agreements tend to be all-inclusive. In other words, the desk rent, amenities, internet and any other features are usually part of the monthly fee (with the exception of meeting rooms and catering which are typically charged on top). 
There's no definitive list of services and every space is unique, but here are the main services we can think of – from the practical necessities to the work perks!
Front desk – most coworking spaces have a staffed front desk

24/7 access – full-time memberships often allow 24/7 access

CCTV – building security, including access control, is a must-have

Cleaning – weekly (or more) desk cleaning is usually included

Heating and cooling – modern HVAC systems help keep spaces comfortable

Kitchen – many coworking spaces provide unlimited drinks and snacks

Parking – suburban, rural and some city coworking spaces may provide parking 

Printer/scanner – like any office, printing is usually available 

Meeting rooms – these range from small spaces to larger boardrooms

Work pods – phone booths and work pods provide privacy for calls

Breakout areas – maintained breakout spaces enable members to relax

Internet – secured network infrastructure can help protect sensitive data

Wellness – some coworking spaces have meditation and prayer rooms 

Gym – on-site gyms are also popular, especially in high-end spaces

Professional development – look out for seminars and workshops

Showers – bike storage and shower facilities are often included 
Benefits of coworking
On a basic level, coworking provides freelancers and businesses with easy access to desk space. But there are many other benefits aside from the practicalities. The concept of community and belonging inspired the coworking movement. This – together with the flexibility of agreements – is the real draw for businesses. 
Let's take a closer look at the benefits associated with coworking:
1. Connectivity
Coworking can help keep loneliness at bay, especially for those who would otherwise be working from home. Coworking spaces are interactive environments: while they are set up for productivity and independent working, they're also full of opportunities for interaction, from the moment a member steps in the door.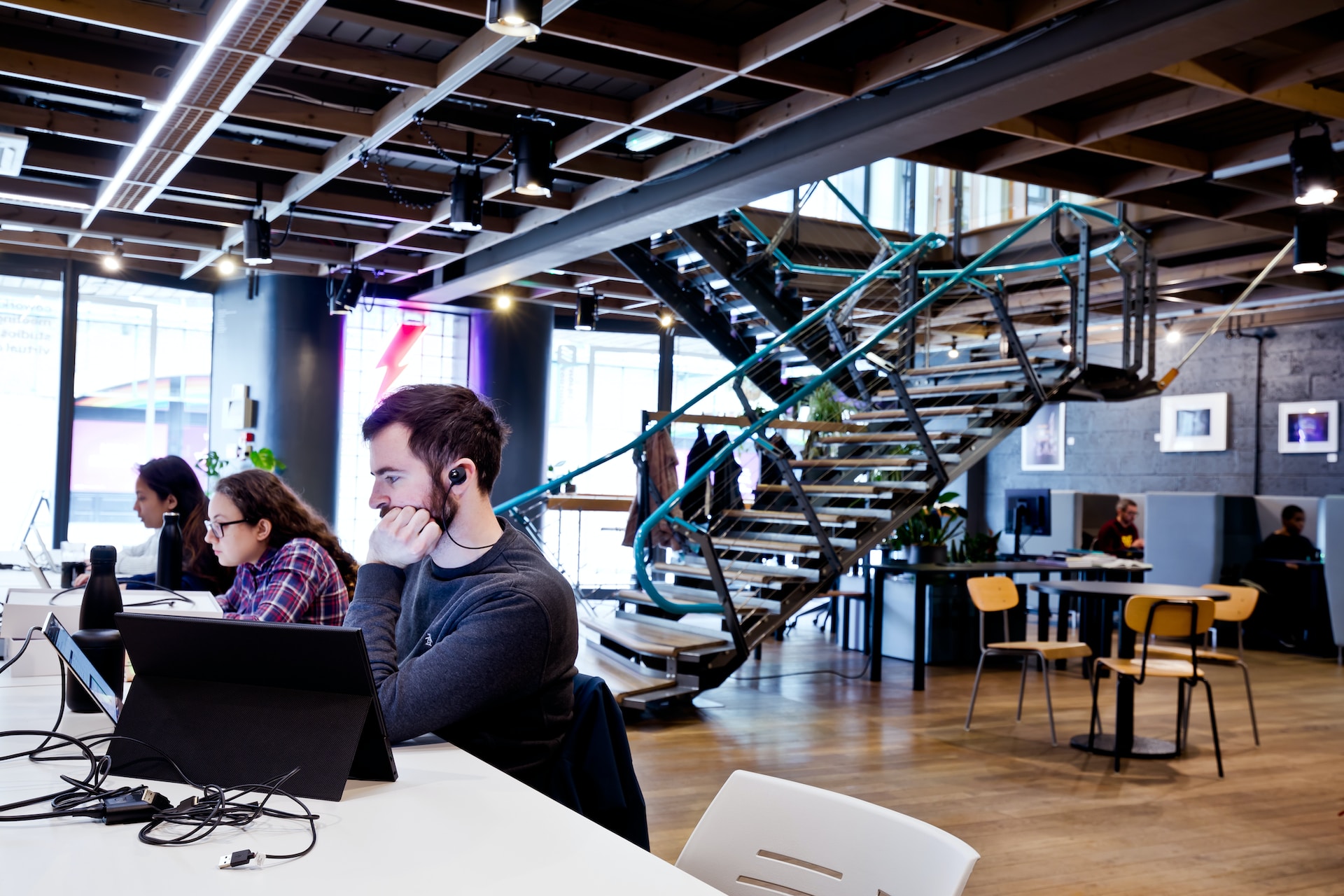 Community managers help cultivate this connectedness by introducing members to each other and hosting social events outside of 9-5 working hours. Hot-desking is perfect for alleviating loneliness, with the potential to meet new workplace friends. Software features like Nexudus' NexBoard also help to facilitate workplace interactions. 
2. Regular events
As well as the chance to meet fellow coworkers, members can expand their professional network at events hosted by – or held in – their coworking space. Many coworking spaces have an events calendar that include member socials, seminars and workshops, keynotes and networking events held by external organisations. 
With this in mind, it's easy to see why many businesses end up sourcing more clients when they relocate to a collaborative coworking environment. 
3. Plenty of options 
The term 'coworking space' is used quite broadly these days. A coworking member could be a freelancer who rents a hotdesk every now and again when they're in need of a change of scene. Or they could be someone who works for an organisation that rents a private office within a shared workspace building. 
Coworking is proving popular with big businesses as well as small ones because there are options for everyone. A large company could rent an entire floor of the building and still be able to attend member events with the SMEs and freelancers who occupy another floor.
4. Flexibility and cost savings
Coworking spaces help businesses to grow or contract at their own pace because members only pay for the space they need. Brief notice periods mean members can take on more desks or a bigger office at relatively short notice. 
Conversely, if the business doesn't work out or needs to cut costs it can leave the coworking space and return at a later date. The all-inclusive pricing structure of a coworking membership helps from a cash flow management perspective too. 
5. Remote access
The proliferation of coworking in recent years means there's nearly always an option when travelling nationally or internationally. Members of large coworking operators can usually get access to the operator's other locations around the world too. 
Failing that, the majority of coworking spaces are happy to welcome those looking to work at their location for the day, or for the duration of their trip (providing they offer the service and aren't at capacity). Day passes can start at around £25 in London. 
6. Enhanced productivity 
The best coworking spaces cater to a variety of work styles; design-led thinking helps keep members comfortable and productive throughout the working day. Work pods and acoustic panelling create a sense of quietude and privacy, while natural light and air quality monitors ensure the working environment is optimised for health and wellbeing. Of course, the very act of working in an environment that has been designed specifically for working can do wonders for concentration and morale. 
8. Work-life balance
When working from home, schedules can fall apart and time can start to lose meaning. One thing coworking provides is structure to the day. It's somewhere to start and finish the work; a place that facilitates – encourages, even – the taking of regular breaks away from the screen in the kitchen or lounge. 
Although many coworking spaces offer 24/7 access the majority of people use them within traditional working hours, signing out and closing their laptops in the evening to spend time relaxing, looking after family or pursuing a hobby. In other words, coworking can provide the level of work-life balance required for long-term success. 
Nexudus is a flexible workspace software company that works closely with coworking spaces. Our platform enables coworking operators to automate workflows, streamline operations, support members and – ultimately – scale up. 
It can perform a range of tasks, from facilitating meeting room bookings and managing check-ins to automating invoicing and compiling data-based insights on workspace performance. It's a white-label solution too, ensuring brand consistency.
If you're thinking of opening a coworking space and are looking for a software solution to streamline processes, book a demo today.