Yet again we have a brand new feature to update you on, and this one is an exciting one! It's no secret that we have been working hard over the past year to incorporate more and more AI-powered tools into the Nexudus platform, and the churn and engagement dashboard is the latest step in this journey.
Speaking about this latest feature, Nexudus co-founder and CTO, Adrian Palacios, said: "many coworking space operators struggle to understand their members, with the Nexudus Churn and Engagement Dashboard, they can now gain actionable insights on their members specifically by looking at real data and look to improving their churn rate and increasing engagement… clients may evaluate a venue beyond visible criteria such as location or facilities, with the help of these valuable metrics, businesses can discover the hidden agenda that leads to client loss and make adjustments in a timely manner."
As you can see, this dashboard has two distinct component parts that inform one another, however, for ease of understanding, let's first take on each aspect independently to determine exactly what we mean…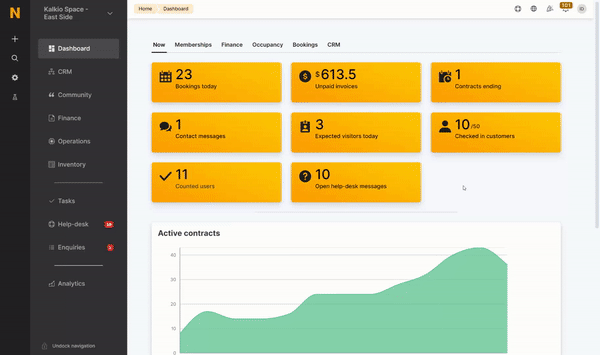 What does Churn mean?
When we use the term "Churn", we are talking about the number of active members that you have who are likely to cancel their contract by the end of the calendar month. 
Obviously, the name of the game here is to have as many members renew their contract as is humanly possible, so ideally you want your churn rate to be as low as possible. 
What does Engagement mean?
When we use the term "Engagement" we mean the amount that members in your space are active. By active, we mean how much they interact with your space, such as booking meeting rooms, and other resources. This engagement score is what determines how likely a member is to stay at your workspace. Customer engagement is measured on a four-tiered system, ranging from none (i.e. no engagement at all), to low, medium, and high.
How can I make use of this new feature?
As we all know, a workspace is just an empty building if there is no one working there, and it is much easier and more cost-effective to retain existing members rather than having to go out and search for new ones. 
This is where the churn and engagement dashboard comes into play. For the first time, you will be able to see predictive modeling of how likely your members are to stick with you, or if there are any early signs they might choose to leave.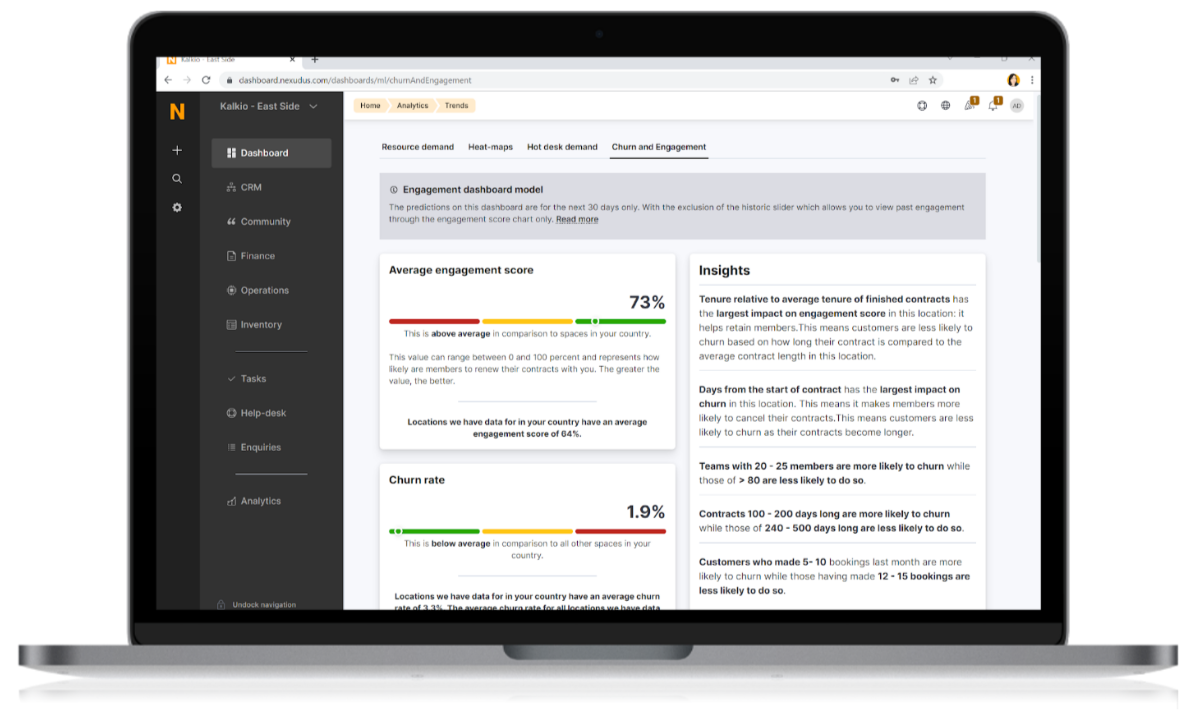 This feature will allow you to engage with this member early and see if there is anything you can do to keep them in your workspace. 
To make the most of the Churn and Engagement Dashboard, just like all of Nexudus' AI features, you need to use them. This might sound silly, but the more you use the features, the more data the AI will have to go off. Specifically, they need around 3-months of historical data on your space to be able to generate accurate predictions for you. If you have been using Nexudus for a while, this won't necessarily apply to you, but for new workspaces, you might need to give it a few weeks before you can make the most out of these AI-powered features. 
See how you match up to the competition
Another aspect of this feature that makes it so powerful is how your engagement score is calculated, in part, by measuring your performance alongside not only other spaces in your network (if you are part of one) and other spaces in your region as well.
With the coworking and flex workspace market becoming increasingly congested, it's becoming more important than ever 
Want to learn more about this exciting new feature?
We want to make it as easy as possible for you to transform the way you run your space. We truly believe AI is the future when it comes to automating and optimising the management and operation of workspaces around the world. This is why there are lots of ways for you to get to grips with this new feature:
Making your workspace a butter place: Nexudus' Churn and Engagement Dashboard.

For any of you wanting to learn more about this brand new, ground-breaking feature, we would love for you to join us at the free webinar we are running on Wednesday 29th March hosted by Bran Towsend, one of our support experts. 
Bran will be running attendees through this new feature from end to end, not only displaying the benefits it can offer but also demonstrating specific use cases where it can be utilised to particularly good effect. 
To sign up for this event. Follow the link and simply fill out the form. Make sure you bring any questions you have along with you, as Bran can't wait to answer all of them for you. 
We are delighted to be able to bring you this latest feature, as we feel it really can transform the way workspace operators run their workspaces. Keep an eye out over the coming months for more AI-driven features that will continue to change the game for coworking and flexible workspaces around the world.