The ability to meet face-to-face with coworkers is one of the main – if not the main – advantages of having access to a physical office space. 
Yes, remote and hybrid working collaboration has fast become the norm. But when it comes to meetings, according to a study on collaboration by Lucid at least, 67% of workers still prefer to get together in person. 
Clearly, there's still an appetite for collaborating in the physical world, which is why it's more important than ever for workspace operators to have failsafe meeting room scheduling systems.
Booking conflicts, lack of equipment and underprepared resources just won't cut it with members who expect a seamless workspace experience. If yours isn't cutting it, now's the time to switch those spreadsheets for a system that works. 
How a meeting room management system works
Lots of workspaces start out with the basics. 
Initially, Impact Hub in King's Cross relied on manual systems for managing resources. For instance, members would have to visit reception to book a meeting room – a process that proved time-consuming for both parties. 
To save time and make members happier, Impact Hub decided to implement Nexudus' meeting room management system. Since then members have been able to book meeting rooms (and other resources) from their own devices with ease. 
A meeting room management (booking or scheduling) system enables your members and their employees to book meeting rooms, track their availability and find out more about them, such as how many people they can accommodate and the amenities that come with them, such as catering or AV equipment. 
Creating a perfect meeting room schedule with Nexudus 
Nexudus is a coworking CRM that includes meeting room scheduling in its suite of features. Your  members can access everything they need to manage their meeting room bookings through their Passport by Nexudus app, including:
Viewing availability

Viewing meeting room details

Booking meeting rooms

Checking in and out of meeting rooms
Ultimately, you have control over access. If you run more than one coworking space you can enable members to view and book meeting rooms at other locations too.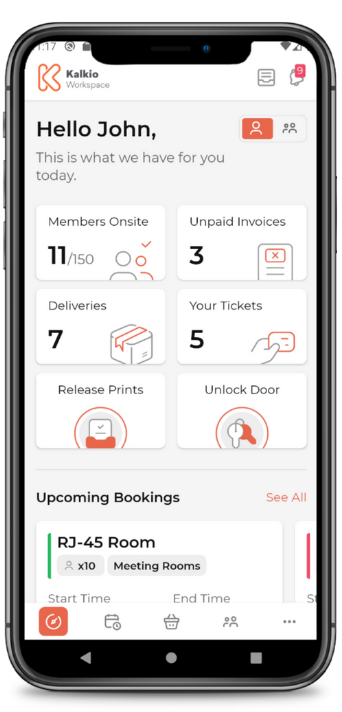 You can tell the system what to do by setting the meeting room rules. For instance, let's say your biggest conference room is used by one of your partner organisations every Friday. You can set this meeting room to only be available from Mon-Thurs. 
The best meeting room scheduling systems are flexible and provide occupiers with the ability to book in different ways. As well as being able to book rooms from the comfort of their desk or on the go, your members can also book in person.
They can do this by visiting your team at reception, or by walking to the meeting room they want to book and opening their Passport app.
All they need to do is hover their Passport over a tablet displaying Nexboard outside the meeting room. Then they can tap  'Request Booking' and choose the time, date, and length of the meeting. Their booking will automatically sync to their account. 
Here's what a typical Nexboard display looks like:
You might already be using an alternative to Nexboard. Our platform integrates with a variety of alternative meeting room booking tablets, including Tapirx and Humly.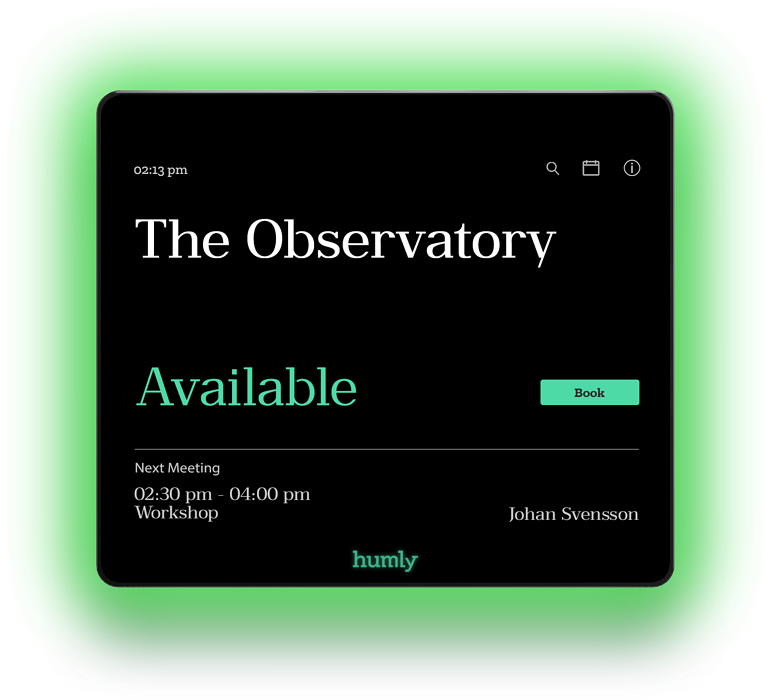 Whichever way your members book their meeting rooms, one thing's for sure: all bookings are synced and the risk of a double booking is eliminated. Nexudus can even cancel a meeting if the attendee hasn't checked in after, say, 15 minutes. 
Meeting room management system benefits
1. Eliminates double bookings 
It's hard to keep track of resources, especially if you operate multiple locations. That is unless you have a good meeting room management system in place. 
Meeting room management systems work with real-time data so conflicts just don't happen. Everything is clearly laid out in the app's easy-to-navigate interface, and the booking journey also is designed to be as intuitive as possible for the user. 
Ultimately, it's about making the member experience frictionless through technology-enabled visibility and automation. 
2. Provides valuable insights
Access to meeting room usage data is valuable to you too. The system stores information relating to who's used your meeting rooms and for how long. Why not leverage this? You can use this coworking analytics data to drive revenue.
You might find, for instance, that two of your meeting rooms are significantly underutilised. Could you introduce a time-sensitive discount in order to boost usage? Perhaps you could open up your meeting rooms to non-members, or transform a large conference space into smaller meeting rooms – if that's where the demand lies. 
3. Saves time 
Creating the perfect meeting room schedule using technology frees up your time. You can channel the energy you save on managing these logistics into something more fun or strategic, such as arranging events or coming up with promotions. 
Your members will save time too, of course. Instead of having to track you down, they'll be able to book their meetings and let attendees know in just a few clicks or taps.
Meeting room scheduling is just one of Nexudus' many features. You can also use it to manage access control, inventory, marketing and floor plans. 
We're constantly evolving our technology to meet the needs of today's hybrid workers. This year, we're improving our floor plans, introducing churn forecasting and implementing a range of new integrations. Book a demo to find out more!