We recently sat down with Sam Hulls, Head of Collaboration at The Melting Pot, a coworking space in Edinburgh, Scotland. As one of the oldest coworking communities in the world, they have a unique perspective on how the industry has grown and shifted over the years. Not only did we discuss with Sam how the initial concept of the space came to be, but also how they have adapted to the challenges posed by the global pandemic, and what their plans are moving forwards. 
Tell me a little about yourself and your role at The Melting Pot.
My title is Head of Collaboration, which essentially means that I oversee, strategically and operationally, the running of the collaborative arm of the business. This involves everything to do with the coworking space, the membership community, venue hire, our events, and our virtual office service. Basically, that means everything that emanates out of what is happening in the physical space. 
How did the idea for The Melting Pot come around?
Our founder, Claire Carpenter, had the idea about 15-16 years ago. She wanted to create a space that could be a hub for people who work in the third sector, where they could work, come together, pool resources, make connections with one another, and get support. She wanted to provide an alternative to paying exorbitant amounts for office spaces a year upfront, that you don't need to use every day. The aim was to create a space to bring people together that was a practical workspace and is what we now know as coworking. 
The Melting Pot itself has always had the mission of stimulating and supporting social innovation, we have always been a space that has maintained a focus on not just the Third Sector, but anyone working to do good in the world. So, priced affordably, with lots of flexible options, so that anyone can come in and use it, and hopefully be able to access it in a way that is beneficial to them and helps them get their business off the ground. 
When TMP started, coworking was not a concept people were particularly aware of...
No, definitely in the early years it was difficult to promote the space because we were not just promoting the space, but an entire concept to people that was very unfamiliar. We had to bring people in on the idea that you can have a big hub where everyone comes and sits next to each other but they don't work together, yet can still interact. It was all very new and foreign. Early on it was hard graft to win people over, but we have always felt once you get people into the space and they feel the warmth of the community, they will get the concept, but it was quite difficult to get over the first hurdle initially though. 
In the last 5-6 years there has been significant growth in the coworking movement. Even just the increased popularity of the term 'coworking', so if people say 'ahh like WeWork' it's kind of true, obviously we differentiate ourselves for various reasons, but just the existence of those spaces has helped our marketing, and increased peoples' awareness of what we are doing.
How did the pandemic affect The Melting Pot, was being an established space helpful in meeting those challenges?
Like every coworking space it really affected us a lot. We have recently celebrated one year since the rapid closure and turning everything online and virtual. We were determined to continue supporting our members during the lockdown period however we could. Like a lot of other spaces we really developed our virtual offering, having a Slack and the Nexudus Members' Portal to connect, continuing to run online events, check-ins, etc. That was quite intense, it was the first time we had really honed into our online offering, so it was a steep learning curve for us and we really took the attitude of "let's try everything and see what sticks." 
I think a testament to our community is that we had two members that didn't continue membership once we closed and that was it, out of 140 members at that time, everyone pretty much stuck with us. We have had some people drop off over the course of the year, but we still have about 80% membership retention in the past year, which is a testament to our members and the community. It was really down to our community, rather than being well established that helped us get through such a tough period. In those first six months, if they weren't overly financially impacted, members chose to keep paying the full price of their membership. So, I'd say more than anything, it's our people and our community that has really helped us through.
How difficult have you found it to maintain engagement over the course of the year?
We have seen decreased engagement. Last year when we first went into lockdown, lots of people were quite engaged, and then that petered off. We spent the first 3-6 months trying everything, and then the second half of the year we have tried to do less, but do it really effectively, and focus on what people are actually going to engage with. For example, we have found that people, along with Zoom fatigue, have actually got Slack fatigue or overwhelm too. Our Slack has understandably dropped off a bit, but then we see people pop up and engage in unexpected ways. 
We send out a mailing every couple of weeks, just with some resources and some info on the events that are on, or they will see something on Facebook, I think people are still there reading a lot of our stuff whether or not they are actually engaging because it is quite tiring, and I think we have also really honed down the events we run. We have a couple of socials, we usually do lunch and Friday drinks, so we have kept them super casual, basically a place where you can just come and hang out. What we learnt was to step back a bit and have the tools there if people want to be connected all the time, but actually, just allow them to drop in as they want and have them know that we are there for them when they need or want to engage. 
In the future, are you still looking to maintain these virtual communities?
Yes, I think we will. We are thinking about it now and it will be a bit of a challenge. We are trying to imagine at what pace people will be willing to return to in-person events. We have learnt that a mix of hybrid online and in-person doesn't work, particularly not for social events, so we are trying to guess which can stay online for a bit. 
In regard to the virtual community, this is something we do have great ambitions for. That is the tool by which we can grow our community to 300-500 people if it is all virtual. That takes a lot of management and fostering, so we are not quite there yet, but the infrastructure we have put in place and the way people can stay connected with us and their community online is definitely something that we want to see continue. I think the 'how' is going to be an ongoing learning process for us.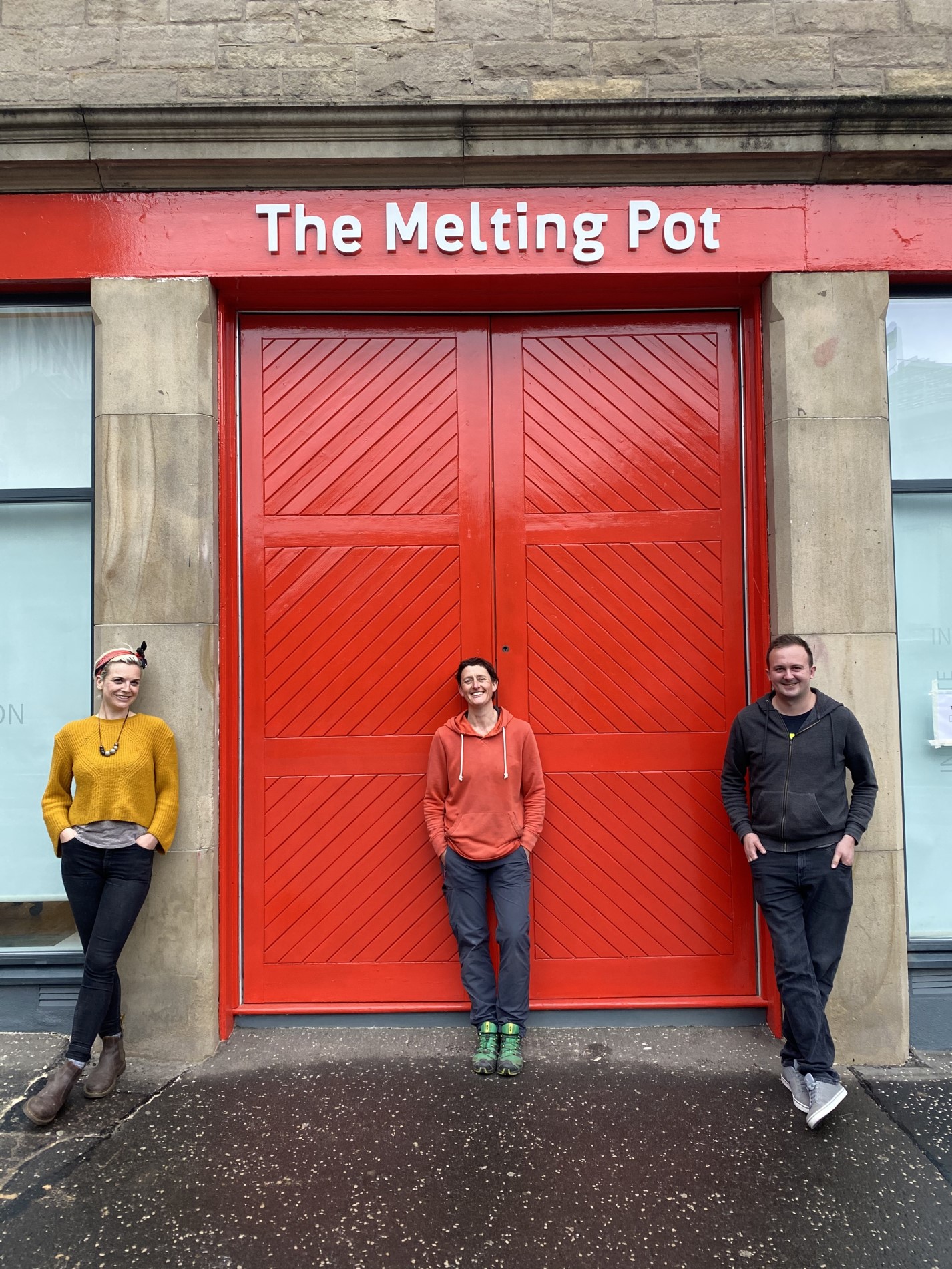 When looking for a new physical space, what is that process like, what are you looking for?
Size is a big one — our home on Rose St in Edinborough was the only home we've ever had, that was 3000 sq ft, so we knew we wanted something bigger, min 5000 up to 10000 sq ft. You cast the net wide though, so that was very important. We are a charity that has really taken a hit financially from this entire year, so it couldn't be a full fixer-upper project, we just don't have the money to find a warehouse and turn it into a beautiful functioning office space, so we needed it to be largely functional. 
We didn't really want to end up somewhere that had a very corporate feel. Obviously, there are lots of empty corporate offices that might be beautifully fitted out, but it doesn't feel like The Melting Pot. Our space on Rose St was basically in the attic of a beautiful old Edinburgh building, we had a turret in the corner, wooden floors, sloped eave ceilings, just very far removed from a corporate feel. And luckily we did find something that is a perfect fit on all fronts - a centrally located, 3-floor building with a history (most famously as a nightclub and live music venue for decades), and was already beautifully fitted out as office and events space.
The owners of our new building are an organisation called Foundation Scotland, and actually, we are essentially in a partnership with them. It's much less of a traditional landlord-tenant relationship, which was also one of the struggles we had had with our old building, this one is a real partnership. They believe in what we are doing and want to support us in that, they have given us a lot of funding towards the upgrades that we want for the building. It just feels really nice, like a good thing for both organisations going forwards, rather than just a transactional relationship, but more of a partnership. 
Looking to the future, has the pandemic made you rethink your offering for your members, or is it just back to how we were before?
We have taken this opportunity to wipe the slate clean in a lot of ways and really think about what we can offer, what people need, and how we can make things easier administratively for ourselves. We undertook a big research project into our Future of the Office Report. We gathered this info through surveys, focus groups, and talking to a huge group of people both in our community and also just across the spectrum about what they think they want from a workspace going forward. We have based a lot of our design of the new building off of that report.
As for our membership model, it was actually quite liberating to be able to start from scratch and reimagine our offering. We have gone from six or seven different options down to just three. I think our desire to be flexible and accessible to all people ended up putting too big a burden on ourselves and made our lives too complicated. We have tried to make sure that within those three memberships you still have the flexibility for an organisation that comes with a range of different requirements within their team members. It has been quite an exciting process, I am at the point now where it is just about finalised and there are only a few things where we don't quite have all the answers yet. There comes a point where you just have to decide on something, put it out there and see how it goes. 
Has the pandemic changed your view of coworking, and what it can be in the future?
I don't think it has changed it, but I certainly think it has strengthened it. Covid has forced us into home working, which in some ways has been great for coworking, but it has taken quite a toll on even the hardiest of remote workers in the past year. This is something I believe coworking has the tools to help with the recovery from. 
We have the existing system in place to help support people in adjusting to this new future, the first part of which is getting them to come out of their homes. Even though people are excited, some of us will still be a bit scared. We are a bit traumatised from having to keep our distance for 12 months or more, so being able to say to people that we can provide a safe space, which we absolutely can, it is going to be a safe space where you can come and work and meet people and you can trust everyone in the building is committed to the same safety precautions that you are. 
It sounds like most organisations and individuals are going to stick with some form of flexible working, whether that is half or most of the time at home, or even if it's just one day a week, coworking has been doing this for years. We know what works, we know what support you need, we know the benefits of peer support, so I think that we have a real opportunity to use our existing tools, skills, and knowledge to help society recover from this and do so in a really healthy way. In the same way that our members are really excited to get back to our space, we are really excited to get back so that we can start helping people. We know that we already have all the tools to help people with the challenges they have and will continue to face.
To discover more about The Melting Pot check out their website. To hear more about how Nexudus has helped them manage their day-to-day operations, you can read their Case Study here.