Having top-level digital signage around your coworking or flexible workspace is vital for your members to know both what is happening in your space, and which resources are free for them to use or book. That's why we thought it would be helpful to go over some of the best tablets and meeting room software that do exactly this. From proprietary wall-mounted displays to apps you can run on any iOS or Android tablet, there are loads of options out there to suit your needs. So, let's dive into it and have a look at some of the best options on the market.
NexBoard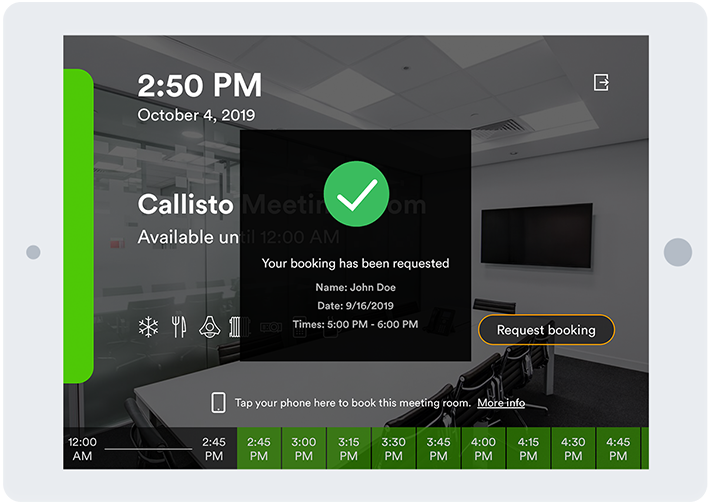 We had to start here really, didn't we? We are very proud of NexBoard and think it is a fantastic solution for meeting room displays. NexBoard is included in your Nexudus subscription, so you can rest assured that it will work seamlessly with the platform and display all the information your members could possibly need. 
But what does NexBoard do exactly? 
Well, first and foremost, it's a really simple and easy way for members to book meetings. All they have to do is go to the tablet running NexBoard outside the meeting room they want to use, and tap 'Request Booking'. They can then choose the time, date, and length of the meeting and their booking will automatically be synced with their Nexudus account. 
Using a device running NexBoard outside your meeting rooms can also help make your space compliant with any coronavirus protocols you have in place. For example, it is important that meeting rooms are cleaned and sanitised after every use these days, and NexBoard gives your members' the confidence they need to use your meeting rooms as they give you the option to display the date and time that the room was last cleaned. As well as this, members can also make bookings contactlessly by tapping their mobile device on the tablet running the NexBoard app. The meeting room will then appear as a push notification via the Passport by Nexudus app, allowing them to both make bookings and send invites to other attendees who will get the option to join the meeting virtually.
NexBoard also makes it easier for members to access all the information they will need for any given meeting room. Not only can they check on availability and any upcoming bookings, but NexBoard also displays all the different amenities and features that each meeting room has to offer, allowing members to make an informed decision depending on their specific needs.
Humly Room Displays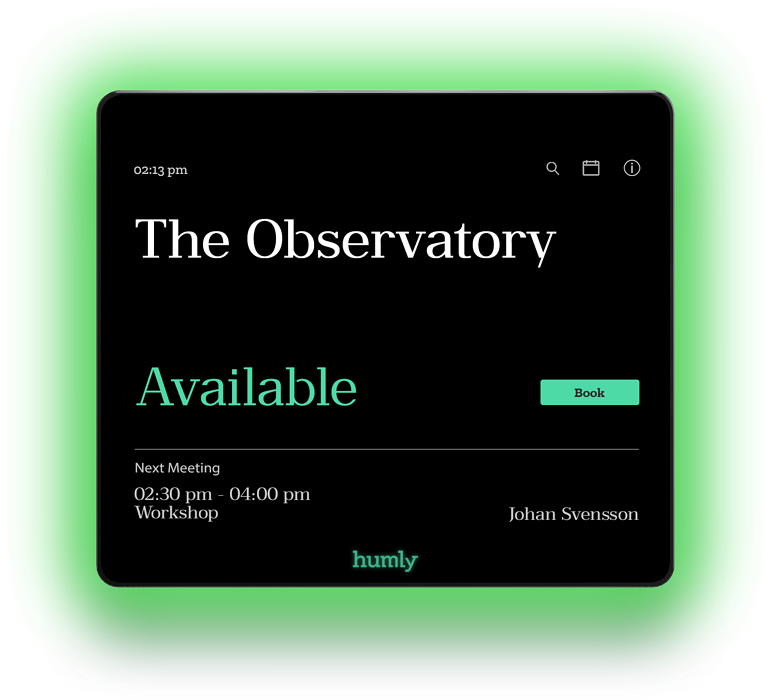 Humly's Room Displays demystify meeting room booking by making it clear to members when a room is free, if there are any upcoming meetings, and will even notify members of any other meeting rooms that are currently available for use. 
Humly makes sure that keeping your members informed does not compromise the design of your coworking space. Their room displays are clear and easy to read, and their design will allow them to fit perfectly into even the most design-conscious of spaces. Members are able to see if a meeting room is available at a glance with these room displays. Each unit is backlit and will change colour depending on the status of the room. When a room is free the light will be green, and when a meeting is in session it will instead appear red.
Best of all, Humly Room Displays can be fully integrated with your Nexudus account, meaning all bookings will be synchronised across the platform. Having your Humly room display automatically sync with the Nexudus platform, also allows it to display your members' information whenever they make a booking. 
Tapirx
Simple and understated, the Tapirx display will fit comfortably into the design of any space at all, without disrupting your carefully nurtured feng shui. The display itself presents information to the members of your coworking or flexible workspace in an easy to read and clear way.
The Tapirx device displays a range of information including, the meeting room name, the current and two upcoming events, a graphical schedule view with the current time, and a 'scan-to-book' QR code which allows members to book meetings entirely contactlessly. As a space administrator, you are also able to include other information to display on the device, such as room capacity.
As you can see Tapirx provides a flexible and dynamic solution for meeting room digital signage, allowing you to display all the information you desire to your members, while not compromising on the design aesthetic of your space. Best of all, these devices can be fully integrated with your Nexudus account, making the management of your space that much easier. For more information on the integration, read the detailed article in our knowledge base.
Joan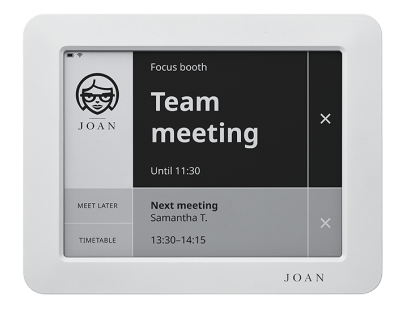 The Joan 6 is another fantastic solution for the management of meeting and conference rooms in your coworking or flexible workspace. Its sleek and inconspicuous design allows it to blend beautifully with the design of your space, while the advanced E Ink electronic paper display with full capacitive touch capability makes using the Joan 6 an absolute pleasure.
One of the major benefits of the Joan 6 is how easy it is to install. You can easily attach the display to any surface without the use of any cables via a magnetic wall mount, connecting securely to your WiFi network. The system runs off a high-performance, rechargeable battery which can last up to three months on a single charge. 
Most importantly, though, the Joan 6 does everything you need a meeting room management panel to do! It lets you see the status of a meeting room, so your users always know if a particular room is booked or free, when the next meeting is due to take place, and will also allow them to book a time slot for themselves right then and there. 
Even better, Joan gives you the option to use the device to show more than just information about your meeting rooms. Joan gives you the option to also display custom content on your devices. This could be a gallery of images, digital signage giving extra information about your space, or even helpful information such as the weather or stock market information. As you can see, Joan's flexibility really sets it apart from other similar devices. 
Crestron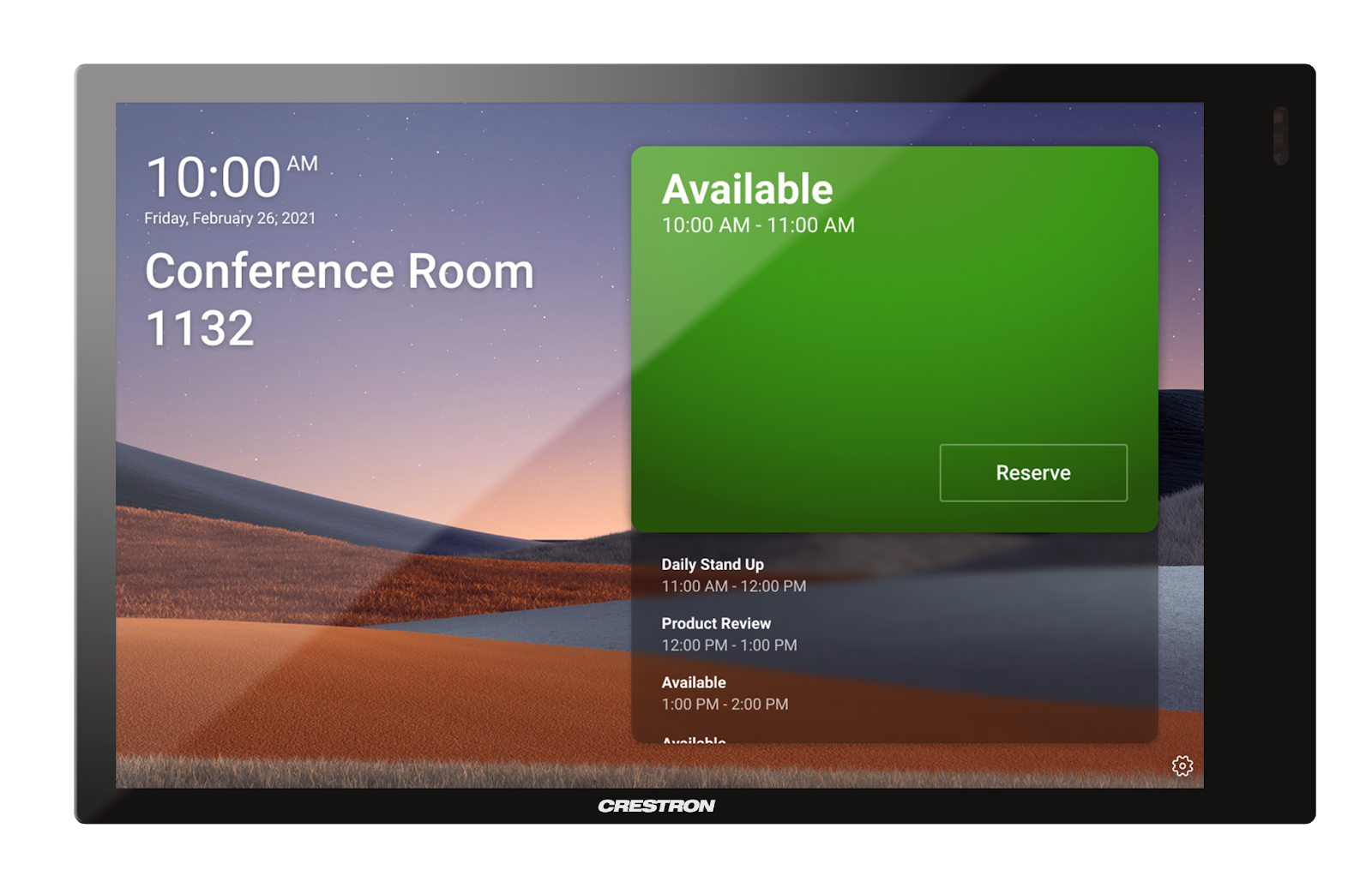 Last but certainly not least we are going to take a look at Crestron's solution to meeting room management. Their room scheduling system is a simple, easy to use platform, allowing members of your coworking or flexible workspace to always stay on top of what is happening in your space. 
While allowing users to see the day's schedule for your meeting rooms at just a glance, its crystal clear resolution communicates all the information being displayed with perfect clarity. One of the fantastic energy saving features of this display is that it has an in-built proximity sensor that detects motion and awakens the screen whenever a member approaches. As you can imagine, it has all the features you might need for such a system, allowing members to check meeting room availability, extend meeting times, and reserve the meeting room at a later date. 
Professional and slick design are the hallmarks of Crestron products, and their meeting room displays certainly aren't exempt from this. The setup is simple and scalable, allowing you space to implement these displays quickly and with minimal effort, through the use of the cloud-based management platform.
As you can see, there are loads of great options out there for you to manage the meeting rooms in your coworking or flexible workspace. From software such as NexBoard which can be run on any iOS or Android tablet, to bespoke systems from the working world's most respected brands, it's now up to you to choose what best fits your needs and the needs of your members.  
Learn More
For more information on how NexBoard can simplify bookings made in your space, take a look at the detailed guide in our knowledge base.
You can see a full list of our companion apps here.